If you go on a hunt to buy an amateur microscope, you will find thousands of exact looking microscopes with the same features.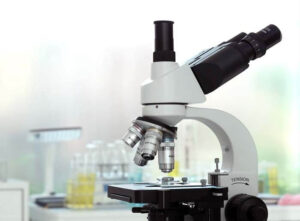 And this is the tricky part, choosing an amateur microscope for yourself can be super stressful, especially when you don't know what to look for in the first place.
Which is why I'm here today. To make sure you make the right and the best choice for yourself.
I will be taking you through a complete guide of the best amateur microscopes with their pros and cons on the hook.
I will also be giving you a buyer's guide, so you don't feel like you are getting lost or confused at any point.
Top 7 Amateur Microscope Reviews
With all that, I'll also answer some of the most asked questions about amateur microscopes so that you can pick out your favorite one without any hesitation!
1. BEBANG 200X-2000X Microscope
BEBANG has always succeeded in making useful tools for their clients. This specific amateur microscope has a high magnification that goes from 200x to 2000x.
With objective and optical lenses. With a fine and solid frame for better angle adjustments and better stability and focus.
It also has a dual illumination system, which provides high-resolution and color-corrected images.
It comes with everything you need for your biological observations that include a phone adapter, wire shutter, and ten operating accessories.
Pros 
Magnification of 2000x
Solid frame and better stability
Dual illumination system
Comes with a complete accessory kit
Cons 
Defective shipping
Low quality
2. Andonstar Digital Microscope
Go big or go home, right? You can now observe all you want with this 7inch screen that comes with the Andonstar digital microscope.
This big screen will help you get a better observation of your object, and the wireless remote control and the buttons on the monitor will help you have all the control to record videos and take pictures.
Let's not forget about the high-quality height-adjustable stand, which enables you to adjust the magnifications, height, and distance between the camera and the object so you can keep a sharp focus on your specimen.
It is constructed with adjustable led lights for intensity control and UV filters that protect the lens and reduce the reflection and stray lights.
Pros
7 inch led display
Remote control
Adjustable metal frame/stand
UV filters
Adjustable led lights
Cons
Not durable
Defective led lights
3. The AMSCOPE store DM130
If you are not a newbie in the field of microscopes, I'm sure you have already heard a lot about the AMSCOPE company and its high-end products.
Amscope has been successfully delivering science tools to its clients for so many years now, keeping up its name and quality.
This digital microscope from the Amscope store is no exception.
It was wrapped up with the accessories like a portable LCD color screen and a magnification of 1200x with zoom and fine focus system.
Also, its 18-piece kit includes a fossil collection for collecting activity kit.
Pros 
High magnification
Portable LCD color screen
It comes with an accessory kit
Cons 
Not durable at all
Super low quality
4. Swift Optical M3-B Microscope
Swift is another one of the renowned brands around the world.
With its prestigious quality, M3-B is a compound microscope providing you a range of magnifications for every kind of specimen.
Binocular rotating head with ergonomic design to keep your neck from hurting.
Also, with a dual illumination LED light system and variable height stage that can be adjusted, it also comes with containers to hold your specimens.
Pros 
Large range of magnification
Dual illumination LED lights
Binocular viewing head
Cons 
Faulty led system
Head stand is not adjustable
5. BEBANG LCD Digital Microscope 40x-2000x
Another great hit from the BEBANG company. This Digital microscope has a high-resolution LCD that supports picture and video functions.
Also, its magnification levels that go from 40x to 200x makes it very easy for you to observe your specimen(no matter what kind).
Constructed with a professional metal platform to ensure it provides you 100% stability, this microscope is the best go-to educational tool.
Pros 
LCD screen
Photo + video function
High magnifications
Dual illumination system
Cons
Led lights are a little dull
It does not work for long periods of time
6. The HUTACT Store Microscope
This Hutact store uses high-quality imaging effects so you can observe your specimen thoroughly.
With its 5maginifcations stage, you can have full control over all the magnification settings. Its accurate and simple settings make it super easy to set it up get a-hold on.
Let's not forget about its eye-friendly dual lighting LED light system.
Its specially constructed ergonomic design allows you to observe your specimen while sitting in a comfortable position.
Pros 
High magnification levels
Eye friendly illumination
Ergonomic design
Cons
Not durable
Design is not completely ergonomic
7. Omax Compound Microscope
Lastly, sitting on the top of the throne is none other than the OMAX company.
Delivering a compound microscope with a magnification starting from 40x and ending at 2500x and adjustable eyepieces on both sides.
You can now also control the intensity of the light by having full adjustment control over it.
Pros 
High magnification
Adjustable eyepieces
Brightness controller
Cons
Low quality
Comes with a broken lens
Buyer's Guide
The main and focal goal of the buyer's guide is to make you aware of the features of the tool that you are about to buy.
Once you understand the basic functions and features of your tool, you can use it to its maximum utilization.
And also, once you are done with the buyer's guide, you will be able to pick out a decent amateur microscope when you see one.
So let's start with the most important and dominant features that you should be giving importance to while buying your microscopes.
Comfort
Comfort is one of the most dominant features of a tool. And since you will be using your microscope for a long period of time, you might want to make sure that it's comfortable.
Since comfort is now a necessity and not a luxury, it should be the first thing on your list.
There are many companies all around the globe that sell ergonomic designs that are constructed by prioritizing your comfort.
Health is the first thing you should never compromise on!
Construction
Since microscopes are an expensive tool, I'm sure you don't want to keep switching them up just because you keep compromising on their quality.
Construction is the second important feature is a tool that you should be observed.
No doubt, all microscopes look the same from the outside, which is why you should be aware of what your tool is made up of from the inside.
I have come across many people throwing their otherwise fine working tools just because of the cheap material it was made from has started to decay or fall off.
And to ensure you don't go through the same fate, never compromise on the construction of your product.
Power
Suppose you are buying a high-end tool that is also over the top expensive because neither did you compromise on the comfort nor the construction.
Then you should probably add power to the list as well.
Imagine having to buy a tool that you think would best fit all your needs and satisfaction, only for it to turn out not to be powerful enough for your project works.
How disappointing right?
The only thing you need to do so that you don't this doesn't happen to you is to give the microscope you are about to buy a test run before buying.
It will give your machine a head start as well as giving you the satisfaction you need to take it home!
Versatility
Last but not least. However, the out-most goal of this buyer's guide is to help you get the best amateur microscope that sits perfectly on all your needs and wants.
But would it hurt if we go just a little out f the way and find us a microscope that best suits your more than one interest?
Versatility is important in a tool since it gives more value to the tool in its whole life span.
Buying an expensive tool just to use it once is not better than buying a tool that is versatile so you can utilize it more than once and make it worth the money you spent on it.
So always keep in mind the versatility and how it's going to help you in the long run.
Frequently Asked Questions
How much is a decent microscope?
You can get a decent working microscope in between 200$ to 3000$
How powerful of a microscope do you need to see bacteria?
You need a microscope with a magnification of 1000x to see bacteria
Which microscope should I buy?
If you are into amateur microscopy, you should check out all the reviewed microscopes above and see which one best fits you!
Which microscope has the highest magnifications?
A compound microscope has the highest magnification.
Conclusion
Now that we have reached the end of the article, I'm sure by now you know all about amateur microscopes.
If you still have any questions or if you are still confused by anything.
I suggest you do read the buyer's guide and the reviews once again thoroughly. Good luck!