Curiosity to know led the man towards doing various inventions. One of those important and helpful inventions is the microscope.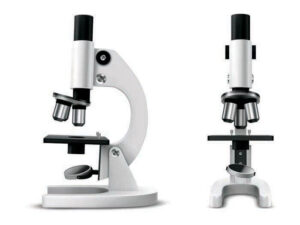 It allows you to investigate objects at the micro-level, and you can observe things in more detail.
Before buying, you should always be sure of what you are looking for. Going through an expert's opinion always helps.
Microscopes are available at different prices and specifications in the market. It would be best if you opted for the one that suits you in terms of price and features.
In this article, I am going to talk about the best affordable microscopes available in the market.
I would suggest that you should go through this valuable information before the buying phase. So, let's get started.
Top 11 Affordable Microscopes Reviews
Microscopes come in a variety of magnifying power ranges and additional features, and these factors somehow are related to the prices.
Keeping in mind all the factors, I have come up with the top picks you should know about before purchasing your microscope.
1. Plugable Microscope
Plugable is a renowned company famous for its tech products. Their microscope is a unique device with very interesting features.
It doesn't matter if you are a student, collector, or a tester; you can use this microscope. Their latest version of this product is a USB 2.0 digital device compatible with Windows, Mac, and Linux.
Providing high definition, it comes in 2.0 Megapixels and provides up to 250x Magnification, and uses LED as a light source. Isn't it interesting!
The LED halo light of this device is equipped with brightness adjustment control as well, and if I talk about the user's experience, it is a precise value for the money!!
Pros
Portable design
Lightweight
Relatively cheaper
Good magnification
Cons
Lesser sustainability
No strain relief in the USB cable
2. Bysameyee USB Digital Microscope
A well-known company that makes mostly microscopes and their accessories, Bysameyee offers you this unique digital microscope at a very good price.
It is a device offering you a magnification ratio of 40x to 1000x and is easily compatible with your Android, Windows XP/vista/7/8/10, Linux, and Mac.
It has a record feature along with capturing and measuring and can be used by students, engineers, collectors, and even kids.
Along with all the other features, they provide you light adjustment facility as well. This product is the best and affordable for you if the features meet your demand.
Pros
Lightweight
Cheaper
Highly Compatible
Portable (easy to carry)
Cons
Camera installation issues in some devices
Very delicate
3. Celestron Handheld Digital Microscope
An American company known for its optical instruments and tools, Celestron offers you this device with a magnification range of 20x-200x.
This product is my favorite as it has a high-quality glass lens to ensure a sharp image and a 5MP sensor for a good resolution as well.
This device also has a good compatibility range for Windows and Mac devices, but it is not as good as modern devices.
The device is good to use and easy to handle, but the bad part is the price.
Yes, this is a really expensive microscope relative to other digital microscopes. Hence, if you are opulent, buy this sustainable device.
Pros 
High-quality output
3D specimen observation
Good range of magnification
Easy to handle
Cons
Very expensive
Larger weight relatively
4. Carson MicroBrite Microscope
If you need a battery-powered low magnification range pocket microscope, then this product is for you.
Carson, an American company, offers this product for a reasonable price that has a magnification range of 60x-120x. It has a light source of LED with an Aspheric Internal Lens system inside.
A very portable design, this microscope uses an AA battery to power up and do its job. Carson also provides a good warranty for this product.
In a nutshell, it's a pocket device for low-range use and greater portability.
Pros
Good price
Low power source
Easy to use
Cons
Low range magnification
Low-quality results
5. AmScope Optical Glass Lens
It looks like a typical microscope; it is an all-metal LED compound microscope that provides a great range of magnification (40x-1000x).
This device has five magnification powers and is inclined at an angle of 45 degrees.
It also has rotating flexibility, which means it can rotate 360 degrees. The light source is the one that is commonly used, i.e., an LED source.
This professional microscope provides you a crystal-clear image. To power this device, you have to put in 2 AAA batteries, and it's ready to discover the details.
Pros
High definition
Wide magnification range
Flexible to adjustment
Cons
Relatively expensive
Higher weight
6. Science Kits for Beginners Microscope
If your child is keen to discover the micro world, this kit will encourage your kid's scientific exploration and will also put the fun in that.
This fun full kit has a great range of magnification that is up to 1200x and includes all the stuff that is important for your kid to know.
It includes a monocular viewing head LED, and the microscope itself is powered by 2 AA batteries.
The company that sells this device is named Little World. So, if you want your kid to think broader, buy them this amazing tool as it is very cheap and amazing.
Pros
Good for the learning of kids
Very cheap
Lightweight
Cons
Non-replaceable light
Need some tweaking sometimes to make it functional
7. Wireless Digital Microscope, ROTEK
Need a wireless microscope with HD view? This microscope by ROTEK contains a 2MP HD 1080P camera with an amazing magnification range of 50x and 1000x.
The exciting part about this device is that you can have these features in a mini pocket handheld device. This microscope has a very good compatibility range.
They say that if you want to have good results, then the best focal distance to keep in mind is 3-60mm. Moreover, this device is powered using lithium-ion batteries.
Pros
Wireless
Relatively cheaper
Lightweight
High definition
Cons
Stepless magnification
Focusing issues
8. Amscope M158C-E Microscope
It is a digital compound microscope having a monocular viewing head with a range of 10x to 25x widefield eyepieces.
This one also provides a magnification range of 40x-1000x, and the angle to view is 45 degrees like the ordinary compound microscope.
The amazing part is that it's achromatic full-glass objectives provide high-quality resolution color-corrected images.
The compatibility range for this device is also good, and you can connect it with Windows XP/vista/7/8/10. It also has a plain stage with stage clips to secure slide and stage drop.
Pros
High-quality results
The good widefield range for eyepieces
Cordless and rechargeable
LED illumination
Cons
Very high in Price
Not compatible with Android/Mac
9. LCD Digital Microscope, SKYBASIC
If you are looking for an LED-based digital microscope, then please pay some attention here.
A 4.3-inch screen containing this device can give you amazing pictures and videos in the range of 50x-1000x magnification. Isn't it cool!
Also, for a brighter image, it has an eight adjustable LED illuminator, providing great results. Coming in a 2MP HD 1080P camera, it is fit for the classroom, factory, or home use.
The more exciting part is that it has a built-in 2600mAh rechargeable battery inside. A lot of features at a relatively low price, I will call it to value for the money.
Pros
LCD display
Higher magnification
Rechargeable battery
8GB TF card included
Cons
Less portability
Relatively larger weight
10. AmScope M150C-PS25 Microscope
This product seems a lot like Amscope M158C-E but the things that make it distinct from that device are its coaxial coarse and fine focus.
It also contains a set of 25 prepared slides. The forward-facing nosepiece comes with 4x, 10x, and 40x DIN achromatic full-glass objectives for higher resolutions and fine quality.
Talking about power demands, it needs a voltage of 110 to work with. The light source is the same as others, i.e., LED.
Pros
Relatively lower price
High clarity
Professional experience
Cons
Relatively higher weight
Not very portable
11. Koolertron 4.3inch Digital USB Microscope
Koolerton's this device similar to the SKYBASIC's, but it has a relatively lower magnification range, i.e., 10x-600x.
It also contains a rechargeable lithium battery, a micro SD card for storage, and a 4.3inches display for a better experience.
They also offer you a high-quality adjustable stand to adjust the magnifications and view ranges as well.
You can also have HD resolution in this device and, as a result, a better quality of images.
Pros
LCD display
Higher magnification
Rechargeable battery
Cons
Less portability
Relatively larger weight
Buyer's Guide
It is always a good thing to ask experts or look for their advice before purchasing a thing that you do not know very much about.
The purpose of the buyer's guide is to equip you with important knowledge about the product that you must know before buying.
Here below are some factors that you should keep in mind before buying yourself a microscope:
Accuracy
While working with a microscope, the first thing that comes to mind is accuracy, and you cannot neglect it.
Your microscope should provide you accurate details of the object you are trying to investigate.
In this case, sharpness, clarity, and good resolution are also important.
Magnification
The main purpose of a microscope is to magnify the view. Before buying one, you must be sure about this aspect.
You must know the scope of your work and the range of magnification that you'd need in order to perform your experiments/studies.
I recommend that you should buy one in a good range of magnification so that if the work scope changes, you would not have to change the microscope.
Stability
Measuring tools should have an important trait, and that is called stability. To achieve good results, stability is of prime importance.
Make sure that the product that you are going to buy is stable or not because if it isn't, then you will regret your decision.
Diaphragm & Condenser
Always before buying a microscope, keep in mind that the microscope has an iris diaphragm along with a good quality condenser.
These are important as they control and adjust base illumination.
Comfort
Make sure that you are comfortable while operating your microscope. Because while performing the experiments, you often have to go through the grind of observing things carefully.
If the device doesn't allow a good view position, then it will surely make you uncomfortable while working. Ergonomics are also important in our case, so remember my words.
Frequently Asked Questions
Is AmScope a good brand?
This company is renowned for providing quality products at reasonable prices. They design and manufacture the microscopes on their own. Hence, I would say that it is a good brand.
What is the highest magnification on a microscope?
The highest magnification on a microscope that is generally taken is 1000x
How do I view my USB microscope?
First, plug in the device on your computer.
Now, hold the microscope and tightly touch the lens of the specimen.
The image will be visible on your computer now.
Use the microscope to observe dry specimens only.
How do you focus on a digital microscope?
Turn the dial of the microscope.
Increase the magnification until the subject comes into focus
Use a stand with a fine adjustment knob.
Remember that slowly adjusting the knob helps to find the focus.
Which magnification should you start with?
It would help if you started with 4x or 10x on a slide.
What is the proper way to carry a microscope?
Make sure that you do not touch the glass part of the lenses with your fingers.
Always use some special lens paper to clean the lenses.
Always keep your microscope covered when not in use.
Carry your microscope with both hands.
Try to grasp the arm with one hand and place the other hand under the base.
Conclusion
I hope that this information would have helped a lot. I think that after reading through this article, you are now fully able to decide better for yourself.
So, without further delays, wisely choose a microscope for yourself. Good Luck!