Microscopes are continuously serving biology, and they have revolutionized the research in the subject by providing a close-up to the very small details.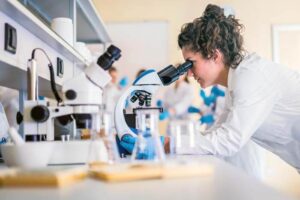 For the best view of single-celled microorganisms, you need the best microscope.
Looking for the best one is often not an easy process, and there is a lot of grind in that.
But you need not worry if you are already here because, in this article, I will cover all the aspects that you should be familiar with before buying the best microscopes to view single-celled organisms.
I would also express my reviews over the top products that I found intriguing and exceptional.
So, let's start without further ado!
Top 5 Microscopes to View Single-Celled Organisms
Microscopes are of various types and comprise various features along with coming at different prices.
Out of them, finding one of your choices is a great grind but let me ease it down for you.
After a lot of research, I brought for you my top 5 picks, and I believe that one of these will be for you.
1. OMAX LED Binocular Compound Lab Microscope
Starting with this great product by OMAX, and you should know that OMAX is a renowned brand.
This model is undisputed, and the reason for it being on the top of my list is its exceptional suitability for the job.
The magnification is just amazing and provides you a range of 40X-2000X scale of zoom. Its objective is high-quality DIN achromatic glass.
The more exciting features include its 360-degree rotation facility, the ergonomic 45-degree inclined binocular head, and a great focusing system.
The stage size is very work-friendly. For enhanced clarity, its high-quality condenser (NA 1.25 Abbe) serves the purpose.
Along with all the other features, the LED light system takes its illumination to another level.
The solid and robust metal design reduces vibrations, as well. In a nutshell, this is an ideal device to view single-celled organisms and highly recommended.
Pros
Great magnification
Mid-range price
Great condenser
Ergonomic design
Cons
Slide holding screw bumps while changing the objectives
Weighs 9.08 pounds
 2. AmScope T490B Compound Trinocular Microscope
AmScope is another famous microscope brand. Their professional microscopes are my personal favorite, and this is one of them.
The magnification that it offers is 40X-2000X, which is quite amazing. The unique aspect of this product is its halogen lighting as the illumination source, which provides breathtaking results.
Meanwhile, the Abbe condenser gives great clarity. Thus, the whole mechanism takes microscopy to another level. The resolution obtained by this microscope is super amazing.
The bad part is the price as this device is very expensive but if you are opulent to afford it, go for it. My favorite part is its simul-focal optical system.
Thus, you have the option to view either through eyepieces or the trinocular head.
It is very good for biological observations and provides a professional experience nonetheless. Could you have a look at its pros and cons?
Pros
Robust design with great aesthetics
Simul-focal optical system
Great magnification
Professional experience  
Cons
High price
Weighs above 8 kg
3. Swift SW350T 40X-2500X Microscope
This one is the research-grade tool by Swift, which is quite a popular microscope manufacturer. The wide-field eyepieces of this device range from 10X to 25X.
Its 4 DIN achromatic lenses enhance the magnification experience of yours and take it up to 2500X.
Moreover, its exceptional LED lighting with an Abbe condenser creates a strong blend of performance and provides exceptional clarity.
The device has all that you need to view cells and unicellular organisms. Being trinocular with all the amazing features, its exciting portion is being at a mid-range price.
There is a facility of camera attachment as well to provide you recording experience as well. The aesthetics are also phenomenal. Have a look at the pros and cons as well.
Pros 
Great magnification
Phenomenal results
High clarity due to Abbe condenser
Value for the money
Cons
weighs 11.23 pounds
loose components issue in some devices
4. AmScope 120X-1200X Microscope
Many of you might need beginners, so I felt like showing this device to you.
This is a great beginner kit by AmScope. Your biological experiments become super cool using this great tool.
The magnification is great that you need as a beginner, and it is 120X-1200X. There are about 52-pcs of accessories included with this microscope that is quite interesting and encouraging.
You can observe unicellular organisms with this as well. The only difference is between professional and beginner experience.
But trust me, it comes at a very good price corresponding to the features. Thus, you get true value for the money. The rack and pinion focusing system allows you to focus well on your sample.
So, as a whole, there is a STEM kit and a carrying box with loads of accessories. What are you waiting for?
Pros
Lightweight
Extra accessories
Good magnification
Best for beginners
Cons
Superficial results
Low quality relatively
5. OMAX – MD827S30L Compound Microscope
Here is the last one, which has a great price just like its great features.
Talking about magnification, you get a great deal of 40X-2000X of magnification. The digital compatibility allows you to connect it to your PC.
Thus, you can see it all on the big screen. There is a built-in 3MP sensor as well for recording purposes.
Its mechanical strain-resistant stage, coaxial focus, great illumination using advanced LED, and high-quality diaphragm takes microscopy to another level.
Indeed, a professional experience. Moreover, the 45-degree inclined 360-degree rotatable head provides a good deal of ergonomics as well.
In my view, you are paying a lot, but in exchange, you are getting a lot as well. Have a look at its pros and cons as well.
Pros 
Recording facility
Great Magnification
Great illumination
Great clarity
Cons
High price
Compatibility issues over operating systems
Buyer's Guide
To find a great microscope to view single-celled organisms, you should also go through the buyer's guide.
A buyer's guide equips you with all the necessary information that you should keep in mind before purchasing the product.
The following aspects are must remember:
Magnification
When it comes to biological use, magnification becomes an important aspect.
Observations say that at least 400X magnification is necessary for working on microorganisms.
But I would recommend you go for a higher value to increase the work scope of your device. After all, more is good!
Illumination
A good clear image is what you need while magnifying your sample.
Illumination has a great role in providing a clear image. Thus, a good lighting source like LED and halogen is preferred
Condenser & Diaphragm
A good condenser and diaphragm are behind the great clarity of your microscope.
While looking for a good microscope for your work like this, find a microscope with a good condenser like Abbe and an iris diaphragm.
Ergonomics & Design
Working on a microscope is not an easy job, and sometimes, it takes hours of struggle to find the correct details of the desired sample.
Thus, the design should be ergonomic and comfortable to use. I prefer a 30-degree or 45-degree inclined head with a 360-degree rotation facility.
Budget
Budget is also a very important aspect while looking for a good microscope.
There is no need to go for the most expensive one as it might not be that great. Find your desired features in an affordable device.
Focus
A good focus and adjustability of focus should be included. Fine focus and coarse focus, if both included, are good to go for.
Frequently Asked Questions
Which microscope is best for viewing living organisms?
Light microscopes are great for viewing living organisms. Compound microscopes are light microscopes as they are light illuminated.
What microscope is used to see cells?
Compound microscopes with a good magnification range are used to see cells.
What organisms can be seen with a light microscope?
Many bacteria can be seen using a light microscope. There are some organelles as well, like mitochondria and human eggs, that can be observed.
Can light microscopes see dead cells?
No, the dead cells can only be seen using electron microscopes.
Can viruses be observed using a light microscope?
Viruses are much smaller than bacteria; thus, they mostly cannot be observed using a light microscope.
Can electron microscopes see living cells?
The electrons can destroy the cells. Thus, they cannot be used to see living cells.
Conclusion
Finding yourself a well-suited microscope is not an easy process. You need to do a lot of research for that.
I have tried my best to come up with the best possible information and products, and I hope that it will help you find the best-suited microscope to view single-celled microorganisms.
Keep in mind the guide and make a good decision. Good luck!