USB microscopes are no doubt a great invention, and you can get top quality results which are sometimes even better than optical models for a very low price.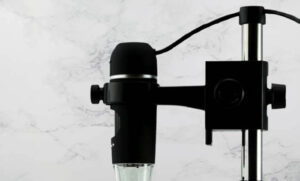 Moreover, the size makes them very easy to carry around, making them a perfect package.
So, in this article, I will be listing down some of the best USB microscopes you could buy.
You can easily find the most suitable one for yourself from this list and won't need to go through hundreds of useless models on the internet.
Top 12 USB Microscopes Reviews
I've done a considerable amount of research, and after comparing the most highly rated products and testing them out personally,
Here are the top 12 models for you to choose from. Each one is listed along with its pros and cons so you can easily make a choice.
1. Celestron 5 MP Digital Microscope Pro
Coming in at the top spot, there are a lot of reasons why I've chosen to put this thing on the very top.
First off, it produces exceptionally clear and high-resolution photos with its 5MP camera and has a very high magnification range.
The focusing technique offered with it is also amazing and makes it very easy to use for everyone.
Since you can zoom from 20X to 200X, this high range makes it perfect for a wide variety of purposes, making it a high-value-for-money device.
Lastly, the lighting is brilliant with it. The only downside is that the tool needs calibration frequently whenever you have to use it.
Pros
Very clear and sharp images
Easy to focus
High magnification range
Top-notch lighting for details
Cons
Needs to be calibrated before use every time
2. OMAX MD827S30L Microscope
Omax is another top of the line microscope which is used for getting very magnified images.
Even though the camera is only capable of taking 1.3MP images, the magnification abilities can go as far as 2000x, which is great.
Also, the lower limit is around 40x only hence making the product very versatile as well. One of the best things about this is the user-friendly nature of the microscope; it's extremely easy to understand and use.
You can also connect it to your computer, whether it is Windows, Mac, or Linux. However, you cannot directly connect it to iOS devices.
Pros
40x-2000x magnification
360 degrees head
Compatible with all computer operating systems
The software comes with many in-built functions
Cons
Doesn't directly connect to iOS devices
Expensive
3. AmScope B120C-E1 Compound Microscope
This is another compound microscope that offers a great range of magnification, but with a great price tag as well.
Coming from the famous manufacturer AmScope, this device is a great value for money.
It has an LED light and comes compatible with all the computer operating systems such as Windows and Linux, but unfortunately doesn't support Mac.
The head is 360 rotatable, while the 1.3MP camera makes sure you don't miss out on any details.
Pros
Great value for money
40x-2500x magnification power
Powerful single-bulb LED
Flawless focusing
Cons
4. Plugable USB Microscope
If you're a student or a hobbyist who's drive for curiosity pushes him to the limit that he's ready to buy a microscope, then this pick is for you.
Not only does it come with an extremely cheap price tag, but it also has the capabilities a lot higher range microscopes do.
Featuring four diffused LED lights and a maximum of 250x magnification power, this is a seriously good device that is quite hard to beat.
It's compatible with all the major OSs but IOS. There is software provided as well, which makes it further useful.
Pros
Comes with a flexible arm stand
Very cheap
Four diffused LED lights.
Cons
Can only magnify up to 250x
Not compatible with iOS
Plastic body
5. Andonstar ADSM302 Digital Microscope
This ado star is a kind digital microscope because it comes with an IR remote control.
Moreover, it has an adjustable screen whose angle can be set according to your preferences. These features, combined with the price, make it a very impressive device.
If you're interested in analyzing circuit boards, this could be a great pick. Also, the video recording it supports is up to 1080P, which is Full HD.
This isn't very common in such affordable devices.
Pros
Adjustable angle of the screen
IR remote control
Full HD screen
High value for money
Cons
PC software isn't great.
Build quality isn't great
6. Dino-Lite AM7115MZT Microscope
If you're looking for a fully professional tool and willing to spend a good amount of money, don't forget to take a look at this amazing thing.
Even though it will cost you a good fortune, it justifies the price completely.
Coming with polarized light and magnification capabilities of 20x-200x, you can easily control the glare using the control of polarized light as well.
The software included with it is also fully loaded and able to produce good results. As a whole, it will offer you a premium experience that you won't forget.
Pros
Optical magnification of up to 220x
Comes with polarized controlled light
MicroTouch feature
Great software
Cons
No auto-focus at this price
Very expensive
7. Opti-Tekscope Digital USB Microscope
Opti-Tekscope digital microscope camera is another great option if you're very bothered with high detailed images to see every bit of the image.
It has an advanced CMOS sensor, which lets it do so, and the bright 8 LED lights further help in it.
One of the unique things about this, which isn't so common in these microscopes, is the build quality.
With a top-quality aluminum body, it won't go anywhere soon and provide you good value for the money you've spent.
Pros
Very detailed images
Aluminum design
Can capture footage while examining samples
Plug n play
Cons
Magnification isn't much.
Not for professional use
8. Carson eFlex USB Microscope MM-840
Yet another great USB microscope with a very impressive price.
If you're a student who's on a budget but still needs a decent microscope to be used in projects, make sure you go through this one.
It has a flexible stand as well and is compatible with all major operating systems of computers. Lastly, the LED light is also adjustable, which makes things further easy.
Pros
Great adjustable stand
Can easily attach to any surface
Very cheap
Easy focusing
Cons
Software is not so professional.
Not the sharpest image
9. Koolertron LCD Digital USB Microscope
Koolertron is a great USB microscope if you prefer a huge screen to view the images on.
It also features eight adjustable LED lights, which produce enough light to make crisp and clear images.
There is a micro SD card slot built-in as well, which makes transferring quite easy and fast.
Lastly, the stand coming with it is pretty useful and can be adjusted any way you want.
Pros
Big 7 inch screen
Eight adjustable LED lights
Great value for money
Cons
Lacks instructions
The display isn't bright enough
10. Learning Resources Zoomy Microscope
Looking for a very compact and handy microscope that also doesn't cost you a lot? Look no further!
This amazing product from Learning Resources is a great companion and will help you study images in-depth while staying in your pocket.
It's ideal for curious young minds who want to explore the things around them in a casual manner.
However, if you need something for more sophisticated projects, you might have to look elsewhere.
Pros
Great for children to use casually
Very handy
Cheap
Easy to use
Cons
Not for professional use
Focus can sometimes be tricky
11. Opti-Tekcope OT-M HDMI Microscope
This is yet another top-notch microscope by Opti-Tekscope.
Being able to zoom up to 300x, it's great for general usages like for students or people who want to analyze circuits board, etc.
It's a plug n play tech, so it's very easy to connect to any computer and lets you work very conveniently.
Lastly, the design and the stand are very durable, so you won't have to buy another microscope anytime soon.
Pros
Great build quality
Perfect for repairing purposes
Working distance is pretty good; 4.15 cm.
Easy to plug n play
Cons
Auto power off is annoying
12. Walfront Digital USB Microscope Camera
Walfront is an optically magnifying microscope capable of zooming into images up to 200x and houses eight impressive LED lights for crispy and clear results.
It's great for adjusting the focal length and is easy to connect even to phones. It even supports the Type-C cable, which is coming with androids nowadays.
The camera is 2MP, so you could expect pretty decent images.
Pros
Light resistant camera and cable
Comes with pre-built software
8 LED lights
Cons
Video quality is not impressive
Magnification is not much
Buyer's Guide
Before you move on to make your choice about what you're buying, there are first some points you would need to stress upon.
Make sure you don't leave out any if you want to make the best choice.
Magnification
This is the foremost thing that you should find out about a microscope.
Different projects need a different magnification level, and if your machine fails to magnify up to that level, it's no use to you.
So, make sure you find something which provides you the level of magnification you need.
Also, it should let you adjust the level as you need and not just offer two or three levels you can toggle.
Compatibility
When it comes to USB microscopes, compatibility is what defines them.
If you're unable to connect them to your computer, they're no good to you, as this is what's so good about them.
Most of the microscopes support windows and androids, but only a fraction of them support iOS.
So, if you own a Mac or iPhone, make sure you buy something that supports it.
Image Clarity
Certain factors make the images look clear and sharp. There's the resolution that the camera offers and the lighting.
Ensure both are good so that the final image can be crispy clear; otherwise, you will fail to study the depths of the images you're buying the microscope for.
Frequently Asked Questions
How do I connect a USB microscope to my laptop?
It's pretty simple. You install the software that came with it and plugged the camera in. It will calibrate the device automatically.
Are USB microscopes good?
Yes, they are very useful. Not only are they very handy and easy to take around, but they also let you study things in a very detailed manner while you're on the go. The software is pretty advanced too.
How do I use a USB digital microscope on Windows 10?
It differs according to the brand. You have to install the relevant software and plug the microscope in.
If you want a detailed guide, put your model, and find a video on YouTube.
Can I sturdy circuit boards use USB microscopes?
Yes, you absolutely can. They are specialized microscopes for it, and many people buy them for this purpose.
How much magnification do USB microscopes provide?
It depends upon the type and model. The compound ones can go up to 2500X, while the optical ones are usually as high as 300X.
How do I view my USB microscope?
Once you have installed the software that came with the microscope, there will automatically be a popup whenever you plug it into your machine.
Conclusion
So, that's pretty much it. We have seen some of the best USB microscopes available in the market, along with their pros and cons.
Make sure you access your requirements first and go through the buyer's guide as well before making a choice.
Also, don't skip and product and read through each detail as they are pretty similar and meant for different types of customers.