Microscopes are great instruments to study the details of objects. Geology is a great field, and research at a magnified level in this field is of utmost importance.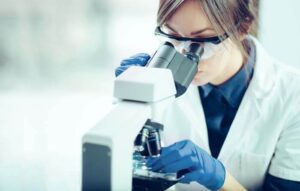 There are various aspects to consider before buying the best microscopes for geology.
For example, magnification is not a very important parameter, but illumination and condenser are of prime importance.
But as you know that there are loads of these microscopes available in the market.
I, after detailed market research and personal experience, am going to mention my reviews about the best microscopes for geology.
I will also give a buyer's guide to equip you with all the necessary information. So, let's get started!
Top 6 Microscopes for Geology Reviews
As there are various brands in the market for microscopes along with different features, let me tell you about the best ones out of those that I've gone through.
I am pretty sure that one of them is well-suited for your work:
1. NATIONAL GEOGRAPHIC Microscope
Starting with this unique product by NATIONAL GEOGRAPHIC that has a dual-LED system and is very good for beginners to explore geology.
You get two magnification options that are 20X and 50X in this device. So, the dual lighting and the magnification allows viewing 3D objects in a better way. You can also use this microscope for biological observations.
For learning purposes, a brine shrimp test is also included with the product, along with 50+ accessories.
This kit includes ten prepared biological slides and ten blank slides—a good microscope at a good price. Let's look at some pros and cons!
Pros
Two in one (biological & 3D objects)
Loads of accessories
Good price
Dual LED
Cons
Low power
For beginners and students only
2. Radical Laboratory Geology Microscope
Let me introduce you to this amazing product by Radical that has in it all that you need for your professional geology microscopy.
The company says that it is ideal for geology because it comes in a magnification variability of 40X, 60X, 100X, 150X, 400X, and 600X.
If you talk about its body, it is monocularly inclinable with a built-in sliding Bertrand lens polarizer to enhance the quality.
You can also rotate the stage up to 360-degrees in a gap of 5-degrees. The design is robust, and there is also a strain-free facility.
With such an incredible microscope, you can take your microscopy to another level. If you can afford it, then go for it.
Pros
Good magnification
High-quality results
Great design
Rotatable stage
Cons 
High price
Not a light-weight product
3. AmScope PZ200TA Microscope
A great microscope manufacturing company, AmScope, offers you this beauty that I found very intriguing.
This a trinocular microscope with a very good magnification range of 40X-640X and is ideal for geology.
It has strain-free plan achromatic objectives along with polarizing and brightfield configuration. The exciting part that I found about this device is its halogen-based illumination.
Adding to the features, this product also has a 360-degree rotating feature.
Its polarizing illumination with a focusable Bertrand lens and rheostat-controlled 20 W halogen illumination takes microscopy to another level. Its fine focusing feature gives a great view of the objects.
Pros 
High magnification
Great condenser (1.25 NA Abbe)
Halogen illumination
High-quality results
Cons
High price
Heavy in weight
4. OMAX 50X – 787.5X USB3 Microscope
This product by OMAX blew my mind with its price and features. A very expensive well-suited for geology, this microscope has amazing features and provides great results.
Its high magnification, trinocular feature, and great condenser (NA 1.3 Abbe) provide a next-level microscopy experience.
It has a fine system of rotation up to 360-degrees and uses a special halogen-based illumination system for very high output.
There is also a built-in USB3 digital camera to capture and record observations. It is highly compatible with almost all operating systems to allow you to go beyond limits.
There is much more in this device, and if it suits you in all aspects, you should consider it.
Pros 
Great magnification
Great resolution
High-quality illumination
Highly compatible
Cons
Very high price
High in weight
5. AmScope T610 – IPL 40X- 1000X Microscope
Another great microscope by AmScope, this product is incredible for geology. It has a great magnification of 40X-1000X and is a great tool to observe the objects/specimens deeply.
The high-quality equipment in this microscope gives a great sharp picture. The real angle view that this device provides is at an angle of 30-degrees from the horizontal axis.
To enhance the quality and illumination, it has a Kohler LED illumination with an iris condenser.
You can also add photos/videos via its trinocular port. In a nutshell, it has all that you need for good geology research.
Pros
Great magnification
Great illumination
Sharp images
Good condenser
Cons
High price
Not a lightweight device
6. AmScope PZ200BB Microscope
The final one on the list of my top picks is this expensive yet amazing microscope, which truly is great for geology.
It has all that you need for your work; a magnification range of 40X-800X, strain-free objectives, halogen illumination, an Abbe condenser.
More to the features is its 360-degrees fine rotation facility and fine focus due to the tension-adjustable coarse focusing system.
It has a very high price, but it's a quality product, and I would suggest that you consider it if the features and price suits you. Let's look at some pros and cons as well!
Pros
Highly fine focus
Great magnification
Good condenser
Cons
Very high price
Weighs about 15 pounds
Buyer's Guide
A buyer's guide always helps, especially if you are a beginner and do not know a lot about the product or what to look for while purchasing.
After reading through it, you will recognize the important aspects while buying yourself a microscope for geology.
Illumination
Illumination is of utmost importance in all microscopes and specifically for geology. Try to look for halogen-based illumination or even good quality for better results.
Condenser and Diaphragm
A good condenser like Abbe and iris diaphragm is very important for clear images and fine brightness. Always look for these features in your microscope to obtain satisfactory results.
Magnification
Very high magnification is not necessary but try to go for a good range like up to 800X to fulfill the good demands.
Budget
Budget is also a very important aspect. It is not necessary that expensive equipment is good while cheap is bad.
Always realize what you need and find the desired features at a good price to have value for the money.
Ergonomics
Another important thing while using tech products is ergonomics. Human efficiency for the product becomes notable when the design is good. A robust design with good operating comfort is always a need. Look for it as well!
Frequently Asked Questions
What kind of microscopes do geologists use?
Geologists mostly use optical microscopes. These microscopes use visible light to operate and lenses to magnify the objects.
Do geologists use microscopes?
To see the details of objects/specimens, microscopes are greatly used by geologists.
Why do Geologists study minerals?
To analyze them, classify them, and know their identity, geologists study minerals.
How do geologists use minerals to study the past?
Minerals show the traces of the past and the condition of the earth in the past. So, they help geologists to study the past.
What type of microscope has the highest magnification?
An electron microscope has the highest magnification, i.e., 200000X, and it is a great tool to magnify at the atomic level.
What problems do geologists solve?
Geologists solve the problems associated with waste management, suburbanization, pollution, and natural hazards, such as flooding and erosion.
How do I study for a geology test?
First, you should perform good research on the field and its relations.
Then it would help if you worked in the lab with a proper guide to have a comprehensive understanding.
Practical study of specimens always improves the skill and knowledge.
How do Geologists classify rocks?
Geologists classify the rocks concerning their traits like chemical composition, permeability, texture of the constituents, and size of the particles.
How do I become a geologist?
You have to complete a degree in science with a major in geology. In this way, you can become one.
Conclusion
The best microscopes for geology have some specific features, and I have accordingly mentioned above in detail the well-suited products.
I hope this information is enough for you to decide and opt for the best microscope for geology.
Don't forget to keep the aspects in mind that I've mentioned in the buyer's guide not to regret afterward. I wish you good luck with the purchasing phase.
Read Also: