Technology has completely changed the way microscopes can be used.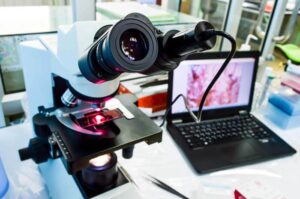 The innovation of cameras specifically created to advance the world of microscopy has given users an effective and convenient method to share, view, and record their observations.
Whether you belong from the world of academics, anthropology, or technology microscope, cameras have paved a new road that provides access to the unseen world.
Microscope cameras provide versatility that enables multiple users to benefit from its functions.
It can open the doors of science for children and spark their curiosity in a way that can help them view the intricacies of nature just like scientists;
Students can use these cameras as a teaching aid that gives them practical experience and knowledge, which results in a better understanding.
Professionals and enthusiasts regularly use the best microscope cameras to discover and explore unpaved territories.
Top 8 Microscope Cameras Reviews
Microscope cameras are a great help, but with the market filled with so many options, it can be pretty challenging to decide on a single option.
To help you gain some market insight, I've gathered a list of the top-performing microscope cameras, which are all picked for their outstanding features.
1. AmScope 5.0 MP Microscope Camera
This is a 5MP USB microscope camera that can help you with taking pictures, live record videos of your specimens without any trouble.
It is easy to use and requires minimal effort to set up. It's adaptable as it can fit three different mounting sizes; hence you will probably be able to hook it up with your microscope with ease.
It's also compatible with all Microsoft Windows versions, which are commonly used by most people.
Given its only five mp, you should expect some noise and color distortion; however, all in all, it's a pretty wholesome product that will get the job done.
Pros
Easy to set up
Portable
Adjustable
Cons
2. Mustcam 1080P Full HD Digital Microscope
This digital microscope allows you to see a high-resolution display due to the great quality of image sensors and glass lens used.
It's not integrated with USB; instead, you can hook it up with any of your screens via HDMI.
If you think you can't use this microscope to view your findings on the PC, you're mistaken because you can even measure your specimen while viewing it on the computer.
The micro SD card storage is pretty convenient as well if you need to record and capture images on the spot.
Pros
Easy to use
Adjusts for light
Automatic white balance adjustment
Cons
A short length of cords
The stand is not as stable
3. OMAX – A3550U3 5MP Microscope
Omax has something for everyone; if you're looking for premium quality microscope cameras, this may be the option you've been searching for.
The 5Mp camera enables you to capture relatively high-quality pictures in great resolution. Conveniently, each picture you capture isn't too big, so it's convenient to store. USB 3.0 is a real upgrade because you get a much faster frame rate.
The software is also simple and user-friendly; you can take advantage of the features it comes with as it gives you control so that you can play around with color and contrast.
Pros
Fast video frame rate
Good quality
Easy to use
Cons
Incompatible with Apple Photo Booth
Only works with Omax software
4. AmScope MD130 1.3MP Digital Microscope
You can use this microscope camera for work or play. It's one of the easiest to use among its competitors.
The 1.3 Mp works well for its resolution and succeeds in delivering high-quality images.
You can capture micrographs conveniently and even edit them on Windows XP,7,8, and 10. Some users, however, did mention that the camera sensor is not sensitive to red color.
The small field of view is another problem that you might face if your line of work requires a lot of precision.
Aside from these factors, the overall performance is better than you would expect.
Pros
Easy to use
Adjustable
Portable
Cons
Sensor Red insensitive
Does not support MAC Os
5. OMAX 8.0MP Digital USB Microscope
The ultimate product you were looking for, for your microscopic needs, is here. The OMAX Microscope features an 8MP camera for crisp and clear image quality.
It also boasts a high dynamic range of 65.2dB. The frame speed of this amazing microscope camera allows for 27fps capture speeds.
The best part about this product is it even has a digital USB attachment with any of your hardware devices.
Pros
Calibration Slide
Replaceable eyepiece
Advanced Software provided
Cons
Limited use software
USB 2.0 only
6. Swiftcam 10 Megapixel Camera for Microscopes
Wish you could capture and record what you see through your microscope?
Well, with the Swiftcam attachable microscope camera, that's indeed possible!
This upgrade boasts an 10MP camera with the ability to capture vibrant full-color pictures or videos. It has a special mounting system, which allows for more versatility and ease of use.
It even has a USB 3.0 connector, so it can instantly display everything it is capturing on your device.
Pros
All Operating System support software
Robust Build Quality
USB 3.0
Cons
7. OMAX 18.0MP Digital Microscope Camera
This digital camera can solve all your capturing needs as it can capture detail at a very microscopic level.
Just attach it to your microscope, and you are good to go. It even has a 0.01mm calibration slide for that extra precision.
It is USB 3.0 compatible with all types of operating systems. With an 18MP camera, it can provide clear, detailed images or videos right on your device!
Pros
High-quality image capture
Durable Design
Great for beginners
Long USB cable
Cons
Slow response time
Lag on old systems
8. OMAX 640×480 USB Digital Microscope
If you are interested in microscopic photography, getting a good microscopic camera can completely change the quality of your work Microscope cameras allow you to view organisms from your screen that can be of any size.
This product can help you attain good quality pictures without going through any effort.
You can save the movement of microorganisms, their structure, and size to refer back to whenever you want, thanks to this camera.
Pros
Easy to set up
Portable
Adjustable
Cons
Buyer's Guide
If you're thinking of investing in a microscope camera to significantly improve your experience, it's necessary to have some background information about them so you can make an informed decision.
As microscope cameras are advanced pieces of technology, it's important to have an understanding of technical knowledge related to them.
This Buyer's Guide was created to help you give some pointers on what to look for in a camera to suit your needs appropriately.
Resolution
Your camera's resolution will determine the quality of the image that is displayed. Broadly speaking, a camera with higher pixels would mean a better quality of the image.
You can look at the megapixels and decide according to the nature of your job. If you require more detailed images, then look for cameras with a minimum of 5mp.
While pixels can significantly affect the resolution of your image, it's not the only factor that you should pay attention to.
Attaining a better resolution means that to select an appropriate pixel pitch, which takes into account factors such as numerical aperture, total magnification, and spatial frequency of the setup.
Field of View
There are numerous options available in the market with either both large and small image sensors.
While the cameras with large image sensors can provide a field of view that ranges over 18mm, the camera options with smaller image sensors can provide a wide field of view, but you are bound to see shading and optical aberration, which may not be ideal depending on your project.
Hence before buying a microscope camera, consider why you need it and accordingly decide the size of image sensors and field of view, so you don't face any future problems.
Type of Sensors
If the nature of your use does not require being finicky about details such as color fidelity, sensitivity, frame rate, and dynamic range, then opting for CMOS sensors is ideal;
However, CCD sensors are better if you need a higher quality of color fidelity and need to regulate other parameters.
Data Transfer
One of the main advantages of using a microscope camera is that it enables the user to transfer their recording and related data wherever and however they want.
But each microscope camera comes with its own set of features which can assist you with work. Most options either have a higher or lower speed depending on whether they have USB 2.0 or 3.
If you work in situations whether you need to continuously transfer huge amounts of data all day, choosing a higher speed of data transfer might facilitate you by making this process less frustrating.
Ease to Use
Your experience can quickly turn from fun to one that induces anger and frustration, depending on how easy to use the equipment is.
If you're a beginner, you should look out for options that offer an overall comfortable experience.
At the same time, this is basic knowledge; however, you will have to pay a high price if you do overlook it.
Microscope cameras can be tricky to work with at times; hence getting one that has a simple operation can assist your learning without being worried about figuring out how to use it first.
Software Compatibility
Often cameras come with drivers that help transfer colors to screens. However, if the software is not compatible with your operating system, you are bound to face problems.
So, before you buy a microscope camera, make sure that you check if the software works on Linux, Windows, or Mac Osx.
The software can help you perform various activities such as measuring your specimen size, change the contrast, adjust colors,
So it's always better to have a microscope camera with the software from the same company to ensure optimal performance.
Frequently Asked Questions
How can you improve image quality for microscope cameras?
This can be done by constructing a setup with optics and a camera that have the appropriate abilities that suit your application.
Ensure that you select an appropriate pixel pitch, which takes into account factors such as numerical aperture, total magnification, and spatial frequency of the setup.
What is the most important factor to consider in a microscope camera?
Pay attention to the resolution and how the sensor detects light, which can be judged by assessing the sensitivity of the camera sensor.
How do you choose a microscope camera?
First, you need to see what you need the microscope camera for, then you can decide among different parameters such as pixel size, frame rate, and noise depending on your use.
What is a microscope camera?
Microscope cameras are used to capture images of your microscope specimens. They enable the user to record, share, and edit their findings.
How do you use a microscope camera?
After choosing the magnification and area of interest according to your preference, place the camera against the eyepiece of the microscope and increase the light intensity.
You can then adjust the zoom settings as per your liking.
What is a picture taken with a microscope called?
It's called a micrograph.
Can I add a 35mm camera to my microscope?
With the help of a universal adapter and a mount supporting your model and camera, this can be done.
Can I attach a digital camera to my microscope?
Digital cameras can be attached with microscopes, but they may require a specific type of adapter.
Conclusion
Microscope camera utilizes many sophisticated technologies; hence you should pay close attention to their specifications before thinking of investing.
Hopefully, the buyer's guide and list of reviews equipped you with sufficient information to get you started.