With the whole world coming to a pit stop because of the atrocities of the global pandemic, one might consider homeschooling kids for the sake of safety and precaution.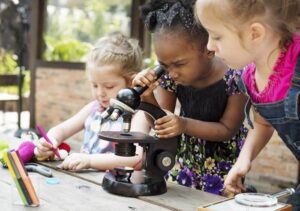 Even if you're not just starting, it's not illogical to pay special attention to educating children and ensure that it does not lack in any way.
Microscopes are a great instrument to hone young minds towards the miracles of science.
Introducing a child to lab equipment like microscopes can spark their interest in the disciplines of science and pave the way for them to learn in a way that's exciting and fun.
It's a known fact that children have the attention span of a gnat,
So the best microscope for homeschooling could prove to be a perfect solution as they can hold it and make observations that wholly indulge them in the world of science that is not just hypothetical.
Top 9 Homeschooling Microscopes Reviews
Don't compromise on your child's education and get acquainted with the best microscopes available for homeschooling available in the market.
To simplify the process, here's a list of some of the most popular microscopes for children:
1. AmScope 40X-1000X
If your child is just starting and doesn't have much prior experience with microscopes or how to make slides, this kit is perfect for you.
This microscope is durable enough to last manhandling by children as its optical lenses are scratch proof.
The microscope provides a range of 40x-1000x of magnification power, so you know it will be able to handle leaves, insects, and even cells.
There's a reason why this product was awarded the title of the best student microscope as you get a sturdy structure and design without having to buy any additional tools to get working.
Pros 
Durable
Versatile
Comes with a hard case
Cons 
Tricky to assemble without manual
The stage is not adjustable enough
2. Swift SW380T 40X-2500X
Grab the interest of budding scientists with this research-grade compound microscope. This microscope provides for students up to the university level because of its 40x-2500x magnification.
This high-powered microscope comes with six magnification levels, so you're bound to view even the most intricate cell structures without much problem.
The sleek design is impressive as it comes with fully a rotatable head and interchangeable wide field eyepieces so you that you get a restful experience.
Homeschooling will never be the same with this microscope as it's extremely precise, versatile, and sturdy.
Pros 
Ultra-precise
Versatile
Professional Grade
Cons 
Stage shifts while adjusting
No case
3. LCD Digital Microscope, SKYBASIC
If you can't be bothered with the complicated adjustments and assembly of a conventional microscope, then I would say this option is ideal for your needs.
Teaching children with this microscope cannot get easier as the view of the large LCD screen is unmatched with that of looking through an eyepiece and straining your neck.
You can even connect it with your computer and record videos as well as take measurements.
This microscope couldn't be more perfect for the classroom as it comes with a durable metal stand and a sensor camera that records and streams.
You can take it outdoors or anywhere you want because it's battery-operated.
Pros 
Comfortable
Well-Balanced
Portable
Cons 
The LED pattern is visible
Difficult to focus
4. AmScope B120C-E1 Microscope
If you're looking for a bit of an advanced compound microscope that gives your students a feel of what goes on in real science labs, this microscope will get them intrigued in no time.
The magnification allows for five-wide field settings that you can choose according to your preference.
The addition of a color filter and overall design makes you feel like you're a professional discovering the unknown.
My favorite feature, however, is the fact that AmScope added a light dimmer, which is often overlooked by some manufacturers.
So you know you would be getting a sharp image without any of the Led patterns visible.
Pros 
Comfortable to use
Camera with editing software
Smooth operating stage
Cons 
Difficult to assemble
Some users complain that the images are blurry
5. STPCTOU LCD Digital Microscope
It can be difficult to get children to look through the eyepiece of a microscope; skip this process entirely with the help of this digital microscope.
You can get your students to look at clear, in-depth images on the large screen and adjust the display at an angle with no problem.
Children seem to be especially fond of this option, and it's a great aid to help them build interest. Plants and animal slides are easy to view because of its eight led lights and a base light.
This option can provide up to 3 hours of continuous use and also comes with a cord so you can switch between a battery or a direct power source.
Pros 
Easy to use
Comfortable
Fun
Cons 
Doesn't support connection with computers or tablets
Doesn't come with an SD card
6. IQCrew Kids 40X-1000X
Make studying fun with this dual illumination Digital microscope. This kit has all the essentials to get started on an adventure that opens up the microscopic universe for young minds.
The digital eyepiece makes it easy to capture images on your computer. High-grade optics is what sets this microscope apart from others that cater to children.
The light sources make it possible to look at both opaque and translucent objects.
The additional microscope book and slide preparation kit make for a super interactive experience that is bound to leave an impression on the children, who are guaranteed to have a fun learning experience.
Pros 
Easy to use
Convenient
Enjoyable experience
Cons 
7. AmScope M162C-2L-PB10 40X-1000X
This microscope is lightweight yet well built. The quality of the dual light glass lens is very good, considering it's made for students.
The mechanical adjustment knobs run smoothly, and it can provide five different wide field magnifications so that students can use it for various experiments and observations, whether it's for biology or a hobby.
It's simple to use and easy to focus on the specimen, but there's a learning curve, so you will need a little bit of practice to get the hang of it.
The addition of premade slides makes life easy, and you also don't have to but adding new ones because the microscope comes equipped with blank slides as well.
Pros 
Lightweight
Well built
Versatile
Cons 
No carrying case
Tricky stage adjustment
8. AmScope 40X-1000X Microscope
When it comes to using microscopes at home, this student microscope is a great option as you can simply connect it with your computer and perform various functions such as measuring and stitching through the software that comes with it.
Kids can learn from multiple interfaces. The rest of the features include five different magnification options; Led illumination take can be powered by batteries or a direct power source and a 5Mp camera.
Collectively each feature adds up to make an over wholesome microscope that can prove to be a great addition as a teaching aid for students.
Pros
Well built
Versatile
Compact
Cons
The camera image isn't as clear
Software only supports windows
9. OMAX 40X-2500X Microscope
I saved the best for the last if you're looking for a complete microscope kit that tilts towards high-grade professional usage.
This microscope will not disappoint as it's entirely built-in metal. The extra 100 slides are a bonus that you would be thankful for once you start using this microscope regularly.
Don't worry about ruining your slides while adjusting the stage as this microscope has an upward-moving lock.
The option of magnification up to 2000x is rare to find in microscopes that are so convenient and easy to use.
Pros 
Durable
Professional grade
Extra 100 slides
Cons 
Difficult to switch objectives between slides
Faulty light source
Buyer's Guide
Making a purchase can be daunting, and researching can be too tedious of a task at times.
Don't worry, though; I've summarized all the important factors that you need to be aware of in this buyer's guide,
So that you can choose a microscope that fulfills its purpose and gives you the satisfaction of making the right decision.
Magnification Power
It is the most important factor that you need to consider because you will come across microscopes that go from ranges of 400x to a maximum of 1000x.
The way to calculate the total magnification power of the microscope is by multiplying the eyepiece lens magnification power with that of the objective lens.
Keep in mind that for observations made at least till high school level, a microscope with a magnification power of 400x will get the work done.
But if you want to look at the more intricate sell structures, a microscope with a higher magnification power is a much better option.
Resolution
The objective lens determines the resolution of the image you get.
Hence a microscope with a higher magnification range of the objective lens will provide a better resolution as compared to one with an objective lens that has a lower magnification power.
The material that the objective lens is made of also plays a role in how clear of an image you see.
So generally, it's better to steer clear of a plastic objective lens and instead invest in microscopes that have an objective optical lens.
Width of Eyepiece
Since you're looking for microscopes that are suitable for homeschooling, it is fair to assume that kids will be using the microscope often.
Hence their comfort should also be a factor to consider. Generally, children are more comfortable with using a monocular microscope that is preferably wide.
An eyepiece that has a larger width will make the experience much more comfortable. The children will be able to view and position their eyes without much effort.
Broadly an eyepiece that is at least 18mm wide provides for an enjoyable experience.
Knobs
The adjustment knobs are frequently used to alter the position of both the stage or body tube of the microscope.
And despite instruction for handling with care, children can be a little rough with such pieces of lab apparatus.
Hence it's important to have a microscope with sturdy coarse and fine adjustment knobs that can enable the observer to see sharp and well-developed images comfortably.
Frequently Asked Questions
How much magnification do you need to see cells?
A minimum of 400x magnification is needed to view cells.
What kind of microscope do high school students use?
High school students usually require a microscope with a 400x magnification.
What type of microscope should I buy?
A compound microscope with at least 3-5 objective lenses is sufficient for observing relatively smaller specimens.
Which microscope is used in schools?
The most commonly used microscopes in schools consist of monocular light microscopes and binocular optical.
How should you carry a microscope?
Carry the microscope with both hands. One of the hands should be placed on the base to support the weight of the microscope while the other should rest on the arm.
How do you make a microscope for kids?
Place the sample in the microscope slide, which is a rectangular shaped glass that holds the sample.
Put the slide on the stage and secure it with clips. You will know if the slide is ready to use if a light shines through the image.
What does magnification mean on a microscope?
Magnification makes organisms that are not visible to the naked eye appear larger than their actual size.
Conclusion
Give your children a hands-on experience and open the doors to the world of investigation and observation to them by incorporating microscopes in their homeschooling experience.
Hopefully, the buyer's guide and list of reviews helped provide ample information for finding the best microscopes for homeschooling.