As a botanist, a budding planetology student, or even a hobbyist who takes pleasure in growing their medicinal herbs or plants, it's a commonly known fact that timing is everything.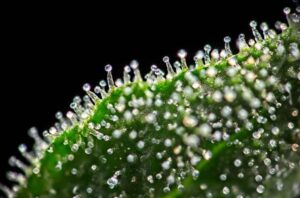 The ability to know exactly when to harvest your plant is pertinent to gain the most out of your hard work; hence you need the right tools and equipment to help you through the process.
One of the most popular methods to help identify the right time for harvesting medicinal plants is by inspecting their trichomes.
Trichomes are minute outgrowths present on the plant's epidermis, which often resemble peach fuzz and are hair-like in some species while others have thorns.
Primarily they act as protectors and save the plants from dangers like animals, extreme environmental conditions, and even fungal infection.
Whether it is to determine if the plant is ready to harvest or check its health, observing the trichomes provides sufficient insight for better upkeep of your plant.
As often plants have very tiny sized Trichomes which are difficult to see, let alone look for any discoloration or change;
The best microscopes for viewing trichomes are essential that can significantly make things easier so you can be more accurate with your observations.
Top 9 Microscopes for Viewing Trichomes
The ideal microscope can enable you to observe the various types of trichomes without any hardships.
The following list of reviews includes the most popular options that you may come across in your market search;
However, to assist you, I've carefully evaluated each option so that you can avoid potential problems and get some guidance.
1. AmScope T490B Trinocular Microscope
Amscope provides an overall winner; this microscope is well built and is designed to ensure that you have a pleasant experience while viewing your samples.
While the maximum magnification level is x2000, which is far higher than what you would need to view trichomes but you can adjust it from 60-90x without any problems.
The rest of the features, such as the interchangeable eyepiece, mechanical stage, and the addition of tension control with graduated fine, course adjustment, make sure that you gain a precise and accurate view without damaging your slides.
Pros
Easy assembly
Well built
Achromatic optics
Cons
Dim dark field view
Doesn't have a fan for the light
2. Fancii LED Lighted Pocket Magnifying Glass
If you're looking for an option that you can easily carry around wherever you want, this one is perfect for you.
Go on nature hikes with this tiny microscope and observe the trichomes on different plants without a hassle, but since the maximum magnification level is 30x only, you might have some trouble in viewing much smaller sizes of trichomes.
It also comes with a light source to illuminate your samples for a better view. It's a great little microscope that fits in even the pocket of your jeans.
However, users do tend to find the makeup of the microscope to be plastic and feel that it lacks durability.
Pros
Compact design
Lightweight
Easy to use
Cons
Soft plastic design
Uneven lighting
3. Celestron – 5 MP Digital Microscope
If you feel that portable microscopes aren't as good as conventional ones, this digital microscope might prove you wrong.
It comes with a magnification of up to 200x, which is just perfect for viewing trichomes, even the little ones. It also allows you to view from multiple screens as you can connect it with your computer.
My favorite feature, however, is how it allows you to take notes and even measure your specimen, which can come very handy when one is studying trichomes, especially for record-keeping purposes.
While it is compatible with both Windows and Mac, some Apple users have mentioned problems.
Pros
Compact
Light in weight
Ability to connect to pc
Cons
Error on Mac computers
Captures noisy pictures
4. Carson MicroFlip 100x-250x
This tiny microscope that tends to look like a flashlight can be your best friend when it comes to viewing trichomes.
You can carry it around wherever you want, thanks to how tiny it is, but don't judge a book by its cover because even though this microscope is tiny in size, it comes with a magnification level of 250x.
You are sure to have a precise and accurate view of trichomes, and you don't even have to squint your eyes because you can connect it with your phone.
I bet using a microscope could have never been this easy.
Pros
Portable
Easy to use
Connects with phone
Cons
Tiny field of view
Weak Led
5. DREAME 30X 60X LED Lighted
This one's a bit different from all the previous microscopes that I've viewed so far as it is a loupe, which is a kind of magnifying glass rather than a microscope.
But that doesn't mean it's not great. Many fellow hobbyists prefer using this because it's far less complicated to use.
It offers a maximum magnification of 60x, which is fine if you want to look at trichomes from up close.
It is precise and even comes with a light. However, the highlight for me is just how easy it makes the whole process look.
Pros
Easy to use
Convenient
Portable
Cons
Only 60x max magnification
Not durable
6. Carson MicroBrite Pocket Microscope
All my fellow gardeners are going to be delighted once they hear about this microscope, which is very convenient to use.
The small design is a nice touch because often, when observing plants, you need to take several trips to different areas, so with this option, you can get a microscope that is tiny but powerful enough to see trichomes.
The overall design allows for a pleasant and comfortable experience, thanks to the rubber grip.
Some users do complain about how it wasn't easy to use for them, so you might need to do some tinkering at first.
Pros
Easy to carry
Light in weight
Ergonomically designed
Cons
Difficult for first-timers
No base
7. Plugable USB 2.0 Digital Microscope
While most users complain that portable microscopes don't have well-distributed lighting or seem to have trouble with holding the microscope above their sample,
This digital microscope overrules all such complaints as it comes with a bendable arm that allows for more stability than handheld options.
The addition of integrated lighting is a lifesaver when it comes to viewing trichomes in dark areas.
You can view different species of plants by connecting it with your pc easily and even conveniently record your findings.
Pros
Good Quality
Stable design
Portable
Cons
Have to manually adjust the camera settings
Only two magnification settings
8. Dino-Lite USB Digital Microscope
I've previously reviewed many microscopes that come in size this small, but this one's the only one that offers a high magnification of 230x and at the same time allows the user to make live video recordings and capture pictures.
While the image resolution isn't the best since it comes with a 0.3mp camera, but students and home-based users will find it very convenient to use.
Some users do feel that it gives much better results if attached to a stand rather than availing the handheld option.
Pros
Easy to use
Portable
Compatible with phone
Cons
Unstable imaging without a stand
Low image resolution
9. Celestron – PentaView Microscope
This gadget will blow you away with just how amazing it is; not only do you get a conventional-looking microscope that offers a stable stage and durable design,
But you don't have to deal with squinting your eyes; instead, you get an LCD screen to view your findings.
Trichomes can be viewed easily, no matter how small they are, because this microscope is a high-powered option that is perfect for professionals.
If you're worried that it would be difficult to carry, well, consider your problem solved because it comes with a hard-case making this task far more convenient.
Pros
High Quality
Durable
High resolution
Cons
No blank slides
Bad lighting
Buyer's Guide
Since microscopes are sophisticated pieces of apparatus, finding one that fulfills all your requirements can become frustrating and complicated, especially if you're a novice.
To speed up your search for the right tool, I have compiled a list of some important factors and some basic knowledge that will help.
Quality of View
The most important function of the microscope for seeing trichomes is a good quality view that can effectively let you inspect the health of your plant along with its lifecycle stage.
Since the majority of trichomes tend to be minuscule, which is impossible to view, magnification plays an important function to enable you in this respect.
The recommended magnification level is 60x-90x for optimal use, however. Generally, a minimal level of 30x is sufficient to get the job done.
You will be able to assess how much magnification you require by testing out different magnification levels, so you gain precision and make accurate observations.
If you intend on using microscopes that make use of a camera, then it is also recommended to assess its resolution so that you can have a quality view of the trichomes, which is its intended use.
Broadly cameras ranging from 2mp-5mp display detailed, sharp images.
Ergonomics
It's always a good idea to keep in mind whether you need a microscope which that allows you to take it around with you on your nature hikes or do you intend on using it only on your home desk.
In this case, you will need to judge what size and weight of the microscope are ideal for you.
Another factor that can minimize any future problems and determine the comfort level of your experience is the design of your microscope.
Check if the microscope has a sturdy stage and a design that enables you to view all your plant samples without cramping your neck up.
Viewing Options
Often when one thinks of microscopes, a picture of conventional microscopes used in laboratories and by experts comes to mind, but thanks to innovation, a lot of modern microscopes that utilize cameras are perfect for viewing trichomes.
Such microscopes also tend to have the ability to record and capture images for viewing later or sharing with peers.
Some microscopes even come with a multi-viewing option that allows you to view your observations on a much larger screen and even on your phone.
Frequently Asked Questions
What magnification do I need to see trichomes?
A magnification of 60x is enough to view trichomes and their colors.
What do you use to look at trichomes?
Most people use a microscope or a jeweler's magnifying glass called a troupe to view trichomes.
Can you see trichomes without a magnifying glass?
It depends on the length of the trichomes; however, most are too small to be viewed by the naked eye.
When should I start flushing trichomes?
You can determine the right time by observing the trichomes.
Commonly the flushing part starts two weeks before harvest, and you should begin once the trichomes start changing color and become milky.
How do you know when trichomes are ready?
You can know by checking the color of the trichomes with the help of a microscope.
Generally, the right time is when most trichomes have changed color to milky white.
How to check trichomes using a microscope?
You can do that by taking a small clipping of one calyx from the bud and place it under the microscope.
What's the best way to use a microscope to check a trichome?
While you may have tried directly placing the microscope on top of the plant but it's hardly effective because of the movement of the plant itself;
Hence you should cut a clipping of the leaf or any other part and then view it under the microscope.
How long does it take for trichomes to go from milky to amber?
Around two weeks.
Conclusion
Here's hoping that the buyer's guide and the reviews provided all the help and support you need to find the most suitable microscope.
In case you're still having doubts, give the buyer's guide another read to clear out any confusion.