No doubt that the microscope is a great invention and has helped the people who were in pursuit of discovering the micro world.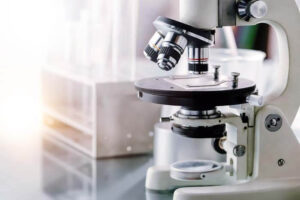 But the real question is that there are hundreds of microscope brands with various features, then what should I go for?
In that case, you must know what you are looking for at first. Then, a good market survey always helps.
But, if you do not want to go in that cumbersome procedure, then you are in the right spot.
I'm going to elaborate in detail about the best brands available in the market, out of which you can opt for yourself a well-suited one.
After detailed research and personal experience, I have mentioned the proper buyer's guide as well.
So, let's get started to know about the Best Microscope Brands.
Top 6 Microscope Brands Reviews
So, here below, I have mentioned the top brands for microscopes along with their best products.
You don't have to worry anymore because out of the list that I have mentioned below, you can choose the best affordable brand for yourself.
AmScope
1. AmScope 120X-1200X 52-pcs
Starting with Amscope, a renowned brand famous for its quality products. This brand offers a great range of affordable microscopes.
The one that I am discussing right now is for beginners. If you're a beginner or want to buy a microscope for your kid, then this device will be a great choice.
It has got all new ABS body with a good-looking design and a promising magnification of 120X-1200X, which is quite exciting.
The thing that I like the most about this device is its coarse coaxial focus that has a rack and pinion focus mechanism to clear the view for you. Aren't you impressed? Because I am!
Pros
Great price
Light-weight
High magnification
Fine focus
Cons
Superficial quality
For beginners only
2. AmScope M150C – PS25
Next by AmScope is this professional-looking microscope, which has its charm. This device is known for its great performance.
You get a range of 1000X magnification that allows you to accurately use it for biological means and educational purposes.
You also get flexible interchangeability of eyepieces between 10X and 25X widefield eyepieces, which is quite interesting.
The DIN achromatic full-glass objectives provide high-resolution and enhanced colors picture.
For greater clarity, there is a 0.65 NA single-lens condenser along with a disc diaphragm that takes illumination and clarity to another level.
There are many other side features as well, and man, this device is a great choice to make. If these features are what you need, then you should go for it.
Pros 
Great Resolution
Enhanced Clarity
Eyepiece variability
High magnification
Cons
Limited instruction manual
Relatively costlier
OMAX
3. OMAX 40X-2000X LED Binocular Microscope
Hold on! Because what I'm going to show you is something elite. OMAX sells quality products, and this device is proof of that.
A very expensive yet equipped with great features, this device will take your experience of microscopy to another level.
An immense magnification (40X-2000X) of this device allows you to view deeper. The binocular feature enhances and comforts the viewing procedure.
Adding more to the features, there is a 360-degree swiveling feature, ocular diopter adjustable on both eye tubes, double-layer X-Y mechanical stage with proper scaling, robust design, and an amazing condenser for great illumination and clarity.
I am honestly in love with the device; what do you say?
Pros
Amazing magnification
Great illumination
Great resolution
Quality features
Cons
Very high price
Weighs 9.08 pounds
4. OMAX – MD827S30L 40X-2000X
OMAX sells expensive and quality products and this very expensive device is another example of that.
Honestly, if you are opulent enough and have a very good budget, then go for this device; otherwise, move on.
This beauty has got a 3MP built-in camera for recording purposes and more fun.
The magnification is beyond normal, simply amazing. The NA 1.25 condenser provides next level illumination and clarity.
Adding to the excitement, you get great resolution, high compatibility (can connect to almost every operating system), 360-degree swiveling feature, and much more.
When I saw this device, I was blown away. I would highly recommend this professional device if you can afford it for the love of microscopy!
Pros
Amazing resolution
Great clarity
Highly compatible
Great magnification
Cons
Very high price
Not a light-weight device
Swift
5. Swift SW380B 40X-2500X
When you ask for a brand, you should also be aware of high prices. Next on our list is this super cool device by Swift, which renowned microscope brand.
In this device, you get an incredible magnification range of 40X-2500X along with an immensely good resolution. It is a multipurpose device that can be used for many purposes.
Its professional siedentopf binocular head is fully rotatable to provide a lot of ergonomically.
You can also change the eyepieces between 10X and 25X. Here comes my favorite part, that is its ultra-precise focusing system and the brilliant illumination with its Abbe Condenser.
Pros
Great resolution
Robust design
Ergonomics
Great illumination
Cons
6. Swift Compound Microscope SW350B
Here comes another cool device from Swift that also provides magnification up to 2500X, Siedentopf head, and a great resolution.
This device offers a 1.3MP built-in camera for recording purposes along with high compatibility as well. You can connect it with Windows and even Mac OS.
The rest of the features are like all those that quality microscope brands offer.
Like, great illumination with the amazing condenser, eyepiece inter-changeability, enhanced clarity, etc.
You should go for this device if you want these features. Have a look at some pros and cons.
Pros
Eyepiece interchangeability
Incredible magnification
Professional outcome
Great clarity
Cons
High price
Weighs 10.58 pounds
Cainda
7. USB Microscope with Camera
Cainda offers this affordable digital microscope that is highly compatible and portable. Its lightweight allows you to carry it anywhere with ease.
The USB connecting feature can be used to connect with even your smartphone. Isn't it amazing?
This multipurpose device is the multipurpose microscope and can be used by kids, students, engineers, inventors, etc.; its easy interface allows everyone to use it with ease.
So, if these are the features that you need, go and buy it then!
Pros
Light-weight
Cheap
Good Magnification
Highly compatible
Cons
Low-quality
Can be controlled by limited apps
8. Cainda WIFI Digital Microscope
Cainda brings another good looking normally used microscope that is aesthetically beautiful and highly portable.
It has a built-in feature of video recording up to 1080P and a great magnification range of 50X-1000X.
Its high compatibility allows you to connect with any device with ease (like a mobile phone or laptop).
Its user-friendly interface makes itself easy to operate. The eight adjustable LEDs enhance the illumination and give good results.
At a very good price and features, this microscope provides value for the money.
Pros
Light-weight
Great illumination
High compatibility
Good price
Cons
Superficial features
Delicate device
NATIONAL GEOGRAPHIC
9. NATIONAL GEOGRAPHIC Microscope
If you are a student, then you should pay some attention here.
NATIONAL GEOGRAPHIC is a very good brand that offers this student microscope with great features at a reasonable price.
This is, in fact, a kit that includes over 50+ side accessories as well.
A great learning tool for beginners, this device has a 2-in-1 feature, in which you can even view biological specimens or 3D objects.
With all the necessary features required for a beginner, this device offers great satisfaction.
Pros
Two-in-one
Extra accessories
Brine shrimp experiment included
Low price
Cons
Limited features
Illumination issues
10. NATIONAL GEOGRAPHIC 40X-1600X
Presenting to you this amazing LCD included microscope to add more to the fun.
This device offers a great magnification range as well (40X-1000X) to allow you to view deeper. There is a built-in 5MP camera that allows you to take pictures and capture videos as well.
Its LED sourced light offers great illumination, and you get colorful results on its 3.5" display.
With all these features, this device comes at an affordable price and provides value for the money.
The overall ratings are also very good so let's have a look at some pros and cons.
Pros 
LCD
Recording facility
High magnification
Good price
Cons
Limited use
Weighs 4.53 pounds
T TAKMLY
11. Wireless Digital Microscope
The last one on our list is this affordable and simple looking handheld microscope by T TAKMLY.
It is a very light-weight and portable device with a metal body. It offers high compatibility as well and can be connected to a wide range of devices.
The magnification offered is really good, man. I mean that price, you get 50X-1000X magnification.
Adding to the features, it allows you to capture videos and take pictures as well. Let's have a look at some of its pros and cons.
Pros
Highly portable
High compatibility
High magnification
Cons
Superficial quality
For basic microscopy
Buyer's Guide
A buyer's guide is as important as the reviews, especially when you are a beginner.
It equips you with the necessary information to keep in mind before purchasing a microscope. Let's have a look at them.
Magnification
Keep in mind that this is the most important aspect while buying a microscope. It would help if you were sure about what you need.
Always go for greater magnification to increase the scope of your work.
Condenser and Diaphragm
For quality illumination and enhanced clarity, look for an iris diaphragm and a good condenser as it improves base lighting and gives great results.
The clarity of views also depends on these two components.
Budget
We always look at our pockets before going to buy something. A good microscope doesn't need to be costlier.
It would help if you looked for well-suited features in a reasonable price range. Do not forget to go for a well-reputed brand.
Ergonomics
While using tech products, this aspect should always be considered as human efficiency depends on the device.
It should be comfortable to use and offer a friendly interface. The microscope should be the one that enhances your experience. Operating flexibility is also important.
Design
A robust design is always cool to work with.
Your microscope should be sustainable, portable, and light-weight, along with all the other necessary features to allow you to carry it anywhere and provide a good experience as well.
Frequently Asked Questions
What type of microscope should I buy?
There are various types of microscopes, and the choice of them depends on your need.
A compound microscope is usually used in biological observations, while a stereo microscope is used to view 3D objects at the micro-level.
What is a good microscope magnification?
A minimum magnification to observe cells is 400X. But I would recommend you buy one with at least 1000X magnification for broader usage.
What is the smallest thing you can see with a microscope?
The smallest thing that can e viewed using a microscope is a nanometer. A bacteria is typically 1000 nm in size. Hence it can be viewed.
What can you see in a microscope?
You can see magnified objects in a microscope. To observe objects at the cellular level, you usually have to use a microscope.
How much does a simple microscope cost?
A simple microscope of good quality can cost you 50-60$.
Conclusion
Now that you are here, I expect that you've gone through the above valuable information.
It is very important for you to consider the aspects that I mentioned to make a good choice.
Do not rush and try to realize what you really need, and then out of the top 11 picks, get yourself a well-suited microscope, and start your work.
I wish you good luck with the purchasing phase.