Most people confuse stereo microscopes with regular microscopes, which happen to be the compound microscopes.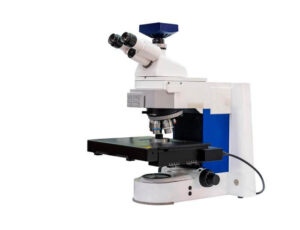 The thing is, stereo microscopes don't work like the compound ones, which transmit the light through the objects and, in turn, let us see them.
Instead, they reflect the light off, making the object visible to us.
So, if you've decided to buy a stereo microscope, the next step is to find the most suitable one for yourself within your budget.
However, since there are so many options available, you get confused unless you're a pro.
So, in this article, I will be listing down the top 10 picks for the best stereo microscopes, along with their pros and cons. Make sure you read through the end to make the best choice.
Top 10 Stereo Microscopes Reviews
In this section, I will be describing the top picks according to me.
Note that these products were picked after deep research and comparing each of the leading products.
So, don't worry, as all of these are amongst the best you can get.
1. AMSCOPE SE306R-PZ Stereo Microscope
If you are looking for something with high-quality performance and many options, but you don't have a huge budget, you can easily count on this one.
While coming at a very affordable price tag, this is a serious pick. It packs magnification settings of 20X-40X-80X, making it a perfect pick for the students, combined with the price.
There are built-in incident and transmitted lights as well, while the lenses are also top-notch in terms of quality.
So, you can expect long-term, high-quality results from this masterpiece.
Pros
Can magnify up to 80X
Digital camera and software included
High value for money
Sturdy build
Cons
Only one of the four settings available produces good results.
Lacks light dimmer
2. AmazonBasics Stereo Microscope
If you need a high-quality microscope along with a very durable aluminum finished body, look no further.
With a magnification of 3.5X-4.5X, it is ideal for working with small items whether you are an engineering student or have work related to repairing small items.
The viewpoint is pretty clear with WF10X eyepieces, while there are LED ring lights available for sharp images to be taken.
However, it may be a bit expensive choice if you need it as a student. Nevertheless, you could consider it if you have a good budget and are willing to use it frequently.
Pros
Sharp images
Comfortable and clear view
Great durable body
Easy to use
Cons
A bit pricey for personal use
3. AmScope SM-3TZ Stereo Microscope
Are you looking for a top-grade industry-level stereo microscope that would leave no stone unturned?
Well, don't forget to take a look at this one. Coming from the same manufacturer as our top pick, AmScope, this is a kind of a high upgrade to that.
With a long working distance, you no more have the option of only studying small items. Now you can view large objects as well, as large as circuit boards, sounds interesting, right?
The focal length with this is also huge, and the lighting is great, which makes it further easy to study the objects in front of you.
However, you need to make sure you have the budget for it.
Pros
Can use with large items such as circuit boards
Adjustable interpupillary distance
Large focal length
Can easily adjust on x or y-axis
Cons
Expensive
Build quality of stand could've been better
4. Vision Scientific VS-3EZ-IFR07
Coming with a 45 degrees inclined head that can be rotated all the way around, this stereo microscope by Vision Scientific features a 54-76mm interpupillary adjustment as well.
You get a 7X-45X magnification range, which is perfect, no matter what kind of work you will do with it.
The arm makes it possible to work with larger objects as well since the working distance can be extended, while they stand in itself is quite high in quality, and the rack has an adjustable tension as well.
Lastly, there is a ring LED light, which offers intensity control and helps to get a crispy clear light for you to see properly.
Pros
360 degrees rotatable head
A heavy-duty and robust rack
Very sharp images
Long working distance
Cons
Eye pads are not so comfortable
Not trinocular
5. AmScope SE400-Z Stereo Microscope
Yet another high value for money option by AmScope is this SE400-Z microscope.
It is meant for the people who don't want a lot of options when it comes to magnification, but they want high-quality optics and don't want to invest a lot as well.
It's mainly targeted to the students who are whoever is on a budget. The strategy has worked well for AmScope, and this is one of the most famous picks right now.
So, if you need every quality feature while not jumping over your budget, don't skip on this one.
Pros
High-quality optics
Good value for money
LED light
Comfortable eyepieces
Cons
Limited magnification options
6. Swift S41-20 Stereo Microscope
This is a pretty similar microscope and carries the same features as the previous one, especially the magnification settings.
However, this is available at a lower price, but the tradeoff here can be seen in the form of lower build quality.
If you're a person who generally wants a microscope for various purposes, this could be a great pick.
However, if you want to do in-depth studies, you might need a more advanced one with more options.
Pros
Dual goose-neck light
Sturdy stand
Versatile
Affordable
Cons
Only two magnification settings
7. AmScope 8X Magnification Stereo Microscope
If you're an industrial worker and often need to inspect small industry items, this affordable stereo microscope could be a great fix.
Coming with LED lights and a 360 revolving feature, it's a great value-for-money product just like all the other picks by AmScope.
Another great thing about this is that the construction is quite high quality, and it would hopefully last you for a long time.
Lastly, the base is quite heavy, so you can easily move the microscope around without the fear of tipping it over.
Pros
Revolving head
Weighted base for easy moving of microscope
Versatile
Great value for money
Cons
8. QUNSE Stereo Microscope
QUNSE stereo microscope is probably the cheapest option for a stereo microscope you will find around.
Even though it cannot be used for professional-grade results and viewing, it is still a great basis for children who aspire to be scientists or doctors in their future.
Using it is pretty straightforward, and it's quite flexible as well, so you can use it for a lot of different purposes.
Pros
Very cheap
Ultra-clear images
Very flexible and versatile
Very easy to use
Cons
Not for professional use
Some claims it arrived used or with parts missing
9. AmScope SM-1BSX-64S Stereo Microscope
SM-1BSX-645 is another professional-grade stereo microscope with a magnification power of 0.7x-4.5x.
A great thing about this is while using this; you don't experience a lot of necks or eye strain, thanks to its fixed 45-degree vertical inclination.
If you have the budget, you can go for it and get very high-quality visibility.
Moreover, the table stand has both black and white stage plates, making it easy to see both light and dark-colored specimens.
Pros
Easy to see both white and black specimens
Long focal length
Reduced eye and neck strain
Cons
Pricey
The quality of build should be better w.r.t price
10. Celestron Stereo Microscope 44206
Although this isn't a very famous pick, it's a seriously powerful microscope with capabilities of 10x-67x magnification powers.
The metal base is very strong and sturdy, while it features fully coated glass optics. It comes with five fully prepared slides, which is a huge plus point.
Moreover, it has both upper and lower illuminators, which makes it even more useful.
However, since this isn't a very famous brand, losing its parts could become pretty messy as they are hard to find.
So, if you're someone who's always losing or replacing parts, this might not be the pick for you.
Pros
Very high value for money
Can go as high as 67X
Strong and sturdy metal base
Cons
Parts are not easily available
Substage illumination isn't great
Buyer's Guide
Here, I will be telling you some points that you should always keep in mind before buying the stereomicroscope.
These points will make sure the product you pick is the most suitable for you.
Magnification
Since stereo microscopes don't have the capability of magnifying the object as much as compound microscopes, it is important you take a look at their magnifying power before you go on to buy them.
The reason I won't mention a specific magnification power is that different projects have different needs, so you need to decide your own.
Working Distance
Working distance is necessary to keep in mind because if the objects you want to study are huge, it won't be suitable for microscopes with short working distances.
Hence, always go with something which can adjust to a high working distance, in case you ever need to work with large objects.
Build Quality
The build quality is something that you always need to keep in mind while buying anything, let alone a stereo microscope.
Even if the product comes with very impressive features but fails to have a good build, it won't be a good deal at the end of the day.
So, make sure whatever you get has a high build quality.
Frequently Asked Questions
Let's go over some of the most frequently asked questions by beginners.
Make sure you go over them if you also have some doubts.
What are the advantages of a stereo microscope?
The best thing about them is that they let you have a 3D view of the object, which is not the case with compound microscopes.
When would you use a stereo microscope?
It would help if you used a stereomicroscope over a compound one when you don't want a very high magnification power, but you need to see the 3D specimen of an object.
Why are stereo microscopes referred to as dissecting microscopes?
The reason is that they come apart easily, and the fact that there is a considerable difference between their lens and specimen, it becomes great for dissections.
What are the disadvantages of a stereo microscope?
There are two major disadvantages. Firstly, the working distance is large, and secondly, they have only certain discrete magnification levels.
What is a stereo microscope, also called?
A stereo microscope is also sometimes referred to as a "dissection" microscope.
How much can a stereo microscope magnify?
It depends upon the exact model, but normally they can magnify within the range of 20X to 80X, with some of them going as high as 100X.
What is the difference between compound and stereo microscopes?
A compound microscope is used to study very tiny objects which are not otherwise visible to the naked eye.
Also, they can magnify them at a very high level, as much as 1000X.
However, the stereo ones are used for bigger, opaque, and 3D objects with much less magnifying power.
Conclusion
Throughout the article, we have seen some of the best stereo microscopes out there, along with their pros and cons.
Please make sure you go over each of them before deciding upon any single one, and also, you need to be aware of the features that should be looked out for.
You can read the buyer's guide if you don't know them already. Lastly, please don't forget to drop suggestions if you have any.