Microscopes have provided great ease to many routine jobs. They are greatly helpful in providing a clear and magnified view of very small objects.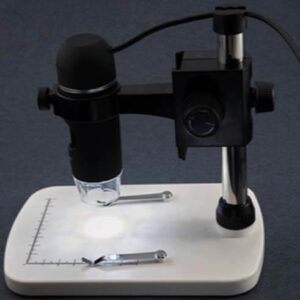 In electronics, they are of great use as most of the components are very small, and soldering and other jobs sometimes require a magnified view.
For that sake, there are digital microscopes available in the market and are USB compatible as well.
To find the best USB microscope for electronics, you are in the right spot, as after great research and personal experience, I am going to mention the best ones.
I will also give you an understandable and beneficial buyer's guide to demystifying it further.
So, don't worry anymore and start reading!
Top 7 USB Microscope for Electronics
There are loads of microscopes of this sort with various prices and features available in the market.
But you do not have to go into that cumbersome procedure of finding out of hundreds as I have sifted them for you.
Here below are my top picks that you should see:
1. Plugable USB 2.0 Digital Microscope
Let's start with this extremely good and cheaper-in-price device. Plugable is a renowned brand that produces great microscopes that are affordable as well.
This device is great for electronics as it provides a good magnification of 250X to view the circuits in detail. Its arm is flexible to provide greater adjustability.
If we talk about its compatibility (because that is an important aspect), it is highly compatible with Windows, Mac, and Linux so that you can watch the view on a big screen.
Its 2MP built-in sensor allows you to capture the results/observations as well. At the bottom is its vast platform to place your electronics circuitry.
The thing that I liked about this device was its high definition results in such a good price, simply unbelievable.
Furthermore, the integrated lighting enhances the illumination for you. In a nutshell, this is the device that you should go for if you need an affordable microscope with these features.
Pros
Great price
Extremely portable
Highly compatible
Recording facility
Cons
For low results
Insufficient vertical reach
2. USB Microscope, Teslong
Teslong offers this great USB microscope that looks more like a magnifying camera.
It is a great device for electronics as you can connect it to your phone or PC, observe the circuits, and do soldering if desired.
This aesthetically beautiful little portable device provides a good deal of magnification as well; the magnification that it offers ranges from 10X to 200X.
Its 1 megapixel CMOS sensor with a great focus range of 10mm to 500mm provides you the opportunity to capture and observe in fine detail.
If I talk about its compatibility, then there is another good news for you! It is a 2-in-1 incompatibility. You can either connect it to a PC (Windows and Mac) or with your smartphone. Isn't that exciting?
For illumination, this device uses 8 LED lights for great clarity. The most intriguing part that I found about this device was its IP67 waterproof camera that allows you to work in any environment.
You also get extra accessories with this device. Simply, wholesome!!
Pros 
Water-proof camera
Good magnification
Highly portable
Great compatibility
Cons
Does not go with iPhone
Superficial purpose
3. USB Microscope, COLEMETER USB 2.0
COLEMETER is quite a brand that offers you this good device that is extremely portable with some very exciting features.
So far, it has the highest magnification range that is up to 500X, to dig deeper. The device uses 8 LED lights like most of the common microscopes for illumination.
Its built-in 2MP camera allows you to record the results. Its great compatibility is to connect it to your PC and work live on electronics by watching on screen.
As far as the compatibility is concerned, you can connect it to Windows XP/Vista/7/8/10 and Mac. It is a multipurpose device and can be used for various jobs.
Thus, there are a lot of exciting things that you can do using this device. The good magnification and illumination are the reasons that you get a fine microscopy experience using this device.
Pros
Great magnification
Good illumination
Great compatibility
Powered by 5V (USB)
Cons
Low resolution
Low-quality purpose
4. Teslong MS100 Handheld USB Microscope
Here comes another product by Teslong, whose magnifying camera allows magnification of up to 200X.
The good thing about this device is its great design and portability that attracts everyone's sight.
Great focus range along with a good magnification is all that makes your electronics work more exciting. The results that this device provides are usually HD for good details.
This device also has a waterproof IP67 camera to make you able to work in any environment. The design itself is quite stable, and the material is stainless steel for everlasting use.
As I mentioned about the HD results, the correct resolution that this device offers are 1280×720, which is quite good for the price.
The package includes side accessories as well. So now you have two Teslong device options, and you can opt for the well-suited one.
Pros
Waterproof camera
Great design
Good resolution
Good compatibility
Cons
Doesn't go with iPhone
Superficial quality
5. LCD Digital Microscope, ANNLOV
Here comes a super cool device by ANNLOV that comes with a built-in screen of 4.3 inches. The great magnification range of this device is 50X-1000X provides extraordinary results.
The device holds great user feedback, as well. Its design is made such that it is great for electronics.
You can work and watch live on this microscope, thus no connectivity bounds. But, using its great connectivity feature, you can even connect it to your PC.
There is a Micro SD card storage facility as well to store the recordings and captures. Viewing on its big screen, you can easily adjust the focus as well.
Moreover, there is an adjustable aluminum alloy bracket to make the operation steadier and more accurate. Let's look at its pros and cons as well.
Pros 
Easy to focus
Good compatibility
4.3 inches screen
Sustainable device
Cons
Higher price
Superficial purposes
6. AmScope 8X Magnification Microscope
When it comes to microscopes, AmScope is the brand at its best. It is one of the most renowned and loved brands in the world of microscopes.
This device is specially made for electronics and offers a very low magnification of 8X but fine. Its unique perspective includes the binocular head for a great view and the adjustable arm.
You get a 95mm working distance range to put excitement on your work. The thing that I loved about this device was its 360-degree rotation facility.
The design is robust, very stable, and aesthetically beautiful as well. This device also reduces eye strain by providing a very comfortable view.
The exciting part is that it can be upgraded like you can put a greater magnification eyepiece for higher magnification and ring lights for high visibility.
Pros
Very sustainable design
High-quality results
Upgradable
360-degree rotation
Cons
High price
Low built-in magnification
7. Opti-Tekscope Digital USB Microscope
The final one on my list is this very sophisticated device. This device will offer you a magnification of up to 200X. The great resolution of this device provides great results.
To enhance clarity, it has an advanced CMOS sensor and a 1600×1200 resolution facility. Thus, taking the microcopy of your electronics to another level.
Moreover, it is a plug-and-play device. You have to connect its USB cable to your PC, and then it will start working for you.
It is compatible with Windows 10 and Mac. Its professional design is robust and very stable. The aesthetics are quite intriguing as well.
You can also capture snaps or videos while working using its capture feature. The brightness feature is greatly adjustable as well.
Thus, you can enhance the clarity up to your need. Please have a look at its pros and cons as well!
Pros
Great resolution
Great design
Great aesthetics
Great ratings
Cons
Higher price
Limited compatibility
Buyer's Guide
A buyer's guide is important for you if you are a beginner. It helps you know about the aspects that you should keep in mind before opting for a product.
In our case, I will tell you about the very important aspects that you need to be clear about before going to buy the best microscope for electronics.
Magnification
First things first, you must be clear about what you need. Before going to buy the microscope, first, realize the magnification you need.
I would recommend you go for higher magnification than the needed one to increase the work scope of your device.
Illumination
Better illumination gives better results! A good microscope is one that offers great illumination using a perfect light source.
Go for the device that has good brightness adjustability.
Work field
If you want to work in electronics, the work field is an important aspect.
The work field should be vast and flexible so that you can place your board under the head and achieve a great view.
So, I would recommend you go for the microscope with a good work field under the header.
Clarity
Usually, a good condenser and diaphragm are responsible for great clarity. Look for the microscope that provides great clarity.
I am talking about this aspect because working on circuits is not an easy process, and good clarity is required, along with high illumination and magnification. Thus, keep this in mind as well.
Budget
This is the aspect that is not ignorable at all. You don't need to think that a good device is expensive as it is unnecessary.
It would help if you looked for the desired features and, in those features, find a device that is more affordable and suitable.
Ergonomics
Ergonomics means human efficiency on a device. A well-designed device is more likely to produce good results, and it is convenient to work on it.
Buy a microscope that is greatly designed to provide great results with ease.
Also, prefer less eye strain causing device. Aesthetics are also of quite significance!
Frequently Asked Questions
How do I use a USB digital microscope on Windows 10?
Once you set up your microscope, connect it to the PC using a USB cable.
Now, in some microscopes, there is a system that readily gives a portal of connectivity.
While in some brands like pluggable, you have to connect to the PC and then go to the company's site and select the Windows link and install the connectivity tool.
Hence, you can use it.
How does a digital microscope work?
A digital microscope has a digital camera and a USB system to connect with a PC or smartphone. Thus, by adjusting the magnification, focus, and illumination, you can view on your screen the micro view.
What is a pocket microscope used for?
A pocket microscope is for portable purposes and is used for multi-purposes. To examine common details, it can be used by students, teachers, technicians, etc.
How do you use a Plugable microscope?
Set it up using the user manual.
Now for connectivity, install the respective OS app from Plugable's site.
Now connect the USB cable, and you can start working.
What is the best brand of the microscope?
Celestron and AmScope are among the best microscope brands that you can buy without hesitation.
Conclusion
The information mentioned above is sufficient to demystify your thoughts about the best USB microscope for electronics.
You can easily choose one out of my top picks according to your feature desire. Do not forget to keep in mind the buyer's guide as it will help you a lot, trust me.
Now I wish you good luck with the buying phase.