Microscopes are quite sensitive instruments. There are some points to follow to carry them correctly and store them.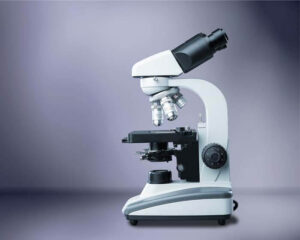 Storing them in the right way will increase their life as well.
This article contains all that is necessary to store a microscope.
Good Practice
Let's first discuss the good practices to remember and follow to store a microscope!
Washing and Drying Hands: This is a very important aspect to save your microscope from unwanted dust and keeping it clean.
Thus, you have to follow it for the care of your microscope.
Cleaning
Cleaning is an important and good practice. If you own a microscope, you should clean it regularly with great care and with the right cloth.
Lint-free cloths are great for them. Make sure to clean all the parts, including lenses.
Turning Off
You should turn your microscope off when not using it. Because it is a good practice for a longer life, if not turned off, try to keep it at minimum magnification and focus.
Covering
Cover the microscope properly using some appropriate cover or clothing so that it doesn't get any dust.
Usually, good microscopes come with a cover as well, so you should use that.
Placing on Flat Surface
It is a good practice to place your microscope on a flat surface to avoid vibrations and or toppling.
Sunlight 
Try to keep the microscope from sunlight as it is not good for your microscope and the specimen.
Bad Practice
Have a look at some bad practices as well to abstain from.
Disassembling
Do not disassemble the microscope as you can damage it or have some electrical malfunctioning or shock.
One Hand lift
Do not lift the microscope with one hand. You might drop it or damage it. It is a bad practice doing that. Try both hands for it.
Dirty Hands
It is a bad practice to use dirty hands while carrying or storing the microscope. So it would help if you avoided it.
Storing in Humid Place
Humid places are fatal for your microscope to store. They can cause great damage to the equipment. Hence, dry places are preferable.
Touching Lens with Bare Hands
Touching the lens with bare hands is an extremely bad practice. It will damage your lens and also hinder its performance.
Keeping in Sunlight
Mostly, people do not know about the fact that microscopes can get damaged by placing in sunlight. For a longer time, sunlight can cause trouble to the microscope. It can damage the specimen as well.
Conclusion
Microscopes are great instruments to zoom the image for you while keeping care of them is of prime importance. If you do not care about it, it will not last for longer.
Try to follow all the good practices while storing the microscope. Also, abstain from the bad practices to avoid unwanted results.
After all, care is better than a cure!