A standard microscope comes with two types of lenses: the ocular lens, which is commonly known as the eyepiece lens and is positioned above the optical tube, whereas the objective lens is at the base.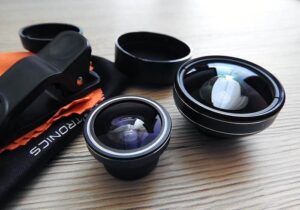 It can be said that a compound microscope is simply incomplete without objective lenses.
If you're still a novice in the world of microscopy, you might be wondering why they are so important?
Simply put, these optical lenses are the nearest to your sample or specimen.
It is actually because of these lenses that you can see a real image on the ocular lens as it collects the reflected light from the specimen and focuses it on producing the image.
The objective lenses are the most sophisticated components present on the microscope; it is this lens that controls the image resolution, quality, and total magnification.
None of the objective lenses is the same. Instead, we see that they come in different types depending on their application, magnification, aberration correction, and the type of method you intend on using.
And  Now The Types And Uses
 Refractive Objective Lenses
Most microscopes have refractive objective lenses, and you will find that they are frequently used by most.
The lens bends light by way of optical elements, which is where it gets its name from.
The optical elements are created in such a way that causes better light to pass through as their intended purpose is to minimize back reflections.
The most common use of such a type of objective lens is to utilize it in observations that call for an intricately defined and detailed observation of the specimen, such as machine vision.
Refractive objective lenses come in both achromatic and plan-apochromatic options, which are the most precise and high end as the field correction is done with in the lens.
 Reflective Objective Lenses
These are relatively rare compared to refractive lenses, and instead of refracting light, they utilize a primary and secondary mirror system to create the real image.
This automatically enables it to avoid any aberration, often seen in refractive lenses as light sometimes reflects on metal surfaces.
The design of reflective objective lenses also provides for better resolution due to higher light efficiency.
Another benefit of utilizing a mirror system in the lens is that you can work in great detail in areas of the ultraviolet or infrared spectrum.
 Achromatic Objective Lenses
The achromatic objective is distinctive, based on aberration correction.
This type is a rather simple and cheaper option designed to mitigate aberration related to red, green, and blue wavelengths.
The main downside of such a lens is the absence of a flattened field of view, which can affect the precision and objectivity of the observation.
For this reason, it is a better option for monochromatic observations.
 Apochromatic Objective Lenses
If you are looking to minimize aberration and higher precision in an objective lens, this might be the best option for you.
These lenses can be chromatically accurate and can correct for red, blue, and yellow wavelengths.
They also provide a greater numerical aperture and hence are excellent for long working distance and white light applications.
However, due to the lens's curvature, keep in mind that the resolution will only become worse on higher magnifications, which is why only the objective lens shouldn't be taken into consideration.
Rather, take into account the workings of the system as a whole for best performance and use.
 Scanning Objective Lenses
This lens is categorized based on magnification and is at the lowest level.
Such a lens is used for a mere overview or quick scan of the specimen attributed to the low magnification.
Such a lens is usually utilized when the user expects to examine whole organs such as ovaries or lungs.
The most common magnification level of such a lens is 4x, which together with a 10x optical lens can produce up to 40x of total magnification.
 Low Power Objective Lenses
Such lenses have a higher magnification than the scanning objectives. However, they aren't among lenses that give a very high level of magnification.
In terms of application, they are perfect for looking at glass slide samples.
Usually, these lenses come with a magnification level of 10x, and together with a 10x optical lens, you can gain about 100x of total magnification, which is sufficient to even look at bacteria.
The plus side of such an objective lens is that it can be utilized for a closer look at the sample compared to a scanning lens without getting in contact with the slide and potentially damaging it.
 High Power Objective Lenses
The high dry objective lens allows the user to look at the finer details of the specimen. With such a lens, you can easily look at nerve cells as well as muscles.
These lenses come with a magnification level of 40x and therefore can provide a total of 400x magnification level easily that can help you attain a detailed view of the specimen.
 Oil Immersion Objective Lenses
The oil immersion objective lenses are the highest-powered objective lenses.
Due to the sheer power of the lens, there is a gap between the glass slide and the refractive index of the air, which is filled by a special oil immersion.
Without the immersion, the view produced will be blurry, and you won't view it.
The oil immersion objective lenses provide a total magnification level of up to 1000x, which is why you can easily view single cells in great depth.
Conclusion
Different applications require a particular function or use from the objective lens as each has its benefits that can optimize your performance or disadvantages, which, if overlooked, may be a cause of the trouble.
Since each type of objective lens provides a different function; therefore, it is pertinent to have an understanding of their inner workings to ensure that you select the most suitable option for your use.