Every once in a while, you're bound to come across something in the open that you wish you could inspect right there on the spot.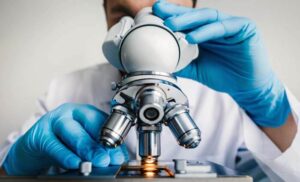 To make that possible, you'll need to have the best pocket microscope on you.
If you're here, I'm sure you're looking to get one. However, when it comes to choosing the right pick, the process can get a little overwhelming.
Don't worry, I've got you covered. Let's dive right into the details!
Top 12 Pocket Microscopes Reviews
I have now briefly reviewed all the models that I think deserve their due attention. They are the best that you can currently get and are all reliable.
To make your decision even easier, I've also highlighted a few pros and cons that will make it easier to get the hang of things.
Without further ado, here are the top 12 pocket microscopes that you can get this year:
1. KINGMAS Mini 60x Microscope
My first pick for you is the KINGMAS Mini 60x Microscope.
Reputed primarily for its versatile use, the KINGMAS Mini 60x Microscope is a solid model to consider if you want a pocket microscope that delivers well and delivers well.
Featuring the latest in UV/LED tech, this is a great way to inspect samples on the spot if you're out.
The calibration isn't that easy, but once you get the hang of it, it'll all come naturally to you!
Pros
Versatile
Portable
Good UV light
Cons
Difficult to see focused item
Not durable
2. Educational Insights Pocket Scope
On my follow-up premium choice, the Educational Insights GeoSafari Pocket Scope is yet another excellent model for all of you out there.
It's easy to handle and use and can also double as a mini telescope of sorts.
Thanks to its sleek design, this model is very easy to work with and move around and can sit well in the pockets easily too.
But the quality isn't that great or anything, so you'll have to keep it safe lest it breaks or something.
Pros
Sleek design
Lightweight
Fits in the pocket easily
Cons
Unscrews easily
Medium quality
3. Carson MicroMini Pocket Microscope
The Carson MicroMini 20x LED Lighted Pocket Microscope is a pretty decent model that I would recommend if you need something extra small.
The best thing about it is that it will sit right next to your keys, so you won't have to worry about It getting lost.
Coming in various colors, this model also has a smooth focusing knob that makes operation simple, although it does take getting used to in the beginning.
Pros
Smooth focusing knob
Attaches with keychain
Different color available
Cons
Takes time getting used to
4. Supereyes Smartphone Microscope
As the name implies, the Supereyes Smartphone Microscope Camera Adapter will turn your phone into a microscope in seconds.
This is a great supplementary accessory that I would recommend going for since once set up, the picture quality is amazing, and the model isn't hard to use.
However, it's a little hard in the beginning, and the setup process requires a few tweaks, so make sure you know what you're signing up for!
Pros
Universal compatibility
Easy using
Enhanced picture quality
Cons
Lubrication can be a little messy
Adjustment takes time
5. Grow Room Microscope
The Grow Room Microscope is also another great option that works well for all types of users.
It's a budget-friendly choice that comes with two intensity options and a free carrying pouch to keep all your stuff together.
Although the setup and battery door is a little complicated to handle, that's only as far as the bad stuff goes.
This is a pretty solid choice that you'll thank yourself for down the road, so go for it!
Pros
Two intensity options
Budget-friendly
Free carrying pouch
Cons
The battery door is complicated
Light burns out quickly
6. Carson X-Scope Pocket Tool
The Carson X-Scope Kids 7 Function Multi-Purpose Optical Pocket Tool is arguably the king of versatile operation.
He comes with a multitude of features that really set it a class apart. It can double as a microscope, telescope, a fold-out magnifier, a signal whistle, and a directional compass.
Although it's not excellent at these things, it's still a great starter kid for your child, so if you're looking for a gift, this model is a great choice!
Pros
Has a multitude of functions
Lightweight
Easy handling
Cons
Not that durable
Not fit for professional use
7. Celestron – 5 MP Digital Microscope Pro
The Celestron – 5 MP Digital Microscope Pro is geared for more serious users who need a microscope to use in the field.
It's professional based and hence comes with intuitive software that is easy to use and adjust.
Allowing decent magnification, this model is appropriate for observation on the spot.
However, it does require a little bit of setup, and the focusing bit might take some time.
Pros
Intuitive software
Good magnification for size
High-quality glass lens
Cons
Focusing takes time
Not as compact as others
8. Carson 60x-75x MicroMax Pocket Microscope
The Carson 60x-75x MicroMax LED Lighted Pocket Microscope, true to its name, is another model fit for professional applications.
It's quite portable and provides excellent image quality. Although it can be a little hard to adjust and requires practice,
I would still say that this model is a pretty good choice if you need a fieldwork model or any work that requires you to step out and inspect specimens on the spot!
Pros
Power/zoom controls
Portable
Lightweight handling
Cons
Requires practice
Sensitive to movement
9. JOYSMADE Wifi USB Digital Microscope
If you're looking for a model to use and hook up to your laptop, then the JOYSMADE Wireless Wifi USB Digital Microscope is a reliable model, and I would recommend it for you.
With a magnification that goes up to 1000x, this small model packs a good solid punch, which will make it simple and intuitive to view small organisms.
Just make sure to properly acquaint yourself with the process because it's a little tricky. But once you're there, the journey is nice and informative!
Pros
Good picture quality
Rechargeable
1000x magnification
Cons
10. Carson MagniScope
The Carson MagniScope LED Lighted 3-in-1 6x18mm Monocular is a three-in-one choice that packs all the versatility you'll need.
It's fairly easy to handle, provides a good view, and looks good while at it.
Although it isn't a beginner-friendly model because it's a little tricky to handle and view, but once you get there, this model has a lot to offer.
If you're just getting started, go for it!
Pros
Multi-coated view
Aesthetics
Easy to handle
Cons
Tricky handling
Hard to view bigger insects
11. SE 30x LED-Illuminated Pocket Microscope
The SE 30x LED-Illuminated Pocket Microscope is a budget-friendly model that I would recommend to all types of users out there, regardless if you're just getting started or a professional.
The model has a durable frame, which is mostly minimalistic.
Owing to its size, it's easy to handle and adjust, but keep in mind that the focusing process is a little tricky and takes time getting used to.
If you're looking for a good choice to carry in your pockets, I would definitely recommend giving this model a shot!
Pros
Durable
Minimalistic
Easy handling
Cons
Difficult to focus
Light isn't that bright
12. Edu-Toys Handheld Mini Field Microscope
Last but not least, the Edu-Toys Handheld Mini Field Microscope is one pocket microscope for children that I would wholeheartedly recommend.
It's arguably one of the easiest models to set up and use, owing to its simple adjustment phases.
The images produced are clear as well and can provide a good insight into the microscopic world. If you're getting something for your child, this is definitely it!
Pros
Suitable for children
Easy to use
Provides clear imagery
Cons
Buyers Guide
When it comes to choosing the right microscope, there are several things that you'll need to keep in mind.
Now, I'll be taking you through the most important factors to consider when choosing the best pocket microscope for yourself!
Magnification
The first feature that I would recommend you look into is magnification.
Magnification will give you an idea of how well you can zoom into the specimen, and using that, how clear the image will be.
This will give you a rough idea of what to anticipate, and based on your degree of professional application, what purposes you can actually use the microscope for.
Anything up to 400-1000x will do the job if you want something for more practical purposes, but if you want something for your kid, then less than 300x will do as well.
Durability
Since pocket microscopes are for field use, I would recommend that you choose something that is durable and has a good frame to it.
If not that, make sure it comes with a frame that is easy to handle or keep safe at all times.
This is super important, especially if you're in a terrain of hard rocks where one fall of your microscope can render it useless.
Handling
Lastly, make sure to get a model that is easy to handle.
What this means is that the practical purposes for which the microscope is for are easy to come around.
Make sure that the learning curve is a user-friendly one so that you can put the scope to good use sooner rather than later!
Frequently Asked Questions
What is a pocket microscope used for?
Pocket microscopes are generally used for field inspections right there on the spot and can give a good amount of detail without the need for elaborate setup or preparation time.
They're also fit to get children started with using microscopes.
What is a pocket microscope?
A pocket microscope is a small microscope that is portable, easy to travel with, and very easy to set up for almost instantaneous application.
They don't offer high resolution but are good enough to inspect on the spot.
What can you see with a 120x microscope?
You won't really get too much with a 120x microscope.
However, for general purposes, this magnification is more than enough to get a clear image of plant cells and easily observe the movement of large protists in pond water.
Why do you start at the lowest magnification?
It is always recommended that you always start with the lowest magnification when it comes to observing specimens.
The main reason for this is to ensure that you get a wider frame and actually have the thing you need in view before you can amp up the details.
What is the best brand of the microscope?
There are several brands that you can get this year, all of which are equally good in their own right.
Celestron is one of them and has constantly made good and reliable models that are reputed for their durability and overall ease of handling.
How do you use a pocket microscope?
The simplest way to go about it is by placing the specimen in the viewing area and turn the LED on.
Slide and adjust the zoom lever to get to the level of magnification you want, and then gradually turn the focusing wheel.
Conclusion
A pocket microscope is a great little tool to have on you, especially if you're into biology or see yourself walking down that road in the near future.
Make sure you get something you're comfortable with operating or won't mind walking the extra mile for.
If you have any feedback or comments about the models above or have any general feedback or recommendations, do share them in the comment section below!