Whether you're a professional, parent, engineering, or biology student, the ease of use and functionality that comes with cellphone microscopes cannot be denied.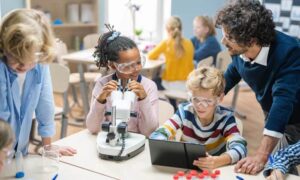 They are simple to use; you can carry them around anywhere you want and record your findings with little effort.
Hobbyists would especially love having the best cellphone microscopes because they don't have to invest in large,
Sophisticated models come with their own set of complications when they can satisfy their curiosity of the micro-universe with this versatile and multipurpose product.
The fact that you can view your results with a click of a button without squinting your eyes for long periods is an added plus.
Cellphone microscopes are truly unique and cater to your convenience, like no other product.
Top 8 Cell Phone Microscopes Reviews
Cellphone Microscopes have paved a new road for making observations on the go. The market is filled with options available from various brands in multiple models.
Here is a list of the best cellphone microscopes that are well acclaimed and popularly used for their exceptional performance or uniqueness:
1. Wireless Digital Microscope
This microscope is the epitome of portability. It's a wireless digital microscope that does not require being plugged into an outlet; instead, you can carry it around and use it however you like.
The magnification level goes up to 1000x, so you can even look at cells through it. The camera resolution of 2 mp provides clear images, and you can capture and record your findings with a simple click of a button.
On top of that, it's compatible with both android and IOS phones and tablets; it also comes with a free app that you can use additionally for higher performance.
The light source can be adjusted according to your specimen to suit your visibility. This cellphone microscope is an all-rounder!
Pros
Wireless
Easy to use
Wifi hook up
Versatile
Cons
No firmware update
Problems with visuals at 1000x
2. ROTEK 50x and1000x
This microscope is compact in design and easy to carry. It's the perfect little gadget that you can take around with you; it even fits in the pocket.
The camera is two mp with 1080p resolution, so you get quality images. The addition of 8 LED lights that can be adjusted is a lifesaver as you can even work in a badly lit environment without any worries.
The battery life is enough to work for 3 hours without any interruptions. You don't need any expertise to understand how it works as it has a zoom in and out button.
This microscope can connect with the phone with its wifi and is compatible with all phones which have android 4.3+ or IOS 8+.
Pros
Multi-purpose
Easy to use
Portable
Cons
Problems with the software on Pc
The grainy image on Maximum Zoom
3. Gosky Microscope Lens Adapter
This is a microscope lens adapter that makes using your phone to view objects through the lens of your microscope a simple and easy task.
If you already have a microscope and just need an option that enables you to view your findings through your phone's screen, this is an option worth considering.
However, you need to see that your microscope has a 23.2mm optical tube or eyepiece barrel for it to be used.
The good thing is that most biological and stereo microscopes have this, so it's likely that this adapter will work.
If your microscope doesn't have the capability of capturing and recording your observations, you can use this product and get your observations on the phone.
It's also compatible with a range of commonly used cellphone models.
Pros
Simple to use
Good quality
Enables making videos and pictures
Cons
Difficult to line up camera
Limited image quality
4. Beileshi 60x Zoom Microscope
If you are among those who take pleasure in taking photographs of the micro-world, this zoom microscope magnifier will make this job fun and convenient.
You just have to clip it on your phone, and it's ready to use. It claims to support all mobiles and is a universal option that you can place in your backpack without taking much space.
The magnification is up to 60x only, so you won't be able to see any microorganisms. Remember that you would need to place the lens right on top of your sample to view it.
The design itself is durable and pretty simple to use; however, you will need to use it a little before figuring out how to focus properly.
The addition of a backlight sets it apart from its competitors and makes it even more convenient to use.
Pros
Lightweight
Easy to use
Durable
Cons
Limited magnification level
The object needs to be in very close proximity to view
5. Jiusion WiFi USB Digital Microscope
Don't underestimate this product based on its look; it may appear to be a gimmicky toy meant for children, but its performance begs to differ.
The design of the device is sturdy and well balanced, so that takes away any worries of your sample sliding. The magnification level of this device is 1000x, so you can see almost everything, even microorganisms.
A biology student or a teacher can use this device hassle-free as it has a user-friendly interface. All you need to do is connect it with your cellphone via wifi.
You can even use the software to measure your specimen; how cool is that? Some users have complained about the software lagging on windows 10.
Pros
Easy to use
Portable
Multipurpose
Cons
Software problems with windows 10
Resolution is 640×480
6. Gosky Microscope
Whether you're a parent or school teacher, this microscope is bound to get children excited about the wonders of science—the perfect addition to aid your kid's learning experience; it's portable and easy to use.
The magnification level maxes at 200x, making it suitable for a teaching aid that can be used in schools.
The ability to view your observation on the phone, record, and take pictures makes sharing your findings with a wide range of audience a hassle-free task.
The design is durable as its constructed in acrylics and a metal base. The led illumination offers a good quality image; however, it does require 3AA batteries that are not included with the kit.
Pros
Easy to use
Durable
Lightweight
Cons
Max magnification 200x
Tricky to focus
7. Nurugo Micro 400X Magnification
Innovation and technology never cease to impress. This cellphone microscope is the smallest one to be reviewed yet.
Its compact design makes no exceptions in its usability; a magnification of 400x and compatibility with most phones makes it an efficient and convenient product to have at all times.
You can take ten burst shots with it, a capability that does not exist in any of the products reviewed so far. You can easily share your work, whether through emails or via texts.
All in all, it's a versatile product that offers optimum performance and quality that can fit in your pocket comfortably.
Users claim that you can see cells and microorganisms with this in all their glory, a feat nobody could imagine doing with a product of that size.
Pros
High quality
Functional
Easy to use
Portable
Cons
No adjustments
Tricky to calibrate
8. TINYSCOPE Mobile Microscope
This lens has a high optical resolution that offers a magnification of up to 400x; it's tiny but powerful enough to get your phone to magnify any object.
It serves to be a super lightweight accessory that can be used for a variety of applications. Whether it's for students or children, it offers a much safer solution that is easy to use.
If you are worried that you don't have an appropriate light source, don't fret because it uses the flash of your phone and diffuses the light in a manner that can solve your problem.
All you need to do is attach it with your phone with the help of a sticker to begin your work. Sharing your recordings with your friends, colleagues, or students is as easy as sending a text, thanks to tiny scope.
Pros
Easy to use
Compact
Portable
Cons
Problematic aligning with camera
Not water resistant
Buyer's Guide
With the wide variety of options available in the market, it can be pretty confusing to figure out what kind of microscope is ideal for your needs.
This buyer's guide will assist you in your journey to find the right microscope that is worth the investment.
The following factors are mental checkpoints that should be remembered when making your buying decision, so pay close attention.
Image Quality, Resolution, and Magnification
Your smartphone is only going to display the results of your microscope, so the quality of your camera is not going to have any effect on it.
Instead, it's the optics, magnification, and the resolution of the camera of the microscope are the points that you need to consider.
Firstly figure out what kind of samples you will frequently be looking at with this microscope. This will give you an idea of the magnification level you need on the microscope.
Generally, 250x magnification is sufficient for functions such as electronic repairs; however, biological samples may require a higher magnification level.
The next feature you need to pay careful attention to is the camera resolution, as this will determine the quality of the image displayed on the screen as well as your recorded videos.
While 2mp is enough for a good quality image, 5mp or higher is preferable as this means the sharpness and precision of your view will be significantly more detailed.
Ergonomics and Design
While it's obvious that cellphone microscopes are far more comfortable to use than conventional options, yet the design and ergonomics should still not be ignored.
You will find that each option will come with its own set of features and specifications that can further alleviate their user experience.
So consider and choose options according to your preference to suit your convenience. Design is also important as it can determine the durability and life of the microscope.
An overall sturdy and well-balanced design of cellphone microscopes make for a pleasurable experience.
Power Source
Cellphone microscopes can come in two options: battery operated or corded.
If the nature of your work makes it impossible to find a power source nearby, your best option is to invest in a microscope that is supported by a long-lasting battery or both.
If you prefer using a wireless cellphone microscope, then don't forget to consider its battery life and quality.
Corded cellphone microscopes, on the other hand, are simple to use as all you need is a power source to plug it in, and it's ready to be used.
Compatibility and Software
What's the point of having a microscope with all the right features if you can't use it on your cellphone?
Not every cellphone microscope needs are compatible with your cellphone. Suppose you own an Android check the information provided with your microscope for its requirements regarding the version.
Do cross-check both your cellphone and the microscope for having OTG technology and a USB port. For iPhone users, check if the microscope is compatible with IOs.
Added software and apps can also enhance the capabilities of your microscope. Some even come with ways to measure your samples and share your records.
Frequently Asked Questions
What can I see with a 1000x Microscope?
1000x magnification level enables one to see about 180 microns. So you will be able to view pretty much everything, including bacteria.
How do you turn your smartphone into a microscope?
You can do this by aligning the camera of your smartphone with the focus lens on the top of your microscope.
Can I use my iPhone as a microscope?
This can be done by either attaching the camera with your microscope or using a digital microscope that supports IOS.
What are the two main types of microscopes?
The two types include compound and stereo microscopes.
Which microscope is best used for observing viruses?
Electron microscope
Is there a microscope app?
Yes, there are many options available which either act like magnifying glasses such as supervision+ or enhance the magnification capabilities of your microscope.
What magnification do you need to see cells?
At least 400 x magnification is needed to view cells.
Can you take a picture through a microscope?
Yes, nowadays, most models come with this feature.
Conclusion
I hope the buyer's guide and product reviews provided sufficient knowledge for you to make a buying decision that you won't regret.
Keep in mind that not all cellphone microscopes perform as well as laboratory microscopes; however, depending on your application, they can make your life much easier.