Looking for microscopes for your science projects can be super hard and stressful.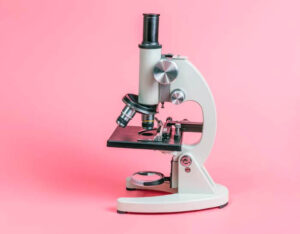 So, to help you out in this, I have made a list of the best microscopes for teenagers;
I will be reviewing the top 10 microscopes that are specifically designed and constructed for teenagers like you,
with their pros and cons on the hook so that you can get a close look at them and who knows you might even find your favorite one!
Top 10 Microscope for Teenagers
I will also answer some of the frequently asked questions about microscopes for teenagers in the best and the easiest way possible with a buyer's guide, too,
So that you don't feel like you are wasting your time or money at any given moment.
1. AmScope 40X – 1000X Beginners Microscope
This microscope kit is a perfect set for beginners who want to step into the world of science.
All wrapped with optical glass and top to bottom LED lights, this microscope has 40X – 1000X five wide field magnifications—a strong, sturdy frame constructed of metal to keep the microscope well balanced and seated.
Reviewing this set, I was impressed, especially because of this complete accessory kit with the microscope that even includes the world of microscope book!
And let's not forget about the single-lens condenser and a six-hole diaphragm, batteries, and a cell phone adapter so you can document all your work!
Pros 
LED lights
5 wide-field magnifications
Strong metal frame
Comes with an all accessory kit
6 hole diaphragm
Cons 
Lights are too bright
Faulty knobs
Doesn't focus
2. The Emarth Store Microscope for Beginners
I would say this definitely would be the perfect gift to give to your children, students, or your high school friend who loves science and experimenting.
At such a small price, this microscope gives you a lot of exposure, experience, and high-class result. With its high quality magnification levels of 40x, 100x, 250x, 400x and 1000x.
And other amazing features like Dual Light LED illumination and built-in color filters that are specially designed for kids to give them easy focus, and the rotating colors also help you save the time of having stain slides.
Constructed with high-class material and professional to give students that comfort and stability from which they can work without worrying about neck strains and eye pains.
Pros 
High magnification levels
Dual led light
Built-in color filters
Professional design
Cons
Not durable
Faulty color filter
3. OMAX – XM82ESC02 40X – 2000X
Omax is another one of the leading brands worldwide, you can put your blind trust in their products, and you still wouldn't be disappointed.
For instance, look at this compound microscope constructed beautifully with a total magnification from 40x to 2000x.
Another resilient feature of this microscope is the ocular diopter adjustable on both eye tubes and the LED light with an intensity adjusting system.
A digital camera is also included so you can take live shots of your specimen with pixels of 640 x 480, which is compatible with Windows XP/ Vista / 7/ 8/ 10, and Mac OS.
Pros 
Compound microscope
High magnification
Ocular diopter adjustable
Led light with intensity adjustment
Digital camera for live shots
Cons 
Missing pieces in delivery
Not durable
4. National Geographic Microscope
Even if you have nothing to do with science and is looking for a microscope to gift to your friends or maybe even your kids.
Dressed in silver, this microscope by national geographic has a bunch of qualities that is hard to ignore and move on.
Let's start with the 2 in one microscope experience it gives, you can use the lower LED light to view the specimen, and you can switch to upper LED lights to observe and analyze 3D objects with high-class details.
With over 50 accessories includes ten prepared slides, blank slides, tweezers, eye droppers, a Petri dish for plant labs, and so much more.
Pros 
2 in 1 microscope
Over 50 accessories included
Learning tools
High-class magnifications 
Cons
Light is too bright
Faulty manufacturing
5. AmScope 120x-1200x Beginners Microscope
Another great hit by the AmScope company. By now, I'm sure you are aware of the comfort and quality they have succeeded in providing over the years.
Now that we already know all about the company and its manufacturing let's take a detailed look at its features.
Constructed with metal, plastic, and ABS, this sleek black microscope has an amazing magnification that goes from 120x to 1200x;
Its heavy metal construction frames make it well balanced and hard to trip or tilt, making it firm and seated.
Pros 
Metal construction
High magnification
Light-reflecting system
Built-in color filter
Cons
Poor lenses
Cheaply built
6. My First Lab Duo – Scope Microscope MFL – 06
My First Lab Duo Scope Microscope won an award for being the best microscope out there for STEM education; you can already take a guess how good it would be.
The Duo Scope we have here is a 2 in 1 both stereo and compound microscope, which means you can view both rocks and leaves as well as a specimen under it.
Duo- scope believes in supplying the best of the best; that's why it itself comes with an all in 1 accessory kit,
Which contains 50 pieces of helping tools that your kid will have fun with while studying—constructed with real glass optics and an amazing magnification that is starting from 40x and ends at 400x.
Pros 
Award-winning microscope
Both stereo & compound microscope
50 piece accessory kit included
Constructed with real optics glass
Cons 
Some of the lenses don't work
Low quality
7. Educational Insights Store Microscope
Looking for the perfect Christmas or birthday present for your favorite, cousin, or nephew?
I think this is exactly what you should be buying to help motivate the children to keep learning about science in new and fun ways.
The Educational Insights Store is filled with educational toys for kids with great quality at very affordable prices so kids can have fun and study.
This microscope has a magnification of 400x with an activity guide book that children can follow for some amazing microscopic activities;
Children can either follow this guide or observe their own caught specimen under it.
Pros 
Magnification of 400x
Comes with accessories
Great for stem learning
Cons
Cheaply constructed
Doesn't work higher than 30x
8. Geosafari Jr. My First Microscope
This, too, is an award-winning super cute and irresistible microscope that could be the first educational toy for your child is totally and worth it.
For kids aging 3 to onwards, this a great way to find out what your kid is interested in, especially with its 2extra large eyepieces so your preschooler would not have any problem in observing what's under the microscope.
Magnifying up-to 8x with a LED illumination system, your child will be all over this kiddy microscope as soon as he sees it.
Feel safe about handing this over to your 3+ kid and let him see the world through his microscope!
Pros 
Award-winning
2extra large eye pieces
Led illumination
Cons 
Cheap construction
Light as a feather
9. Omax 40x – 2000x Binocular Microscope
Whether it is a science project at school or just your regular research hobby, this microscope that's specially designed for prodigies who love using a microscope, this is the perfect fit.
With a total magnification that's starting from 40X and ending at 2000X, this OMAX microscope enables you to adjust the intensity of the illumination and focus on both sides with any trouble.
To avoid slip-ups, it is also made with a heavy metal framework, which will make it impossible for this microscope to trip over or be imbalanced.
Pros 
2000x magnification
Adjustable intensity
Heavy metal frame
Cons 
Cant switch objectives in the middle of a slide
Object holder is hard to grasp
Faulty focus
10. Geosafari Jr. Talking Microscope
Featuring the most amazing Christmas gift you can ever come across for your nephew who loves science or your daughter who loves observing.
Because of its look, listen, and learn features that talk with the voice of Bindi Irwin and show closed-up images in high quality.
This is the best thing a preschooler could have in his hands, considering its kit of 60 beautiful colored pictures and two modes of play.
Give the perfect stem learning experience to your child with this microscope.
Pros 
Look, listen and learn the system
Includes a 60 pieces accessory kit
Best for stem learning 
Cons 
Faulty construction
Defective
Buyer's Guide
The focal goal of the buyer's guide is to make you aware of the important features of a tool that you are about to buy.
So, that you can identify a decent microscope when you see one without any help from anyone.
In this buyer's guide, I will tell you about some of the key factors you would want to keep in mind before buying a microscope. So stay with me
Comfort
Comfort is one of the most important factors that also matters the most when you are using a tool almost every other day.
If you don't want to face issues like neck strains, muscle pain, or eye soreness, you need to keep your comfort in mind when buying a new microscope.
There are many companies that do sell out ergonomic designs that are specifically designed for your comfort. So always choose those or whichever's more comfortable.
Construction
Construction is the second most important factor in a tool, which basically determines the life and durability of your tool.
I have seen people throw out their otherwise perfectly working tools just because of the cheap material it was made from started to break apart.
That's why you might want to buy something that would be more durable, meaning something that is finely constructed as it will either make or break your tool.
Versatility
Now, although our key goal is to find a decent looking, amazingly working microscope but wouldn't it be better if we found one that goes out in more than one way? Versatility is the smart way to shop.
Microscopes are something that you usually use for a long period of time, so why not choose one that has more than one ability?
Like a stereo+ compound microscope? Always keep the versatility of your tool in mind.
Frequently Asked Questions
What is the most common lab microscope in schools?
A compound microscope is the most common microscope in schools.
How do you make a microscope for kids?
All you have to do is to get a glass slide and put a drop of water on it, then put the slide close to anything under the sun.
What magnification do you need to see bacteria?
At a magnification of 400x, you will be able to see bacteria.
What is a microscope used for?
A microscope is used to have a closed up and detailed image of an object/ specimen.
What is the best magnification for kids?
The best magnification for kids is between 40X to 100x
Are microscopes portable?
Yes, microscopes are portable; although some of them are heavier than the others, they are portable.
Do all microscopes have the same features and magnifications?
No, the features and magnifications entirely depend upon the microscope and the company that it's from.
Conclusion
Now that we have reached the end of the article, I'm sure by now you know all about the best microscopes for teenagers as well as their pros and cons.
I also do hope you have already picked out your favorite one. If you have any further questions covering the same topic, I would suggest you read the buyer's guide and review it once again.