The microscope is a doorway to exploring the enchanting world of microorganisms that are unknown to the naked eye.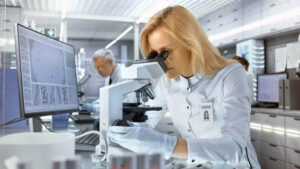 Whether it's for your job, course work, or a hobby discovering this unchartered territory of bacteria and various other organisms can leave one in awe,
A feat is impossible to achieve without the best microscope for viewing bacteria.
However, the quality of your microscope can greatly affect your view and accuracy of observations,
Which is why it's important to take into account the different kinds of microscopes available in the market so that you can have a worthwhile experience.
Top 9 Microscope for Viewing Bacteria
Skip the extensive research of leading manufacturers and the different models of microscopes available in the market because I've gathered all that information in a neat list for you to browse through.
This list consists of the most popular and well-acclaimed options of microscopes to view bacteria.
The list includes all their distinct features along with any potential problems that come with them so you can make an objective decision that best suits your needs.
1. AmScope T490B-DK Microscope
This well-built microscope has all the features you might need to have a blast while looking at bacteria.
It provides a magnification of 2000x so that you can marvel at the intricacies of bacteria morphology without a problem.
Overall features such as an interchangeable eyepiece, a mechanical stage, and the presence of both a graduated fine and coarse adjustment knob with tension control ensure that your slides don't get ruined.
The halogen illumination is an added plus that ensures that your view is clear; however, it can get hot because the microscope lacks a fan in design.
Pros
Easy assembly
Well built
Achromatic optics
Cons
Dim dark field view
Doesn't have a fan for the light
2. OMAX 40X-2500X
This microscope has won several accolades and is considered to be among the best for reasons such as a sturdy construction that is made entirely of metal and offer a magnification of upto2500x,
Which means you will be able to get a sharp and clear observation of bacteria that you can also record as it comes with an additional feature as it comes with a USB digital camera that is sold separately.
The optics are good quality, and the overall focus system is sturdy, making this microscope ideal for usage in schools, laboratories, and clinics.
However, there have been some complaints where users said that the light source was not working.
Pros
Durable
Professional Grade
Easy to use
Cons
Difficult to switch between objectives while viewing slides
Faulty light source
3. Wireless Digital Microscope 50X to 1000X
Here's the first digital microscope to make the list that eliminates the tiring process of squinting your eye through the eyepiece.
Instead, you get the convenience of viewing it on your device of choice, be it your laptop, phone, or tablet, thanks to its wide compatibility.
It offers a magnification of up to 1000x, so it's sufficient to view bacteria; however, the manufacturers do not list it under its many applications.
It's a great addition that you can take anywhere as it's powered by batteries, and the design is compact.
Users do tend to the point that it might be a bit complicated to set up at first, but once you get the hang of it, it doesn't disappoint.
Pros
Compact
Convenient
Portable
Cons
Difficult to setup
Light source reflects off the specimen slides.
4. OMAX – MD827S30L Built-in 3MP Camera
The manufacturers of award-winning microscopes once again provide a versatile microscope that is specifically built for biological compound examination.
The magnification power of2000x is more than enough for viewing bacteria samples without any hurdles.
It is overall ergonomically designed for the user to observe each slide with good quality optics and features that ensure you have a satisfactory experience.
The addition of software for a more detailed examination makes it convenient as you can view it on your laptop as well as record your findings.
Pros
Ideal for students and professionals
Good quality
Convenient
Heavy metal construction
Cons
Software only compatible with windows
No manual control over camera settings
5. Swift SW350B 40X-2500X Magnification
This multipurpose microscope is perfect if you're looking for an option that is specifically designed for research.
Its magnification power can go up to 2500x, which is amongst the highest range that has been reviewed so far; thus, it's safe to say that seeing bacteria with the help of this apparatus is going to be not a problem.
As for the optics, you get 4 DIN achromatic objectives that are of good quality and reliable.
Even if they malfunction, you can easily replace them instead of getting a whole new microscope. For ease of use, its design includes a carrying handle, which I find to be a nice detail.
Pros
Easy to use
Versatile
Research Grade
Cons
Difficult to clean
The light is slightly off-center.
6. AmScope T610-IPL 40X-1000X
Amscope is among the leading manufacturers of microscopes, so you know you're getting your money's worth if you invest in this option.
Overall the microscope is well designed and takes into account the ease of use and comfort of the observer. You can get a crisp and clear view of bacteria due to its 1000x magnification.
It also supports the video and picture capability, so the user gets the option of recording their findings.
As for the backward nose piece, I find it makes the whole experience much more pleasant and minimizes neck strain in case you're working with this microscope for a long period.
Pros
Professional grade
Comfortable to use
Video recording capability
Cons
The lighting is not very bright.
Complicated stage adjustment
7. OMAX – MD82ES10 40X-2000X
All you have to do to view your bacteria cultures is connect the microscope with your laptop, and you're good to go.
The total magnification of 2000x is ample to view bacteria, whereas features like variable intensity illumination and a sturdy focus system make it a superb option that is worth considering.
The mechanical stage is exceptional as it's not just stain-resistant, which makes cleaning no problem at all but also has upward-moving locks to hold the slides in place.
Pros
Sharp images
Digital viewing
Option to control light intensity
Cons
Not as durable
Problems with software compatibility
8. AmScope B120C-E1 Microscope
This high power microscope comes with 2500x maximum magnification that allows for a super sharp and well-defined view of bacteria.
Features like a sturdy construction that is comfortable to use, a 3-D double layer mechanical stage, fine and coarse knob adjustments place this microscope among the best.
You can stream live videos and make recordings of your work by connecting this microscope to any computer as it's compatible with both Windows, Mac, and Linux.
Pros
Well built
Compatible
Easy to use
Cons
Only windows support software.
No carrying case
9. TELMU Microscope 40X-1000X
This microscope holds to be among the most functional and multipurpose options that fit the needs of a student quite well.
The total magnification of 1000x makes it just right for viewing bacteria.
Whereas the design is constructed with durable materials and is well balanced so it won't shake while you're trying to adjust your focus.
It has a double light that lets you see even opaque samples. You can also record your data and findings on your phone while using this microscope.
It's easy to assemble and use for beginners.
Pros
Easy to use
Compatible with phone
Good quality
Cons
The instruction manual is hard to understand
Not fully metal in construction
Buyer's Guide
Remember that unless you have prior experience, you may have trouble with understanding how to look at bacteria through a microscope.
Since there's a learning curve, I have provided a buyer's guide, which has all the details that you must consider before getting a microscope to avoid any future hurdles.
Magnification
This characteristic of a microscope is the most significant when it comes to viewing bacteria. So make sure that your microscope has a total magnification of at least 400x to view bacteria.
However, I would recommend going for a microscope with a higher magnification like 1000x as this would help in providing a more detailed cell structure of the bacteria and ensure that you get a clear and sharp view.
As a rule of thumb, you should keep in mind that a higher magnification means better visibility of the bacteria.
Selecting the Viewing Options
You can look at bacteria through either the eyepiece or a monitor viewing.
The eyepiece viewing is the conventional type where you look through the eyepiece of the microscope.
This option offers a one-person view only, and you need to make adjustments according to the viewer; hence if you're buying a microscope for your personal use, this option may be preferable as it's inexpensive.
However, lately, you might see that many microscopes come with the option of monitor viewing. This option allows for the specimen to be seen on a larger monitor screen by connecting the microscope with it.
You also get the benefit of recording your observations that multiple people can view at the same time.
Quality of The Built
Pay attention to the quality of the construction of the microscope, as this will determine the durability of your microscope.
Try to steer clear of microscopes that are constructed in plastic as they are much more fragile and often lack optical quality.
A microscope with a sturdy built that is constructed in a solid alloy will prove to be more reliable and last you longer.
Quality of Optical Lens
The resolution of your image is dependent on the quality of optics and eyepiece. Usually, an achromatic lens is used to view bacteria as a standard good quality lens.
However, if you're looking to minimize lens abrasions more expensive and high-quality lenses such as the semi-plain and plan might be preferable.
As for the eyepiece, you should invest in a wide field or super wide field option because more width means you get a much better view with the addition of comfort.
Adjustment Knobs
To have an accurate view of bacteria, make sure that the microscope has a smooth focusing system since high power use is required for seeing bacteria.
Ensure that your microscope has a fine adjustment knob along with the coarse adjustment knob.
Frequently Asked Questions
What magnification do you need to see bacteria?
You will need a magnification of 400x at least to view bacteria.
What microscope is used to view bacteria?
A compound microscope with a magnification of at least 400x can be used to view bacteria.
Which microscope is best for viewing cells?
A compound microscope with a minimum magnification of 400x can be used to look at cell structures.
Which objective is used to see bacteria?
An objective lens with a total magnification of a minimum of 400x
Which of the microscope objectives is best for studying bacteria?
The combination of a 10x eyepiece and 100x oil immersion objective lens can provide a very sharp and clear image of the bacteria.
What is the purpose of studying the morphology of bacteria?
The objective of observing the morphology of bacteria is to distinguish which species it belongs to.
What determines the shape of bacteria?
MrBe is a protein that determines the shape of the bacteria.
What are the two methods of identifying bacteria?
DNA sequencing and Riboprinter analysis can help in identifying bacteria.
Conclusion
I hope the buyer's guide and list of reviews helped make the process of finding the right microscope for you much easier.
In case you're still unsure, take a look at the buyer's guide one more time to figure out what you are looking for.