You might be a botanist or a cannabis grower.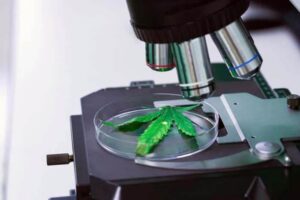 In both cases, observation is of utmost importance at the micro-level, as research should be accurate, and a crop should be healthy and pest free.
For these purposes, you need a microscope that is best in its magnifying ability, along with enhanced clarity.
Let me tell you that if you are planning to buy one for this purpose, I have good news for you.
In this article, I have mentioned, after detailed market research and personal experience, some of the best microscopes available in the market.
Read through for a good grasp over the knowledge about the best microscopes for cannabis.
So, without any delays, let's get started.
Top 10 Microscopes for Cannabis
Depending upon the magnifying range and enhanced features, microscopes come in various prices and features.
It isn't easy to choose when you are a beginner or do not have a lot of experience.
I have come up with the top 10 picks with detailed reviews to demystify the picture for you. Please have a look at them!
1. Carson MicroFlip Microscope
To enhance your magnifying experience along with taking the portability factor to another level, Carson brings you this pocket microscope.
This device has a powerful magnification range of 100x-250x. Its unique feature is that it has a slide base that you can flip up when not in use. Seems cool!
Adding more to the features, this device has a universal smartphone digiscoping adapter that allows you to take pictures and even make videos of your discoveries.
This cheap device is powered by an AA battery, which is usually not included with the product.
This device will surely help in improving your cannabis observation experience. Hence, if the specs suit you, then go or this one.
Pros
Low price
Lightweight
Great portability
Handy size
Cons
Low magnification range comparatively
Not a proper operating guide with product
2. Wireless Digital Microscope, ROTEK
If you need a higher magnification ability with an HD view in your microscope, then this product is best for you.
It will surely enhance your working experience on cannabis, and if you are harvesting them, they will provide a detailed view to diagnose diseases or pests in the plants.
This microscope contains a 2 MP HD 1080P camera and comes in a magnification range of 50x to 1000x. I would recommend this product as the price is also very good, corresponding to the features.
This wireless device with a great compatibility range is undisputed and can make your botany work delightful.
Also, the customer reviews tell that it is value for the money.
Pros
Good price for the features
High definition
Lightweight
Portable
Cons  
Its magnification is step-less
Sometimes focusing issues
3. Carson MicroBite Plus Microscope
This one is the cheapest low range pocket microscope that you can take anywhere easily.
If your work scope is not too vast and does not need high magnifying power, then this product is for you.
This device offers you a magnification range of 60x-120x with LED as a light source.
The aspheric internal lens system inside it makes the view clearer for you. Trust me, if you do not need high magnification, then grab this one and start working.
As per my experience, this much magnification is enough for surface observations at a closeup.
Pros
Cheapest in price
Easy to handle
A low power source (1 AA battery)
Cons
Obviously low magnification
Relatively low-quality results
4. YINAMA Rechargeable Microscope
Let's have a look at my favorite one. YINAMA brings you this cool device with 50x-1000x of magnification range and a brilliant 1080P display.
This device also has a rechargeable battery, and I am so excited while telling all of this to you!!
This device comes with a sturdy base to stabilize the sample and an adjustable easy to focus feature. Adding to the features comes a mini HDMI port, and you can share the display using it.
To provide greater clarity, there are 8 LED lights as a source, and to store the information, there is an SD card facility as well.
An undisputed product that will make you enjoy your work on cannabis as this microscope is well rated to work on plants.
Buy it to have a long-lasting impeccable experience.
Pros 
High-resolution display
Rechargeable battery
High magnification
Cons
Higher price
Higher weight
5. Plugable Microscope
Plugable is a famous tech product manufacturing company, and they offer you this unique digital multipurpose microscope.
For being multipurpose, it can be used for cannabis as well. Good news, right? It is a highly compatible USB 2.0 device that can be connected to various operating systems.
Its 2.0 Megapixel sensor provides you high definition, and the magnification range of 250x is also enough for your purpose.
These so many features are intriguing, and you should buy it if the specs match your demands.
Pros
Built-in lighting (adjustable)
Versatile stand (with flexibility)
High Compatibility
Reasonable price
Cons
Low sustainability
USB cable issues over time
6. Bysameyee USB Digital Microscope
Bysameyee is a renowned microscope manufacturing company. Their digital microscope is a very promising device at a reasonable price.
It will surely be helpful for cannabis observation as well because it has almost all the features that you would need.
If we talk about the magnification power, then it is 1000x, and if compatibility is concerned, you can connect it with Android, Windows, Linux, and Mac.
It also allows you to record what you see and is a multipurpose device. If these features are what you need, then go for it!
Pros
Relatively cheaper
High compatibility
Lightweight and portable
Cons
Delicate device
Sometimes camera installation issues arise
7. Wireless Digital Microscope, XVZ
This beautiful mini pocket device by XVZ provides a great range of magnification (0x to 1000x).
Your work on cannabis can become more interesting using this device due to its high compatibility, 8 LED source lights, and adjustable brightness at a very good price.
This microscope has a snap feature that allows you to take photographs or even make videos for recording purposes.
The view becomes clearer with its great resolution feature. I would recommend you buy it if it fills your demands because the price is very reasonable.
Pros
Wifi microscope
Highly compatible
Lightweight and portable
Cons
Needs an app to install to use with mobile phone
Delicate product
8. STPCTOU Wireless Digital Microscope
This device is similar to the XVZ's with slight differences. The magnification range that it will provide is 50x-1000x.
It is also very compatible, but the extra features that this product possesses include a rechargeable power source, which is quite amazing in the price.
If you are a beginner, then you don't have to worry because this product is so easy to use, and you can connect it using wifi with your device and start learning the details of cannabis.
Pros
High magnification
Adjustable light
High compatibility
Cons
Connecting App issues
Connectivity problems sometimes
9. Grow Room Microscope
A perfect little device with a very low range for your low magnification demands, this product has a good market reputation.
Moving in your cannabis fields, if you randomly want to check the plants, then this product will suit you.
Very lightweight and a handy size, this device offers 60x magnification and has a portable LED 420 pocket scope attached to it.
This device also offers flashlight intensity options to adjust the brightness. This is the device that I would love to keep in my pocket for my needs. Buy it if you agree!
Pros
Handy size
Portable
Lightweight
Cheaper
Cons
Low magnification
Low-quality results
10. Happy Hydro Loupe Magnifying Lens
For random low scale observations, this product has magnifying lenses of 30x and 60x magnification.
Trust me, mostly to zoom in the apparent view of plants, you need a low magnifying tool, and in that case, this product is for you.
The high-quality glass of this product provides a great view, and for illuminating purposes, there are LED lights as well.
The device has a strong ABS frame to secure it from impacts. This cheapest magnifying tool can be taken anywhere easily. Technology in your pocket, cool, right?
Pros
Lightweight
Very cheap
Extremely portable
Cons
Low magnification
Relatively low-quality results
Buyer's Guide
If you do not have any experience of buying a microscope, then reading a buyer's guide will be helpful.
I have mentioned all the important aspects that you should keep in mind before buying a microscope for cannabis.
Magnification
The most important thing that you should remember before buying a microscope is magnification.
First, realize your needs for magnification and then opt for the one that suits the best for you.
I recommend you buy one with the highest magnification so that you can use it anywhere.
Brightness and Illumination
For better visibility and enhanced view, brightness adjustment and higher illumination are of prime importance in microscopes.
It would help if you remembered this aspect while purchasing a microscope and get yourself the one with great illumination.
Higher illumination will allow you to observe the cannabis in more detail.
Clarity
To magnify cannabis and observe properly, you should be concerned about the clarity as well.
I would recommend you look for the microscopes that offer higher clarity with a very good range of magnification.
Durability
A tech product should always be durable so that it can stand the external conditions.
Your microscope can have to work in various environments; hence, it should be durable to resist wear and tear.
Diaphragm & Condenser
Make sure that the microscope that you are going to buy has an iris diaphragm along with a good quality condenser.
They will help in adjusting the base illumination, and you will have a better result will observing cannabis.
Frequently Asked Questions
What is the highest magnification that a microscope offers?
The highest magnification that you can get on a microscope is 1000x.
How do I view my USB microscope?
First of all, you have to plug in the device on your computer.
After that, hold the microscope and touch the lens of the specimen.
Now, the image will be visible on your computer.
Use the microscope carefully to observe the dry specimens only.
How do you focus on a digital microscope?
First, you have to turn the dial of the microscope.
After that, keep on increasing the magnification until the subject comes into focus.
Slowly adjusting the knob helps to find the focus, so a fine knob is good for it.
Which magnification should you start with?
It would help if you started with 4x or 10x on a slide.
How to carry a microscope properly?
Keep your microscope covered to protect it from dust.
Clean the lens using a special lens paper.
Do not touch the glass with your fingers.
Carry it using both hands.
Which microscopes are good for cannabis?
The microscopes mentioned in this article are all good for cannabis but go for the one which meets your feature demands.
Can I see germs using a microscope?
Not using ordinary ones, but you can observe germs with a microscope having a magnification above 1000x (usually 1200x).
Can I see pests using a microscope?
A microscope with a good magnification range allows you to see pests and small insects as well.
Conclusion
Working on cannabis with a microscope demands some certain range of features, and the microscopes that I have mentioned will cover that range, and you can buy one of your desired features.
I am pretty confident that the above-mentioned information will help you with buying a well-suited microscope for your work.
Always follow the right guidelines and opt for a microscope that will make your cannabis observation more interesting. Good Luck!