Finding, reviewing, and having to buy a microscope, especially one for dissecting, can be back-breaking.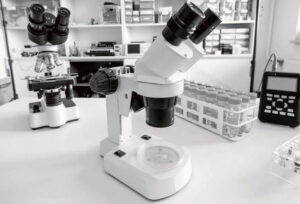 Whether you're a medical student or you know someone who is, or maybe even if you are just a hobbyist.
Looking for the right microscope can be super hard and stressful, but now you have me!
Since there are a lot of microscopes that look the same but are entirely different, you should never trust the outlooks or the prices when buying a microscope.
Having a lot of choices and opinions will also make your decisions weaker.
So it will be for the best if you will just stick to the reviews and find out which features in a microscope are more or less important for you.
This way, you can do smart shopping at affordable prices, and you will also be able to find a microscope that will help and survive in the long run.
I will be taking you through a long list of the best microscopes for dissecting. Who knows, you may find the one you are looking for?
Top 5 Microscopes for Dissecting
While reviewing the microscopes, I will be putting their pros and cons on the hook as well as a buyer's guide, which will help you in understanding.
Also, as a plus one to all this, I will answer some of the most frequently asked questions about dissecting microscopes in the best way possible.
So, you better brace yourself for a long ride!
1. AmScope SE306R-PZ Stereo microscope
Amscope is a huge name worldwide. AMSCOPE has beautifully designed this microscope with a stereo magnification starting from 20x-40x-80x;
Constructed with high-end optical glass lenses, this microscope has a strong and sturdy metal frame that will give you a balanced shape.
It also has built-in Lights on both top and bottom.
Pros
Adjustable magnification
High-end optical glass lens
Strong frame
Built-in lights
Cons
Gets very hot very quickly
Too bright
2. AmScope SM-4TZ-144A
Another great hit by the AMSCOPE company, by now, you already know about the promising quality this company delivers but let's check out the features of this microscope.
A professional boom stands that will enable you to work on larger items, a trinocular viewing head with wide-field eyepieces, and an ergonomic design to reduce and avoid neck strains and backaches.
This microscope has zoom objectives and removable LED lights with adjustable light and intensity settings.
Pros
Professional zoom microscope
Trinocular viewing head
Ergonomic design
Metal frame
Adjustable LEDs
Cons
Not durable
Poorly constructed
3. SWIFT S41-20 Professional Dissecting Microscope
If you are not new in the field of science or biology, I'm pretty sure you already know a lot about the swift company and its high-end tools.
This microscope from swift has an interchangeable pair of eyepieces to provide high magnification.
Its dual-goose-neck light is flexible and provides just the right amount of light beams that you will need to view your specimen.
Another exciting feature is this strong-arm stand that enables you to turn the microscope's head all the way around at two different axes.
Pros
Interchangeable pair of eyepieces
Dual-goose-neck
Sturdy frame
Strong arm stand
Cons
Faulty LED's
Gets heated up
4. AMSCOPE SE400X Professional Microscope
Once again, AMSCOPE is sitting on the top of the throne because of its super promising quality and its high-class deliveries and customer service.
Its features like interchangeable eyepieces and adjustable inter-pupillary distance.
As well as its ergonomic design and adjustable goose-neck-LED lights.
It also has low magnification and a longer focal length to make larger specimen observation easy. It'll be safe to say that this is a perfect fit for you.
Pros
Interchangeable eyepieces
Adjustable inter-pupillary distance
Ergonomic design
Gooseneck LEDs
Cons
Not durable
Light unbalanced frame
5. AMSCOPE SE306R-P20 Microscope
Guess we already know what this AMSCOPE company capable of is; we can easily rely on them without worrying.
Apart from that, take a look at this sleek-looking microscope that has a bunch of features like upper and lower illuminations and frosted stage plates, as well as black and white stage plates.
This microscope also has interchangeable eyepieces and interpupillary distance adjustable eyepieces along with all that;
It also provides low magnification and a longer length for better viewing of the specimen.
Pros
Upper and lower illumination
Frosted / b&w stage plates
Adjustable eyepieces
Low magnification and longer length
Cons
Faulty eyepieces
Not durable
Buyer's Guide
The main and focal goal of a buyer's guide is to help you determine which features of a tool is more or less beneficial for you.
You can also get a better understanding of the tool you are about to buy.
Once you have a complete understanding of the buyer's guide, I'm sure you can pick out a decent microscope when you see one,
Without having to take anyone else's opinion or having to feel like you're wasting your money. So, let's start!
Comfort
Most people realize this after they are done buying the tool. Comfort is more of a necessity than a luxury;
Having a tool you can work comfortably on for hours is nothing but a blessing.
Don't forget you are looking for a microscope that will help you with your work, not pile it up for later.
To avoid issues like neck strains and shoulder muscle freezing, you should put your comfort first.
There are many companies worldwide that sell ergonomic designs made specially by prioritizing your comfort.
Always choose an ergonomic design rather than a normal one if you want to keep your microscope in the long run.
Construction
They say construction either makes or breaks your tool, and can we really disagree?
As much as you and I love sleek-looking microscopes with aesthetically pleasing colors, we also know that looks can be deceiving, and not everything that glitters is actually gold.
Always keep an eye out for the construction of the tool you are about to buy.
Since microscopes are rather expensive tools, and most of us don't afford to buy them, time to time again.
You surely don't throw out your otherwise working perfectly fine microscope just because the cheap material used in the construction of it started to fall apart.
So, always take your time out to study different materials used in the microscopes.
Power
Power is another major yet ignored buying factor. We often buy cheap tools in sales or from drugstores and call it smart shopping.
Let me tell you, you are not smart shopping at all but actually deceiving yourself.
Buying low priced tools will always have a power issue and would never help you in the long run.
You should always choose and prefer a microscope that has sufficient power channeling through it to give you high-end results, which give you the satisfaction you need.
Versatility
Although our utmost goal is to find a microscope that will help you in dissecting, it having a tool that goes out in more than one way to help you, in the long run, is better than one that is only good at one thing, no?
Since microscopes are used in the long run, you might want to buy something more versatile so that you can use it over and over again.
Frequently Asked Questions
What can be viewed with a dissecting microscope?
A dissecting microscope is mostly used to view larger specimens like pollen grains.
Which type of lens is used in a dissecting microscope?
The dissecting microscope has a single objective lens with limited magnification.
What is the range of a dissecting microscope?
The working range of a dissecting microscope is 10x-30x
Why are stereo microscopes referred to as dissecting microscopes?
A stereo microscope is called a dissecting microscope because one can work on the specimen while it's still being observed.
Is dissecting microscope 2d or 3d?
A dissecting microscope shows you a 3d image of your specimen.
What light source can you use with a dissecting microscope?
You can use a beam of light that is projected from above for a clear view with a dissecting microscope.
Do dissecting microscope invert images?
No dissecting microscopes do not invert the images they produce.
What other differences are there between the compound and dissecting microscope?
The main difference between a compound and a dissecting microscope is that a compound microscope has a higher magnification level and is used to observe smaller objectives,
While a dissecting microscope is used for larger specimens and has a lower magnification.
What are the limitations of a dissecting microscope?
The limitation of a dissecting microscope is that it has a limited magnification level.
How does a dissecting microscope work?
All you have to do is to put your specimen on a clean tray, adjust the magnification and the light beam, and you will be all good to go!
What advantage would use a compound light microscope have over using a dissecting microscope? 
A compound microscope has a higher magnification than a dissecting microscope.
Conclusion
Now that we have reached the end of the article, I'm sure you know all about the best microscopes for dissecting by now.
If you are still confused about something or if you are stuck on a feature, make sure you give this article another read to clear your mind.
Good Luck!