Microscopes are great to work with, but if you are a beginner, you would need one with an easy interface to understand and start your work with ease.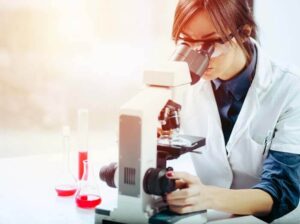 For that purpose, many microscope manufacturers have produced beginner microscopes that help you understand and learn about the device efficiently.
But the real question is that there are hundreds of devices available in the market, and what should you opt for? The answer is, "obviously the best one."
To help you look for the best ones at good prices, I have done a detailed market survey to give you accurate reviews and a complete guide.
Read through to know about the best beginner microscopes.
Top 10 Beginner Microscopes Reviews
I mentioned that there are tons of devices in the market.
So, to demystify it for you, I have come up with the top ten picks out which you can opt for the desired one with suitable features and affordable price.
Let's get started:
1. AmScope M150C – I Student Microscope
The first one that I felt important to share with you is this simple yet equipped with all the necessary features device.
Yes, I am talking about AmScope's cordless all-metal device that looks like a typical microscope.
Trust me, AmScope is a very reliable and famous brand. This device is special as it is ideal for home, school, or students.
If you ask for magnification, then in this device, you get five magnification settings from 40x to 1000x.
For enhanced clarity, there is all that is necessary for a good microscope, like you get a lens condenser with a disc diaphragm for great clarity.
LED illumination for brightness and 3 AA batteries to power up, in a nutshell, this is an ideal microscope for beginners!
Pros 
Affordable price
High magnification range
Great focus
360-degree swiveling monocular head
Cons
Limited resolution
Not a light-weight device
2. NATIONAL GEOGRAPHIC Student Microscope
It seems good when you get two-in-one for what you purchase, right?
Presenting you this device that allows you to examine biological specimens on slides along with observing 3D objects in detail.
Providing true value for the money, you get over 50 accessories included with this device to add excitement.
For learning purposes, a brine shrimp experiment is included with this device to allow you to track the life of brine shrimp.
Isn't that cool? The company claims to provide a whole level of satisfaction and a learning journey to the micro world.
The magnification that you get comes in two sets; 20x and 50x. Have a look at some pros and issues.
Pros 
Light-weight
2-in-1
Value for the money (Good price)
Extra accessories
Cons
Low magnification
Sometimes accessories are faulty
3. My First Lab Duo – Scope Microscope
Presenting to you this award-winning product which is renowned for its performance.
You get real glass optics feature in this microscope and a good magnification range (40x, 100x, and 400x).
They care about the aspect that you are a beginner, hence, provide you a comprehensive instruction manual along with helpful hints.
Adding more to the features, you get a 50-piece accessory kit with this microscope, exciting? Yeah!
The general purpose of this dual-functioning device is related to biological investigations and macroscopic objects.
So, if these features are what you need, then in a good price range, this microscope is best for you.
Pros
Light-weight
Good price
Good Magnification
Extra accessories
Cons
Limited quality
Sometimes not fully functional
4. TELMU Microscope – Dual Cordless
This microscope by TELMU is a very sustainable device with very good customer response.
The magnification range is amazing (40x-1000x) and is more than sufficient for beginners. You get five magnification settings for this magnification range as well.
The part that I like the most about this microscope is its high-class robust design made with high-quality material and its fine focusing feature.
There is a sharing feature included as well that allows you to share the view with your smartphone instantly.
The microscope uses LED-based illumination and 3 AA batteries (1.5V each). You also get side accessories with this device. Cool, right?
Pros
Robust design
High magnification
Good compatibility
Affordable price
Cons
Weighs 3.67 pounds
No cons in particular (recommended device)
5. AmScope Beginners Microscope
This is a relatively expensive device, but it has all that you need as a beginner. Trust me, AmScope sells quality, as I mentioned before.
The special thing about the device is its sturdy metal frame with coaxial coarse, fine focus, and enhanced clarity, which is realized by its single-lens condenser and a 6-hole disc diaphragm.
You have to put 3 AA batteries to power it, and then you can start your work.
The magnification range is like the other AmScope device I mentioned before (40x-1000x and five field magnification).
So, if you are affording then go for this one to have an amazing experience.
Pros 
High magnification
Enhanced clarity
Fine focus
Cons
Higher price
Packaging problems faced by some customers
6. ESSLNB Microscopes for Students
Focus Alert!! Because the device that I have brought for you is the next level microscope.
Its special features include 3 DIN achromatic full-glass optical objective lens for a better experience.
Its 45-degree inclination with 360-degree rotation capability reduces eye strain and neck strain as well.
Its solid metal frame with robust design damps the vibrations to give accurate results.
You can power it using 3 AA batteries, which are usually not included with the package.
Let me tell you about the condenser as well, which is a high-quality N.A =0.65 Abbe condenser to add more fun.
The most exciting feature is that you can connect your smartphone with it, and there is a holder available with that as well.
Pros
Phone Adapter
High-quality results
High magnification
Cons
7. Balance Living Microscope Set
It is a microscope particularly designed for beginners and comes in a complete kit.
This one is to increase your kids' enthusiasm for science as it can be used above the age of 8 years.
The magnification range is quite intriguing as it comes in the range of 120x to 1200x.
This device contains loads of side accessories as well that include 2 AA batteries, a shrimp hatchery, a micro slider, five prepared glass slides, and seven blank glass slides, etc.
This product provides higher satisfaction and a great experience.
Pros 
Great magnification
Loads of accessories
Good price
Cons
Low-quality results
Cheap lenses
8. Omano Microscopes for Students
This is a very expensive yet sustainable microscope by Omano with a very large range of magnification, but the design is robust, and the aesthetics are amazing.
The magnification range is from 40x to 400x and is specially made for the students. This device has won about six best online microscope awards.
Its high price is due to the quality that Omano serves. The product has a very good customer rating as well.
Most of them say that it gives value for the money.
So, if you are opulent enough to afford this beautiful microscope and the features suit you, then don't wait further and go for it.
Pros 
Quality product
Sustainable device
Aesthetics
Great experience
Cons
High price
Relatively lower magnification
9. Starboosa Microscope for Beginners
Did someone ask for higher magnification? Pay focus because this device will offer you a magnification of up to 1600x in 6 adjustment options. Sounds good, yeah!
You can even share the view in real-time with your smartphone as well. Its dual LED light source provides great illumination, and you get an 8-level brightness adjustment option.
Adding more, this microscope includes a complete kit with various useful accessories to enhance your microscopy experience—great satisfaction at a very good price.
Let's have a look at some pros and cons!
Pros
Good Price
Complete kit
Very High magnification
Great brightness control
Cons
Average quality
Weighs about 3 pounds
10. Swift Compound Monocular Microscope
Did someone ask for aesthetics and quality at a relatively lower price? Here is a well-suited device for you.
A magnification range of 40x-1000x of this device allows you to see deeper. Furthermore, the dual illumination enhances the brightness experience.
Its excellent material and robust design take microscopy to another level.
This device is suitable for almost all kinds of beginner experiences.
Adding to the features, the rotatable monocular allows great ease while working. I would recommend this device if the features suit you!
Pros
High magnification
High-quality design
Provides great view
Cons
Relatively higher price
Weighs 5 pounds
Buyer's Guide
I expect that you have gone through the reviews, and now comes another important stage; the guide.
If you're a beginner and do not know much about the product, then a buyer's guide will make you aware of all the aspects you should know before purchasing the device. Let's have a look!
Instructions/Manual
Make sure that the device comes up with a comprehensive manual because beginners don't know a lot about the microscope, and to get familiar with the device, an instruction manual is always helpful.
Magnification
While looking for a microscope, magnification consideration is of utmost importance. It would help if you were sure about what you are looking for.
So always go for the magnification that suits your work to avoid any later regrets.
Diaphragm & Condenser
For better base illumination and enhanced clarity, always look for an iris diaphragm along with a good quality condenser in the microscope.
That will surely make your experience better. So, don't forget to check in the features of the diaphragm and condenser.
Ergonomics
This is a very important aspect to consider before buying a device, especially a microscope.
The design should be robust, and working should be efficient and comfortable.
If a device provides good efficiency and does not cause eye strain and neck strain, then go for that device.
Accuracy
Accuracy is very important while discovering the micro world. Make sure that the device offers accurate results along with measurements if any.
Also, look for the faults, if any, to have better results in the end.
Frequently Asked Questions
Which microscope is more powerful?
An electron microscope is the most powerful one as it provides an image to a resolution of half the width of a hydrogen atom.
But generally, if a microscope has good magnification and resolution, then it is powerful.
How far can a microscope zoom in?
A standard light microscope can zoom in up to 1500x.
What part of a microscope makes the image clearer?
A condenser is what makes the image clearer. It consists of lenses that collect focus light from the illuminator to the specimen.
What do you do first when using a microscope?
Firstly, you look through the eyepiece and, after that, turn the knob until the object comes in to focus.
Now you can move the slider to adjust the view according to your needs.
What is the difference between 4x 10x and 40x on a microscope?
The optical microscopes usually contain four objectives. The 4x and 10x are low power objectives, while 40x is the high power one.
So, the total magnification of less than 400x is considered as low power.
What does microscope magnification mean?
If we state, then it is the ability of a microscope to show smaller objects as larger. It is considered as the power of the microscope to magnify.
What are the advantages of using a microscope?
It helps to study objects/specimens at the microlevel.
This is usually done in biology, where microorganisms are under consideration. Overall, it is a good diagnostic tool.
Conclusion
I have tried my best to elucidate it for you. I believe that the above information will be sufficient to make you able to opt for the best beginner microscope for yourself.
Don't forget to consider the guide. Now, without further ado, buy yourself one and begin!
Read Also: