Microscopes are excellent instruments, and when it comes to students' learning, they are beneficial in showing the real thing at the micro-level.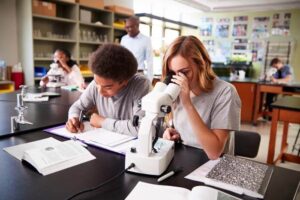 If you study science and want to see microorganisms, which is a cool thing, then you need a good microscope.
You can also use a microscope for observing 3D specimens of various kinds. It increases your interest in science.
But there is a big question in everyone's mind! There are plenty of microscopes with loads of different features, then being a student, what should I opt for?
You need not worry about it because, in this article, I am after a great research and personal experience, going to tell you about the best microscopes for students that are available in the market.
So, without further ado, let's get started!
Top 10 Microscopes for Students Reviews
So, I did a market survey and came across these most amazing products that I think are well-suited to you as a student.
Here below are my top picks, and I believe that you can choose one for yourself out of them for great results. Have a look!
1. AmScope 120X-1200X 52-Pcs
Starting with this lovely product by AmScope with a very good magnification range of 120X-1200X.
Trust me, AmScope is a great brand, and the customer review about their products are often great.
This device is a good depiction of that. It has a very durable design and includes ABS, metal, and plastic in its formation.
Its LED lighting makes the illumination more reliable while working. But the thing that I like about this device is its reflecting mirrors for natural lighting, smart move?
Yeah! The microscope is powered by 2 AA batteries that are included in the kit. The kit consists of over 50 extra accessories.
Pros 
Good price
Great magnification
Lightweight
Extra accessories
Cons
Superficial quality
For kids only
2. OMAX 40X-2500X Microscope
Please have a look at this next-level microscope by OMAX that will blow your mind with its price and features.
It has a great magnification range that allows you to view deeper, and it's premium quality equipment provides great focus and illumination.
The viewing head is inclined at 45-degree, and the binocular has a swiveling ability of about 360-degree.
Adding more to the features, its NA 1.25 Abbe condenser with iris diaphragm takes illumination and clarity to another level.
More intriguing is its robust design and metal frame that damps the vibrations and gives great results. This is a must-buy product if you can afford it.
Pros
Great Magnification
Amazing illumination
Rotation feature
Ergonomics
Cons
High price
Focus issue in some devices
3. NATIONAL GEOGRAPHIC Student Microscope
This undisputed product by NATIONAL GEOGRAPHIC comes with its charm.
This microscope is perfect for low magnification requirements as it comes in two options that are 20X and 50X.
The exciting part is that it is a two-in-one device as it can be used for viewing both biological samples and 3D specimens.
It also includes over 50 side accessories to make your microscopy super cool.
For your learning purpose, there is a brine shrimp test included with the product with all the necessary guidance as well. Thus, it is the ultimate satisfaction at an affordable price.
Pros 
2-in-1
Extra accessories
Powerful learning tool
Portable
Cons
Low magnification
Superficial quality
4. My First Lab Duo-Scope Microscope
This is a perfect microscope by My First with a magnification up to 400X. The good news is that it is an award-winning STEM microscope.
This product also includes 50+ accessories to make your microscopy more exciting and equipped. For beginners, there is a proper instruction manual included with this device.
Good design with excellent illumination of this device provides great satisfaction as well. So, if you want to explore the objects at the mini level, then this is an excellent device for that purpose.
Let's have a look at some pros and cons as well.
Pros
Good price
Award-winning product
Real glass optics
Good for students
Cons
Low magnification
Low-quality results relatively
5. AmScope B120C – E1 Microscope
This product is one of my favorites as it has aesthetics along with great features and quality.
The magnification is tremendous in the range of 40X-2500X. The illumination is great, and the condenser and diaphragm with that take microscopy to another level. The clarity is super impressive.
More to the features is its 1.3MP sensor to capture the view and high compatibility due to which it gets connected to a good range of operating systems.
It also has a 360-degree rotation ability while the angle of inclination is 30-degree, and that leads to an ergonomic design.
Pros 
Great magnification
Recording facility
Aesthetically beautiful
Robust design with all that you need
Cons
High price
Weighs 9.7 pounds
6. Vision Scientific VME0020 – E2
This product by Vision Scientific is also very good for students. The things to notice are its magnification that is in the 40X-800X range, and the LED illumination with light intensity control feature.
Its monocular head is inclined at 45-degree and can rotate up to 360-degree. The magnification is also six stages controllable.
The stage is also wide enough, including a pair of stage clips to accommodate your samples conveniently.
Along with all others, at a very good price, there is NA 0.65 condenser with outstanding clarity.
The fine and coarse focus feature is also exciting about this device. The packing includes a user manual for your guidance and a dust cover for care purposes.
Let's look at some pros and cons as well.
Pros
Good magnification
Good condenser
Great illumination
Ergonomic
Cons
Low resolution
Slides not included
7. Swift Compound Monocular Microscope
This is also a very good microscope with very good features and quality equipment. The magnification is 40X-1000X to view deeper.
This is with no doubt an excellent device for students. If I tell you about features, there is dual lighting to provide ample illumination, wide-field eyepiece, robust design to reduce vibrations, portability, and much more.
The head is rotatable, and the device is designed to reduce eye strain. There are coarse and fine focusing knobs to adjust focus up to your satisfaction.
In a nutshell, this is a great instrument for a great start. Let me show you its pros and cons as well to demystify further!
Pros 
Good Magnification
Great clarity
Highly portable
Great for students
Cons
High price
The battery case is glued shut
8. Omano JuniorScope Microscope
To make your science experiments super cool, try this microscope by Omano, specially designed for beginners.
The exciting part is that to make the microscopy more realistic; there is a premium grade glass lens used in it.
Moreover, you get up to 400X of magnification. This device is also 2-in-1 as it allows you to observe biological samples along with 3D specimens as well.
There is an experiment set included with this product to enhance your learning in the right direction.
There are focus knobs to adjust the focus up to your desire. In a nutshell, it's a high-quality product that provides great results and is ideal for student use, comes at a great affordable price.
Please have a look at its pros and cons as well.
Pros 
Good price
Great clarity
2-in-1
Value for the money
Cons
Limited magnification
Superficial results
9. AmScope M150C – I 40X-1000X
Here comes another great microscope by AmScope that gives you a great magnification range of 40X-1000X, and its cordless feature makes it a great portable device.
It is ideal for beginners and students and can be effectively used for biological experimentations.
More to it, there is the facility of 360-degree rotation to provide ease to your work.
The design is sturdy, and you get accurate results due to minimized vibrations. This device at an excellent price provides true value for the money.
If you are worried about clarity, its condenser and disc diaphragm provides great clarity to remove your worries.
Pros 
Good price
Portable
Great magnification
Good clarity
Cons
Limited quality
Assembling is difficult sometimes
10. Omano Microscope for Students
Have a look at this gorgeous device with a robust design made especially for beginners and students.
It has all that a student would need—a good magnification range of 40X-400X, professional glass-made optics, a great condenser, and much more.
Its coarse and fine focus feature helps you to view in great concentration. The good news is that this product has won the gold award six times.
This shows that this is a customer-loved product. The illumination is outclassed, and the quality of equipment is incredible. In short, it is a great product for student use. I highly recommend it.
Pros
Great design
Aesthetically beautiful
Great illumination
Good magnification
Cons
Slightly higher in price
Good for student use only
Buyer's Guide
If you are a beginner, then please keep in mind that there are a lot of aspects to keep in mind before buying yourself a microscope.
Having a good experience, let me tell you about the important stuff to remember.
Magnification
First things first, realize what you need! Go for the magnification according to your work scope.
Usually, for students, very high magnification is not necessary.
But try to opt for a device with greater magnification so that if your work scope changes, you won't have to change your microscope.
Instructions
For beginners, instructions are essential. There should be an explained manual to help you understand the device and its working.
Moreover, I prefer devices that include some experiments as well.
Illumination
Illumination is of prime importance while looking for a microscope. A good light source is always necessary for a good view.
Keep in mind that good illumination is a must check aspect.
Condenser and Diaphragm
A good condenser and diaphragm help in increasing the clarity of the view.
Make sure to look for a microscope with a suitable condenser and diaphragm to take microscopy to another level.
Budget
This as well as a very important concern. An expensive device doesn't have to be a useful device.
Always look for what you need and, in that, find an affordable device.
Frequently Asked Questions
What is the most common microscope used in high school?
Light microscopes are the most common ones to use in high school. These are used by students and beginners.
Which microscope has the highest magnification?
An electron microscope is the one that has the highest magnification. It can magnify an object up to 200000X.
What are the two main types of microscopes?
The two main types of microscopes include the Compound Microscope and the Stereo Microscope.
What kind of microscope can see bacteria?
A microscope with a magnification of at least 400x can help you see bacteria.
Is a compound microscope 2d or 3d?
Most of the compound microscopes produce images in 2D. Thus, they can be categorized as 2D.
What are the three objective lenses on a microscope?
The most common ones are 4X, 10X, and 40X, usually called scanning, low power, and high power.
What are the four uses of microscopes?
Observing microorganisms
Tissue analysis
Studying atomic structures
Geology
How do microscopes work?
There are lenses; objective and eyepiece. The image of the object is magnified through at least one lens.
The light ray bends in such a way to make the item appear larger.
Conclusion
I think that the above information is enough to help you buy the best microscope.
Being a student, you should opt for a well-equipped microscope. Don't forget to keep in mind the buyer's guide as it will help you look for what you need.
I wish you good luck with the purchasing phase.