Looking for a microscope when you are in college can be back-breaking and so much time-consuming.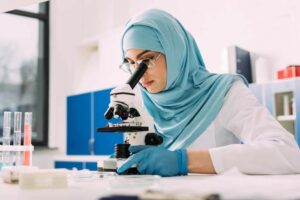 With your social and college on edge, taking time out for tools like a microscope can be hard.
Even if you do have the time, it must feel like such a responsibility to buy something that works perfectly and is versatile, too, all that in hopes that you are not just drowning your money in false products and corrupt brands.
Now, you do not have to worry anymore as I have made you a whole list of the best microscope for college students.
I will be reviewing the top favorite microscopes of college students like you.
From which you can compare, study, and choose.
Top 8 Microscopes for College Students
I will also provide you with the pros and cons of each of the microscope, so don't forget to read those for a quick overview,
And I will also answer some most frequently asked questions by college students about the best microscopes for college students.
Hold on; this is going to be an interesting journey.
1. AmScope B120C-E1 Microscope
The AmScope store is one of the leading brands of useful tools like microscopes. They have a huge fan base because of their up to date and quality products.
Not only do they provide you with the best features and components but also with a stunning exterior of the tools.
This microscope from AmScope is no different, built with a five widefield magnification starting from 40x and ending at 2500x;
This microscope is perfect for the professional use of college students with its 360 rotating binocular head that will help you in group projects and its strong metal frame that won't budge so you won't have to worry about tripping over or being imbalanced.
As if all the above wasn't enough, this microscope also comes with a 1.3MP camera which has inbuilt editing and processing software.
So you can capture live footage of your specimen easily and show it to your friends later by transferring it by its compatibility with Windows.
Pros 
5 wide-field magnifications
40x-2500x
360 rotating head
Comes with a camera
Cons
2. TELMU Monocular Microscope
If you are looking for a portable yet professional microscope with decent features that won't cost you a major dent in your pocket, I strongly suggest this microscope that is perfect for college students and lab projects.
With a high magnification of 40x to 1000x, it is a great microscope with built-in doubled intensity and adjustable lights.
This high-powered LED lights will help you illuminate opaque objects and see them more clearly.
With a frame made of fine metal finishing, you also would not have to worry about it breaking or falling apart anytime soon.
Not to forget, this masterpiece comes with a cell phone adapter and an eyepiece that enables you to experience all your subjects and record them to watch and observe later.
As a bonus to all this, it also comes with a box of free slides and a few samples for you to get started.
Pros 
High magnification
Rotating head
Fine metal frame
Comes with a cellphone adapter
Free box of slides
Cons
3. Swift Sw200 Compound Microscope
If you are not new to this science field, I am sure you are already aware of this company and its stunning products without any compromise on quality.
Coming in awestruck glass material, this microscope has numerous mouth-watering features that make it stand out from the rest of the scopes.
Like the fully rotatable monocular head, super easy for lab projects and a magnification of 40x to 100x with powerful adjustable LED lights so you can have full control over the intensity of illumination.
Its super practical and rugged design makes it easy for you to carry it around for experimental work.
Pros 
Fully rotatable head
40x to 100 high magnification
Adjustable LEDs
Practical plus strong glass design
Cons
Faulty LEDs
Cheaply constructed glass
4. AmScope M170C-E 40X-1000X
Another great hit by the same great company, AmScope, never fails to provide its clients with the best yet comfortable and upgraded products now and then.
Dressed in white, this is an amazing microscope like the brand new dual illumination and multi-power system.
It also has a LED transmitted light and LED reflected light, with a magnification starting with 40x and going up to 1000x, which is helpful for college students.
Battery included as well as a camera to capture live footage.
Pros
Dula illumination
Multipower system
High magnification
Battery + camera included
Cons
Not enough light
Faulty batteries
5. Landove Compound Student Microscope
Are you looking for the perfect Christmas present to give to your nephew who is homeschooled or your daughter who has a science project in college?
Either way, this microscope by LANDOVE is exactly what you have been looking for all along the way.
Wrapped up with an amazing 40x – 640x of magnification and a strong metal frame to help maintain balance and focus, this is a perfect fit for college students with its pack of 16x smartphone adapter so you can capture your specimen live and show it in your class later.
Optical glass monocular lens attached with LED lights on top and bottom of the glass, this microscope is powered by an AC power adapter.
Pros 
Strong metal frame
Comes with phone adapter
Optical lens
Led lights attached
Cons 
Super cheap led lights
Defective delivery
6. OMAX 40X – 2500X
Sitting on the top of the throne is the OMAX company with its super reliable products and worldwide shipping.
This microscope from OMAX seems like a smart choice if you ask me. Made with metal in an ergonomic design to reduce neck strains and shoulder pain.
This microscope will help you study without having to break your back while you are at it.
Featuring its magnification starting from 4x and ending at 2000x as well as its fully rotating 360 head and ocular diopter that is adjustable on both on the eye-tubes.
You also get to adjust the light, intensity, and focus with this, not to forget its super-strong frame will make sure there are no mishaps.
Pros 
Ergonomic design
Made with metal
Adjustable intensity, light, and focus
High magnification
Rotating head
Cons 
Defective slides
Not durable
7. SWIFT SW350B 40X-2500X
Another great microscope by the SWIFT company. When it comes to satisfying, a swift store really does it all.
Take a look at this powerful multi-purpose compound microscope that will enable you to view even the tiniest of details of your specimen.
If you are a med-student or a science student, or even just a hobbyist looking for a divine microscope, I'm more than happy to inform you that this is the one.
It's 4 DIN achromatic objectives and brilliant LED bulbs transit light by passing through an adjustable condenser.
Talk about comfort. This microscope even has a carrying handler for better portability.
Pros 
High magnification
4 din achromatic objectives
Brilliant adjustable LEDs
Carrying handle for better portability
Cons
Poorly built
Faulty slide holder
8. National Geographic Student Microscope
It does not matter whether you are a science student or not; even if you are someone who does not know a single thing about science and want to give your college friend a gift,
I'm sure even then you have heard of this absolutely amazing brand.
National Geographic has made this microscope keeping in mind the needs of college and high school students and is something you can never go wrong with.
To your surprise, this microscope is 2 in 1 versatile piece with over 50 accessories included.
Pros 
Perfect Stem Activity
Features 2 Sets Of Optical Lens
2 In 1 Microscope
Easy To Set Up
Includes Experiments
Cons
Cheaply Built
Very Low Quality
Buyer's Guide
The basic and focal goal of the buyer's guide is to provide you with information that will make shopping and buying of tool way easier and less time consuming for you.
In order to buy a decent working microscope at an affordable price, you need to be good at identifying their features, and for that, you need to have a good eye and good advice.
I will be telling you about all the important features that you should be looking for when buying a microscope so that you can keep using it in the long run without having to face any problems.
I will also tell you about some key components from which you can point out a good microscope when you see one. So let's start!
Comfort
Comfort is, no doubt, the most dominant feature in any tool, especially microscopes.
Some specialists have even said that comfort is as important as the whole tool itself, which means comfort is one thing that is absolutely necessary.
Another of the reasons why you should be considering comfort as a key factor is because since microscopes are expensive and you probably would want to use one in the long term, you might as well go for one that's more comfortable than any other.
If you are worried about how to determine whether a microscope is comfortable or not, the best way is to shop from companies that already provide ergonomic designs;
They are already made by putting your comfort first and are far better than the normal ones.
Construction
It's the construction of a tool that either makes or breaks it. Construction plays a major role in the life and durability of a tool.
You can either get a cheaply made tool and throw it away just after a few months, or you can buy a decent constructed tool and keep it in the long run.
I have seen a lot of people regretting their decision later after buying a cheaply made product.
You would probably have to throw away your otherwise working fine microscope just because the cheaply built parts will start to tear apart or break off after you have used it just once or twice.
So, always keep a good eye on the construction of the tool you are about to buy so you wouldn't have to face any issues in the future.
Versatility
Even-though, our utmost goal is to provide you with the key tips on how to find yourself a good microscope that works perfectly and goes down to fulfill all your needs.
You might prefer something more versatile. Since microscopes are a rather expensive tool and most of us college students don't afford to buy it twice, you might want to make wise decisions when buying it the first time.
So, you wouldn't have to buy it again.
Versatility is important for tools like microscopes because they are used in the long run, and buying a microscope that is both stereo and compound would help you get better details and analysis of things,
Rather than buying one that's only stereo or only compound. So always keep in mind the versatility of a tool, so it can help you better in the long run.
Frequently Asked Questions
What kind of microscope do college students use?
College students usually use compound or biological microscopes.
Which microscope is more powerful?
The most powerful microscope is the Lawrence Berkeley microscope; it is also called the electron microscope.
What kind of microscope can see bacteria?
A compound microscope is the best for viewing bacteria.
What can I see at 1000x magnification?
At the magnification of 1000x, you will be able to see 0.180mm or 180 microns.
How do you use a student microscope?
To use a student microscope, you have to look through the eye-piece, adjust the focus on the knob until you can see clearly, adjust the light intensity so you can see the details, and lastly, you need to move the microscope slide around so the object you are observing is in the center of the view.
How do you adjust a microscope to see clearly?
All you have to do is to adjust the focus knob and then adjust the condenser and the light intensity of the microscope.
What part of the microscope makes the image clearer?
A diaphragm is part of any microscope, which makes the imager brighter and clearer.
Conclusion
Now that we've reached the end of the article, I hope by now you know all about the best microscopes available for college students; I also hope you have already chosen your favorite one from the bunch.
If you've any questions related to the microscopes and their features, I urge you to read the buyer's guide and reviews once again. Good luck!