With innovation and technology making leaps in today's world.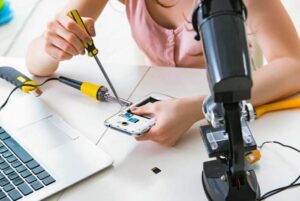 The idea of compact electronics is a trend that has been popularized in the digital world and has become a measure that reflects quality, usefulness, and popularity.
No matter what device you use, whether it's cellphones, laptops, or home appliances, it seems that manufacturers are increasingly producing model designs that are sleeker, smaller, and portable.
Hence repairing such devices is impossible without the best microscope for electronic repair.
You can gain some serious advantages when it comes to effectively repairing or reworking boards.
Not only will you be able to gain in terms of productivity but also the quality of your work.
Additionally, the overall experience will be far more comfortable, so you will be sure to enjoy it without any neck muscles cramping your style.
Top 10 Microscopes For Electronic Repair
A microscope is one of the prerequisites for working in the electronics industry, and even if you're a hobbyist who has a knack for electrical engineering, its functionality in making repairs cannot be denied.
So before you go around looking for a suitable microscope, here's a list of some popular options available in the market along with their pros and cons as a heads-up.
1. Plugable USB 2.0 Digital Microscope
Who would've imagined micro soldering could be this fun? Thanks to this microscope, which has a camera resolution of 25 mp and magnification of 250x, hobbyists are bound to get excited.
The design itself is super versatile and convenient. You can view your object through your laptop or phone without any problems.
Its simple point and use mechanism offer a quick inspection without any fatigue. The rugged infrastructure can handle even a little bit of misuse.
However, the feature I liked the most was the capacitive capture button, so you don't have to reset the camera again and again.
Pros
Built-in light
Adjustable stand
Capacitive Capture Button
Cons
Only two magnifications are possible.
Have to adjust the camera resolution manually
2. Opti-Tekscope Digital USB Microscope
Just by looking at the design and materials used for construction, you can tell this microscope is among the high-grade options.
CMOS sensors offer truly striking imagery that captures every single detail. The design is commendable as it offers durability because it's made of aluminum and is portable.
You also get the ease of capturing images and compatibility with Windows 10 and Mac.
While most microscopes don't offer control over the lighting, you can dim or brighten the lighting of this microscope according to your needs.
Pros
Durable
Lightweight
Precision
Cons
A pink tinge is seen at max magnification.
Off-center objects may become out of focus.
3. Teslong Portable Multi-Function Microscope
In need of a compact sized microscope that can withstand even the harshest environments? This multifunction magnifier can solve you're on go soldering problems with ease.
It has a 1mp CMOS sensor and can provide a magnification of up to 200x, which is not a bad option for such a compact design.
It's compatible with your laptops, whether windows or Mac, and you can even view the results on your phone.
What was interesting about this specific product to me for it to make a list? It supports a waterproof camera probe.
Pros
Portable
Waterproof
Easy to use
Cons
Not functional with iPhone
Only supports Android 4 +
Can heat up
4. Elikliv 4.3 inches LCD Digital USB Microscope
Repair your circuit boards without having to squint your eyes or connect your microscope to other devices as this digital microscope offers a 4.3-inch display, which gives you plenty of room to inspect real-time images of your electronic parts.
You can get precise observations and even get input from your friends as you get multiview.
The magnification can max up to 1000x, so this is ideal for you if your projects require a higher level.
With the help of a controller, you can regulate the distance between the object and the camera, and on top of that, it has an SD card slot to save images.
Pros
High-level magnification
Multi-view
Comfortable to use
Cons
Need to buy SD card separately
LCD has poor color reproduction
5. LCD Digital Microscope 7 inch Angle Adjustable
This digital microscope not only makes the task of inspecting and making circuit board repairs seem like a piece of cake, but it also considers the user's comfort and ease of use.
The height of the stand can be adjusted; you can even rotate the LCD for the sake of your convenience.
I was raving about a 3.4-inch display, but this digital microscope takes it up a notch with its 7-inch display.
You get eight led lights with an additional two intensity fill lights. The build and design are a clear reflection of how the manufacturers value their customer's pleasure.
Pros
Ease of use
Comes with a 16 GB SD card
Simple to assemble
Cons
No battery backup for time and date
Narrow field of view
6. STPCTOU LCD Digital USB Microscope
Imagine the possibility of having a wireless microscope—no need to connect it to a power outlet. You can do your work wherever you want.
This microscope offers up to 1000x magnification zoom, so it's versatile and can be used for any electronic repair project.
You can connect it with your computer or smart television as it has a USB connectivity port.
You can gain excellent visuals and accurate observations with the help of this microscope in and quick and easy way.
Pros
Easy focus
Quick
Battery Powered
Cons
Problems with installing the SD card
Difficult to download App
7. AmScope 8X Magnification Microscope
This microscope is made by one of the most popular and esteemed manufacturers of microscopes, which is reflective in its design.
The gooseneck offers the advantage of easy maneuverability without cramping your neck, whereas the overall construction of its design is sturdy, well-balanced, and durable.
The maker's claim that it is an industrial-grade microscope that provides the finest of details to help you repair your circuit boards and electronics.
While it doesn't have inbuilt cameras or an LCD, you can mount one yourself with little effort.
Pros
Comfortable viewing
Industrial Grade
Durable
Cons
Need to attach ring lights for better visibility
Restricted 8x magnification
8. AmScope SE305R-PZ Microscope
The first stereo microscope to make a list, this apparatus offers a maximum of 60x magnification.
Its design is rather old-fashioned and looks like your standard microscope; however, it is constructed entirely in metal.
The overall design is well built and calls for easy viewing despite having a binocular head thanks to its wide field optics.
It has a halogen light source, which often comes with top of the line microscopes. With this microscope, you get a great quality product that is meant to last.
Pros
High quality
Durable
Sharp imagery
Cons
Halogen lamps can heat up.
Difficult to install
9. Wrist Android USB Portable Digital Microscope
This microscope is made of stainless steel, so you get durability as well as a lightweight option.
The overall design aids in an overall comfortable experience, and you can carry it around because it's tiny. Don't underestimate its performance because of its small size.
It offers one mp image resolution, which will suffice for general electronic repair, and has up to 200 x magnifications.
The observations are easy to interpret on the computer screen. All in all, it's a great product for everyday use.
Pros
Lightweight
Durable
Compact
Cons
A 2-second delay in video
No orientation marker
10. COLEMETER USB 2.0 2MP 500X Microscope
Just because the overall design doesn't look as high quality doesn't mean it's any less of a microscope to help with your electronic repairs.
It does what it claims. The 2mp camera resolution is much better than what a lot of microscopes offer; together with a maximum magnification of 500x can produce fine quality images that will leave you surprised.
It is lightweight; you can also adjust its light source to aid in visibility. What more do you want?
Pros
Light-weight
Portable
Good quality resolution
Cons
Only supports windows
Can't be used with your phone
Buyer's Guide
Figuring out which model and brand of a microscope are the most suitable for your needs can be a time-consuming task, but it is necessary to pay close attention to certain factors to ensure you aren't left with any regrets.
This buyer's guide is created so that you can have sufficient knowledge without the hassle of scrolling through a plethora of resources.
Remember to keep the following points in mind while looking for various options of microscopes for electronic repair.
Quality of View
A good quality view is pertinent when it comes to making electronic repairs as it can help with accuracy so you can perform precise inspections and repairs without any mistakes.
As a rule of thumb, you need to consider two major factors that can affect the quality of your view. Firstly, the magnification needs to be at least around 250x.
This isn't a problem as electronic pieces tend to be larger than other microscopic organisms. You can assess how much magnification is required according to the nature of most of your projects and choose accordingly.
Secondly, the camera resolution can drastically affect how the image looks; thus, if your line of work requires images with great detail and sharpness, 5mp, or above is ideal.
Ergonomics
Having a sturdy stage and design can significantly minimize any complications while you are making repairs.
Often you may have to stand for long hours during your projects, so look for microscopes that can aid in restricting any health-related problems that can be caused by a stiff posture, such as neck and back pains.
An ergonomically designed microscope can make a painstakingly difficult task seem like a piece of cake.
Viewing Options
While eyepiece viewing is a style more people are aware of, but most professionals and experts go for monitor viewing.
A multi-viewing option is not only more comfortable but can also enable you to see a larger image, which makes the repairing process much more convenient.
You can view in real-time and scrutinize it without having to squeeze your eyes for long durations.
Software and Documentation
Often times, you need to capture images to keep as a record. Most microscopes now can take real-life images and store them.
You should also check if the software that comes with your microscope is compatible with your computers. Make sure your microscope has a USB port or way to connect it with your laptop.
Frequently Asked Questions
Which microscope to use for the electronic repair?
A stereo microscope or a USB one can be used for electronic repair.
Is a dissecting and a stereomicroscope the same?
While both tend to resemble, a dissecting microscope looks a lot like a compound one in design and has a much higher magnification, which isn't useful for all kinds of electronic repair
What is the ideal magnification needed for electronic repair?
A magnification of 0.5 to 3x is sufficient for repairing electronics.
How do we hold the microscope properly?
It should always be held with both hands to support the base as well as the arm for added stability.
Do I need a microscope to solder SMD parts?
The use of a microscope can make the task much easier and comfortable.
Can I attach a digital camera to my microscope?
Digital cameras can be attached with microscopes, but they may require a specific type of adapter.
Can I clean my microscope myself?
Yes, you can clean the lens by breathing on it to create moisture and wiping it with lens tissue.
Can I add a 35mm camera to my microscope?
With the help of a universal adapter and a mount supporting your model and camera, this can be done.
What does 3x magnification look like?
You can check this by viewing a dollar bill. If you can see the head and shoulders of the president, you are at 3x magnification.
Conclusion
I hope the buyer's guide and list of reviews assisted you in finding the right microscope for your needs and saved you precious time.