SMD (Surface Mount Devices) are electronic components that are soldered on a circuit board.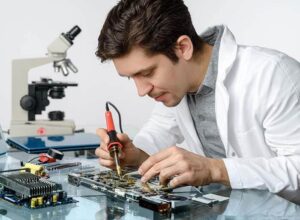 As these components are tiny and the soldering is usually done at a very small scale, microscopes are very helpful in this process.
Microscopes not only allow you to magnify the view but also give great clarity along with subtle colors.
There are loads of microscopes comprising a variety of features and different ranges of prices.
To find yourself a well-matched microscope for your SMD soldering is a cumbersome process, but not after reading this article.
Because I will show you the best microscopes for SMD soldering available in the market with a comprehensive buyer's guide.
Read through to demystify your thoughts about it.
Top 10 Microscopes for SMD Soldering
It is always essential to go for what you need.
Out of a large number of features, you would have to opt for a microscope that contains all the features you need.
Hence, you will end up buying a microscope at an affordable price.
Let me show the top ten picks that I, after a lot of sifting, have brought for you!
1. Plugable USB 2.0 Digital Microscope
Starting with Plugable's effortless and elegant device that comes at an excellent price and useful features.
It offers you a magnification range of 250X with a built-in 2MP sensor to make your SMD soldering easier and efficient.
It is also a very compatible device and goes with Windows, Mac, and Linux.
Its magnification provides you high definition, and its halo lighting with brightness adjustability gives great clarity.
A very simple yet exciting device offers true value for the money. Let's look at some pros and cons.
Pros
High compatibility
Lightweight
Good price
Good Magnification
Cons
Superficial features
For general use
2. AmScope SE306R Microscope
AmScope is a renowned brand that produces quality microscopes.
This device is with a limited magnification (20X-80X), but high-quality equipment takes your soldering work to another level.
It uses a halogen light source for illumination for an apparent view.
Its adjustable pillar stand provides great adjustment control, and the observation becomes super clear using its binocular facility.
Adding further to the features, you get high-quality widefield optical glass lenses and a robust design that causes fewer vibrations for accurate results.
The built-in lights enhance your experience of microscopy, and your SMD soldering seems clearer.
Pros
Excellent design
Great illumination
Lightweight
Cons
High price
Low magnification
3. Koolertron 4.3inch 1080P Microscope
Koolertron offers this very cool microscope with a perfect magnification of 10X-220X.
The unique thing about this device is its 1080P resolution LCD that allows you to work live on your SMD soldering by keeping your hands on the circuit board while eyes on the screen. Isn't that amazing?
It can capture and record pictures and videos, and the adjustable stand provides great flexibility.
The intriguing thing I found about this device is its UV filter assembly that protects not only the lens but also reduces reflections and harmful rays.
It is a multipurpose device with a broad range of applications like PCB, jewelry, cells, SMD soldering, and LED screen, etc.
Pros 
HD display
Good illumination
UV filter
Good quality
Cons
High price
Limited magnification
4. Bysameyee 1000X LCD Digital Microscope
This product by Bysameyee is similar to the one that we discussed above, but the magnification of this device is excellent (up to 1000X).
Its 4.3inch display, 1080P resolution, 8 LED lights for illumination, and rechargeable batteries make it good to go.
It is highly compatible and gets connected with almost all the operating systems.
For more excellent quality, there is a built-in 200M CMOS HD sensor that enhances your experience of microscopy. It is merely ideal for SMD soldering.
The company also offers multiple languages in this device like English, French, German, and Italian, etc. Being a light-weight device, it also offers great portability.
Pros
Great Magnification
LCD
Great illumination
Multiple languages
Cons
High price
Superficial quality
5. Koolertron 7inch LCD Digital Microscope
Have a look at this amazing microscope well-suited for SMD soldering. It contains a 7inches big display and offers a magnification of 1200X.
Its 12MP sensor allows you to record videos and save pictures in good quality. More to it, you get an 8 LED adjustable brightness and a rechargeable battery source.
The company says that it is ideal for circuit board repairing and PCB coins. You get high definition results with great clarity on its high-quality equipment.
If you want an LCD microscope, then this device is best for you. Also, it is a multipurpose device and can be used for other applications as well.
Pros
Big screen
Great magnification
Great resolution
High-quality results
Cons
High price
1200X doesn't seem like 1200X
6. LCD Digital USB Microscope for Soldering
Next on the list is this appealing device with magnification up to 1200X and a 7inches LCD. There is a facility of SD card in this device as well.
Its 12 MP camera allows you to record your observations as well. This is an ideal microscope for SMD soldering at a good price relatively.
Its screen is also adjustable, and according to your desire, you can change its angle of inclination. Its double light source provides great illumination, and hence you get enhanced clarity.
Also, it is a compatible device and can be connected to a PC for improving the exploration process.
I found this device a widely used one for soldering purposes, and it also has good customer reviews.
Pros
High magnification
Good Price
Big display
Flexibility of screen
Cons
Superficial instruction
Limited quality
7. Andonstar AD407 3D Soldering Microscope
When I came across this device, I thought that it is a must share device. By Andonstar, this device is relatively more expensive, but the quality is amazing.
Every piece of equipment in this device gives proper results and functioning. I mean, if it has 270X magnification, then you will get 270X. It also has an HDMI facility, and you can thus share the observations on big screens.
It's ultra HD 4MP camera allows you to record the view in a very good result.
More to the features is its UV filter, industrial lens, and the ultimate adjustable stand. Let us look at some pros and cons as well.
Pros 
UV filter
HDMI port
Remote control
High definition results
Cons
High price
Weighs 3.3 pounds
8. AmScope SE400-Z Microscope
Presenting to you this beautiful device by AmScope that is also very expensive yet exciting. It offers a very low magnification, but it is sufficient for soldering purposes.
The unique part about design is its extended boom-arm that I found very intriguing, and it also offers long working distance.
Its binocular viewing head provides a great view with interchangeability of magnifications.
The 30-degree angle of view reduces vertical inclination, eye strain, and neck strain. It also lets you have a fine focus on the circuit board.
The special thing about this device is that you can adjust it in both X and Y axes. Let's have a look at some pros and cons!
Pros
High adjustability
Ergonomics
Great results
Cons 
High price
Low magnification
9. AmScope SE306R – P20 Microscope
Another model by AmScope is a lot like the PZ model I mentioned at number 2; this microscope is great for soldering purposes.
It is a multi-purpose device and can be used for various other applications as well. Its forward-mounted binocular head allows you to use the device while soldering comfortably.
The magnification you get is from 20X-80X, and the focusing feature is also quite impressive. The upper and lower illumination uses halogen lighting for greater clarity and good brightness.
More to the features, its frosted stage plates allow light to pass through from below.
Thus, as a whole, this microscope provides great satisfaction and next-level microscopy.
Pros
Great illumination
High-quality results
Ergonomics
Cons
High price
Low magnification
10. Vision Scientific VS–10FZ–IFR07
The last one on my list is this very expensive device by Vision Scientific that is ideal for soldering with a magnification range of 7X-45X.
The cool part is its built-in repair and maintenance platform. The trinocular head also has 360-degree rotation with unique view features and compensates the eye-strength difference when needed.
The base is made up of insulated silicon that gives anti-static properties and is great for SMD soldering.
Its 144-LED ring light with an intensity control feature provides amazing clarity and improves the microscopy experience. This device is ideal to use if you can afford it.
Pros
Great illumination
High-quality results
Rotation of 360-degrees
Ideal for SMD soldering
Cons
Too much expensive
Low magnification
Buyer's Guide
If you are a beginner, you should know about some aspects before buying a microscope for SMD soldering.
The buyer's guide equips you with almost all the necessary information that you should know before purchasing. Read through to enlighten yourself.
Platform/Base
While looking for a microscope for SMD soldering, keep in mind that a good platform must place the circuit board under observation easily, and have a proper view to make soldering efficient.
Illumination
Another most important aspect is illumination. There should be proper lighting over the SMD so that all the components are properly visible.
A good light source also needs a good condenser and diaphragm. So, keep these things in mind.
Ergonomics
The human efficiency of any tech device is a very important concern.
If a design is not comfortable to use and efficient, then that design is of no use. Try to find yourself a sturdy design that is also strain-free.
Display
A display in a microscope is encouraged for SMD soldering purposes. It allows you to observe while soldering easily.
If there is no display, then it is not a big issue but if you can, then go for a microscope with a display.
Budget
It is not necessary that a good microscope is pricier. You should always look for your desired features and find in that regime an affordable device for yourself.
Frequently Asked Questions
Can we use microscopes for SMD soldering?
Yes, SMD soldering is a critical process, and most of the connections are at the micro-level. So, an appropriate microscope always helps.
What is a good microscope brand?
AmScope is a very famous and good microscope brand. There are others as well, like Koolertron with a display.
What kind of microscopes is suitable for SMD soldering?
Microscopes with low magnification but high illumination and clarity are good to go. If there is a display in the microscope, it turns out to be very helpful.
What is a good magnification for a microscope?
A good magnification is usually 400X, but to increase the device's scope, 1000X is good to choose.
How much a good SMD soldering microscope costs?
A good microscope for SMD soldering and a display comes in a range of 80-100$. You can also go for more options if you can afford higher.
How to adjust focus on the microscope?
Point towards the specimen/object so that it comes under the lens. Now turn the knob slowly so that the object comes under focus.
What is the right way to carry a microscope?
Do not touch the lens with bare hands.
Do not clean the lens with an ordinary cloth.
Hold the microscope with both hands properly.
Are there portable microscopes available in the market?
There are many light-weight and handheld microscopes available in the market that you can buy for yourself.
Conclusion
If you want to buy the best microscope for SMD soldering, then the above reviews and buyer's guide is enough to make you confident enough for buying one.
I have tried to develop the best possible content, and I am confident that you will find the best one out of my top picks.
I wish you very good luck with the buying phase.
Read Also: