It doesn't matter whether you're a professional, educator, or a student majoring in engineering or biology; you will find that having a personal microscope can make your life much easier.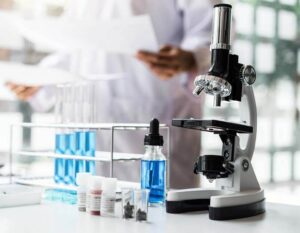 However, a conventional microscope is too sophisticated for everyday use and can put a dent in your wallet.
This is where technology swoops in to save the day in the form of the best portable microscopes that come in various sizes ranging from options that fit in the backside of your pocket to those that are compact yet conventional-looking.
These portable microscopes are not only simple and easy to use but also provide multifunction usage that can help you share your findings with other people.
These microscopes are the perfect tool to rely on if you're thinking of introducing the world of nature and science to children.
Students can use them to gain practical knowledge on hand, whereas professionals can make their work easier with the convenience that this tool provides.
Top 10 Portable Microscopes Reviews
Now that I've laid down the groundwork for choosing the best portable microscope that can satisfy all your requirements, it's time to look at some of the most praised options available in the market.
The list of reviews will provide you with detailed descriptions of each product as well as any loopholes that you might want to avoid.
1. Carson MicroBrite Pocket Microscope
If you like going on nature walks and prefer having a microscope on hand at all times, this portable microscope is the way to go.
The small compact design is a great help and is very convenient to use. If you frequently need to go to various locations so you get a tiny but powerful microscope that can fit in your bag without a problem.
The design is made to accommodate the user's comfort as it has a rubber grip. Some users do have complaints about difficulty in viewing specimens; however, with a little help, you will be able to figure it out.
Pros
Easy to carry
Light in weight
Ergonomically designed
Cons
Difficult for first-timers
No base
2. Bysameyee USB Digital Microscope
This handheld microscope is a multipurpose tool that can be used for various applications.
You can connect it with any device to view your findings, and you get the ability to save and record your samples. It can work with android devices, Mac, and even Linux without a problem.
Its design calls for mobility, so you can carry it around where you want.
The software that comes with this portable USB microscope gives you the ability to measure the size of your findings easily. However, it is only compatible with windows.
Pros
Portable
Versatile
Easy to use
Cons
Software only supports windows
Glitchy app
3. Plugable USB 2.0 Digital Microscope
Users often complain about lighting issues when it comes to the portable microscope as they either don't have well-distributed lighting or find it cumbersome to hold to the microscope right on top of their sample.
This digital microscope solves all the complaints quickly and effectively. It comes with a bendable arm, which gives it more stability than various other handheld options.
The integrated lighting is a huge plus because you can easily view samples in areas that aren't well lit.
This portable microscope lets you connect it to your computer and record anything that piques your interest.
Pros
Good Quality
Stable design
Portable
Cons
Have to adjust the camera settings manually
Only two magnification settings
4. Wireless Digital Microscope
So far, we have been looking at options that connect to other screens via USB, but this digital microscope lets you connect to any device within a 33ft radius.
You can get detailed images thanks to its 2mp,1080 p resolution. The adjustable light source lets you create the perfect setting according to your preference.
It has a magnification level of up to 1000x, according to the manufacturer, so it should be able to work on both biological specimens and regular use, but some users claim that it doesn't have such a high magnification level.
You can connect this portable microscope and use it on your phone and even computers as it's compatible with windows, IOs, and Android.
Pros
Easy to use
Versatile
Compact Design
Cons
Hard focus control
Zoom is not 1000x
5. TELMU Microscope 40X-1000X
This microscope is ideal for students and educators as it's functional and multipurpose that can easily cater to all their needs.
The microscope offers a magnification of 1000x so you can view even the smallest of organisms like bacteria, which can't be viewed by the naked eye.
The design of this portable microscope is durable and well-balanced, so you don't have to worry about it shaking when you adjust the focus during observations.
The dual light makes viewing opaque objects conveniently. You can even record your data on your phone while using this device.
Pros
Easy to use
Compatible with phone
Good quality
Cons
The instruction manual is hard to understand
Not fully metal in construction
6. USB Microscope Camera 40X to 1000X
This is a reasonable product that does what it claims. The compact design and easy setup make using this microscope a pleasure.
While it isn't much different from the many options of digital microscopes available, it makes your whole experience fun.
The 1000x isn't magnification rather more of a zoom function, so it's ideal for homeschooling and gardeners to look at the wonders of nature or protect plants from a pesky insect infestation.
It's compatible with android and can work on computers with Windows, Linux, and Mac.
Pros
Easy to set up
An adjustable light source that can be turned off
User friendly
Cons
Not compatible with iPhones
Problems with focus
7. Wireless Digital Microscope
Don't be surprised by its small size this portable microscope can deliver in terms of quality and durability.
It's a super convenient option that is compatible with not just your computer but also any smartphone. The wireless hotspot is foolproof, and you won't have any connectivity issues with it.
Even though it says it can offer up to 1000x of magnification, the results say otherwise; hence it might not be a great option for projects that require higher magnification.
Pros
Easy to use
Good quality image
Adjustable light source
Cons
Poor focus range
Doesn't have a 1000x magnification level
8. Wireless Digital Microscope
It's a microscope camera that can help you with taking pictures, live record videos of your specimens without any trouble.
It is easy to use and requires minimal effort to set up. The lightweight and portable make looking at objects around the house a memorable experience that will leave you surprised.
Even the construction is mostly plastic; the flexible arm lets you adjust the camera. However, you like above any object.
Pros
Lightweight
Easy to set up
Sharp Image Quality
Cons
Doesn't charge while in use
Does not magnify to the cellular level
9. Mini Portable Microscope
This microscope looks a bit different than most options that I've viewed so far. In terms of design, it's super durable because it's made in alloy and scratch-resistant materials.
If you are a jeweler or coin collector, this handheld microscope will be a great addition as it offers up to 50x magnification that will let you see any imperfections or flaws in an instant.
The bright LED light and micromirror focus enable you to have a focused and detailed view without any hardships.
Pros
Durable
Portable
Easy to use
Cons
Need to hold it
Light is too bright
10. Mustcam 5M Handheld Microscope
While most portable digital microscopes require you to attach it to some sort of screen, whether it's your computer or phone, to view your observations but with the help of this tiny microscope that can fit even in the back of your pocket, you can easily skip this step.
The attached LCD screen provides a fine and crisp visual. No worries about connectivity and compatibility issues when you have this handy device.
While some users do complain about how it is difficult to capture a picture due to hard buttons, the overall device offers the ultimate convenience and great performance.
Pros
Easy to use
No compatibility problems
Compact design
Cons
Light source cant is adjusted.
Difficult to capture images
Buyer's Guide
Portable microscopes are simple yet versatile products; however, finding the perfect option that suits your needs can be a bit tricky if you have no idea what to look for.
This buyer's guide is created to help you gain background knowledge and keep a lookout for features that can make a huge difference in your experience.
Resolution and Magnification
The quality of the image to ensure you get an accurate and well-developed view is dependent on the resolution, quality of optics, and magnification.
Think about the kind of projects you will be using the microscope on; this will help you gauge out what magnification level is needed.
Broadly speaking, a 250x magnification level is adequate for functions such as electronic repairs, but if you want to look at biological samples and microorganisms such a bacteria, a higher magnification is required.
The resolution for a good quality view and video recordings is another feature that needs to be looked at.
For most applications, 2mp is enough, but if you want detailed and sharp images investing in a microscope with at least 5mps is a good idea.
Data Transfer
Most portable microscopes come with the ability to transfer recorded data.
If you're looking for options that enable you to transfer recordings and related data quickly, look for models that have USB 2.0 or 3 so you can efficiently transfer big data sets with ease to any device, be it your pc or tablets, without a problem.
Ease to Use
While microscopes are fun to use, but since they are sophisticated devices, they can be tricky and frustrating to use, which is why they might need some prior knowledge to use them efficiently.
However, many models now come with features that facilitate the use and allow for a comfortable experience without any frustration.
Try to invest in options that are specifically designed to make the user experience hassle proof.
If you're a beginner, then you need to pay attention to this even more so you don't have to worry about going through extra hurdles even before you start using them.
Software Compatibility
Earlier I talked about most microscopes having the ability to transfer data; oftentimes, they also come equipped with various software that is created to enhance the user experience.
This software ensures that your quality of view is closeWindowsity in the form of color transfer, and you can even change the contrast options with them.
Extra functions, such as measuring the specimens and having the ability to edit recorded data, are also available.
But it can quickly go downhill if the software is not compatible with your computer.
So make sure that the microscope you choose has software that supports Linux, Windows, or Mac Osx that you use on your devices.
Ergonomics
Even though most portable microscopes are far easier and much more comfortable to use in comparison to conventional laboratory microscopes, still the design and ergonomics shouldn't be overlooked.
Each model present in the market has specific features that can enhance your user experience in their way.
It's your responsibility to choose options according to your convenience.
You should make sure that you are investing in a portable microscope that is sturdy and durable so you can have a good overall experience.
Frequently Asked Questions
What is a pocket microscope used for?
A pocket microscope can be used to observe objects both indoors and outdoors anywhere you want.
How small can a light microscope see?
Objects that are as big as a millimeter or as small as 0.2 micrometers can be easily seen with the help of a light microscope.
How does a USB microscope work?
They are digital microscopes that make use of webcam cameras with a macro lens to view images in detail.
Why do we use a microscope?
Microscopes can be used to view organisms that are not visible to the naked eye as well as to look at objects from up-close.
How do I view my USB microscope?
You can use the microscope by connecting it with your computer and then placing the lens on top of the object you want to view.
Conclusion
I hope the list of reviews helped find the right portable microscope for you.
In case there's still some leftover confusion, give the buyer's guide another read, as it will help you clear out any doubts.