Looking for a microscope that does not only look good but works amazingly too can be a back-breaking.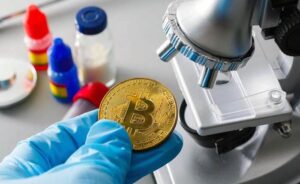 As the world is progressing every day, tools like microscopes are being upgraded every other day too.
Who does not want something that sleek looking and works flawlessly too? Trust me, we all have been there.
Today, I'm here to make sure you don't go through all the stress that I went through when I had to buy the best microscope for viewing coins for myself.
When looks can be deceiving, it is important to find a good reviewing article to get an exact idea of what you are buying or getting yourself into.
Top 10 Microscopes for Viewing Coins
I will be taking you through a guiding tour of the ten best microscopes for viewing coins.
And not only am I going to mention their pros and cons, but I will also give you a little bit of a buyer's guide about coin viewing microscopes.
So that you can pick out and buy your favorite one from the list of 10 that I will be giving, without feeling like you are wasting your time, money, or efforts. So, let's start!
1. The Opti-Tekscope Store Microscope
Tekscope is one of the leading brands in delivering the finest tool for years now. This microscope from tekscope gives out a wide range of features that will make coin viewing extremely serene and fun.
Let's start with its 1600×1200 resolution so you can see full details in fine quality as well as its sleek aluminum design that's constructed with care,
Its super lightweight, which also makes it easily portable for you, and also its adjustable lighting gives you the control over how dim or bright lights you need to see certain detailing.
Pros
1600×1200 resolution
Adjustable lighting
Aluminum design
Comes with a USB cable
Cons
2. AmScope SE306R-PZ-P Digital Microscope
If you are more into the versatility of a tool, this is a perfect fit for you.
AmScope is another one of the leading companies, and whoever is not a newbie in the world of science and tools, I'm sure he can tell you how great their products are.
Let's review this and see it for ourselves. Made in a completely versatile manner, this microscope is amazing for middle to high schoolers for observing rocks, leaves, coin jewelry, or another specimen.
Coming in a forward-mounted design, this resilient looking microscope has frosted stage plates, reversible black and white stage plates, and stage clips too,
With an upper and lower illumination adjustment setting and compatibility to Windows and MAC.
Pros 
2 different plate sets
Versatile
Compatible with windows and mac both
Cons 
Has no instruction manual
Faulty LEDs
3. Koolertron Microscope
It would not be an understatement if I said this microscope that we are about to review is mind-blowing and super cool. Don't believe me? Look for yourself!
It is wrapped with an unbelievable 7-inch digital screen, where you could observe all your stuff without having to worry about neck strains.
This microscope breaks all the records with its handheld cames that come with it, which is also constructed by koolertron along with a rechargeable battery.
Another amazing thing is that it has eight adjustable LED lights that enable you to control their intensity.
A 16GB card that comes with this metal constructed microscope so you can save all your previous work on it safely.
Pros 
7-inch LCD display
Rechargeable battery
16GB storage card
Adjustable LEDs
Cons
Not durable
Camera is autofocus
4. Mustcam Handheld Digital Microscope
Who doesn't love a microscope that's less like a microscope but more like a mobile phone? I certainly do.
This completely digital microscope has many other mouth-watering features except for being a portable microscope with a magnification of 1200x.
Constructed in grey color, you get a micro-SD storage card space where you get to store all your data safely;
This high tech but super easy to use the device is a perfect fit for travelers, hikers, outdoor science projects, and so much more.
Pros
Up to 1200x magnification
Has sd card space
Cons
Not durable
Faulty camera
5. The ONETEKS Digital Microscope
As up to date as one could be, this microscope constructed by the ONETEK company falls exactly on the expectations of this fast forward world with its WIFI DIGITAL Microscopic functions and a resolution that goes up from 50x to 100x;
This microscope offers you a bunch of other features too like its compatibility with android and apple as well as it's built-in LED lights which you can adjust easily.
Coming with a rechargeable battery and a flexible arm observation stand, which can rotate to 360 degrees allowing you to observe better.
Pros 
Wifi digital
Compatible with android and apple
Adjustable LEDs
Rechargeable battery
Cons
Not durable
Faulty camera
6. JIUSION Mini Microscope
Dressed in a metal body that is nothing like the others. This digital microscope is so aesthetically pleasing just from the outside, but unfortunately, that is yet not enough for us. So let's give this beasty microscope a look.
Students who love to explore science and nature will find this microscope utterly amazing, but so do I with its compatibility with MAC, Windows, iPad, and iPhone.
It also has an inbuilt LED light system with an adjustable setting and a very impressive feature which allows you to connect this mini microscope to devices so you can record live images.
Pros 
Metal construction
Compatible with a bunch of devices
Adjustable LEDs and focus
Cons 
The camera does not work
Poor quality
7. The Bysameyee Store
With a magnification of 50x to 1000x and a built-in sensor of 200m, you can also take high-quality pictures and store them in the SD card that can be inserted in this microscope.
A long-lasting microscope comes with a lithium battery, which adds to the life and durability of this microscope. You can also adjust the light illumination in it.
As a bonus, it also has inbuilt dozen languages from which you can choose from.
Pros 
High magnification
Rechargeable battery
Sd card space
Adjustable lights
Cons
Not durable
Faulty batteries
8. The Plugable Store Digital Microscope
Ready to use and super fun to explore the world with, this is a perfect gift to give to your nephew who loves science and nature or your daughter who loves exploring or observing.
Fully digital this microscope from Plugable also has a flexible arm, which is extremely useful in still observing, and its high definition magnifications give you detailed images to observe.
With broad compatibility and an integrated light setting with an adjustment control, it really is the perfect fit.
Pros 
Fully digital
Broad compatibility
Adjustable light
Flexible arm
Cons
Not durable
Faulty compatibility
9. The Carson Store MicroBite Microscope
The Carson company has never disappointed its customers, whether it is a comfort that we are talking about or fulfilling of needs.
Providing their clients with the number 1 product has always been their goal.
This Pocket microscope is super cute and fun to carry around your school tours or field trips or maybe just around your garden or coin collection.
With a magnification level that starts with 60x and ends at 120x, it is precisely constructed to give you a compact grip, a lightweight body, and a battery storing space too.
Pros
Pocket friendly
Fun to carry
60x-120x magnification level
Lightweight
Cons
Improper light placements
Faulty focusing
10. The Carson Store Microscope MM-450
Another super cute hit from Carson store and that too a pocket scope. Delivered in mesmerizing blue color, this microscope has a power magnification of 20x-60x.
LED illuminated for the clear quality image; this pocket microscope has a compact design that is lightweight and easy to carry.
With its eye relief dimensions and battery space, this really is an ideal fit for camping, hikes, and so much more.
Pros 
Magnification of 20x-60x
Led illumination
Eye relief system
Lightweight
Portable 
Cons
Buyer's Guide
The main and the utmost focus of the buyer's guide is to give you some free and amazing shopping tips when you go out to buy your favorite tool.
Now, as I said, shopping for a microscope that is specially designed for coin viewing can be hard and stressful.
That's why you need a buyer's guide so you can learn about all the important factors that should be in a decent microscope.
Comfort
When it comes to comfort, humans are crazy about it. Although when it comes to things to things like a microscope, comfort is more like a necessity.
Many people realize this after they are done buying a tool, but since I am here, I wouldn't let that happen to you.
Comfort is the first factor that you should be seeking out when you go looking for a microscope if you don't want to get neck strains or major muscle pains.
They are many companies all around the globe that make completely ergonomic designs keeping the comfort of their clients on the top of the list. Always shops from those companies.
Construction
They say construction is what makes or breaks a tool, and I couldn't agree more.
When you buy something that's more cheap than usual, you are not smart shopping; you are actually compromising on the construction of a tool, which means compromising on a tools durability and life,
Which then eventually leads up-to you spending your money on cheaply constructed not durable goods that might break the second you are about to use them.
So, yea, if it already isn't clear, never compromise on the construction.
Always keep a good eye on the building of the tool you are about to buy and observe it patiently; check what material it's built from and how reliable that material is; that is smart shopping.
Versatility
Although looking for a microscope that is the best in viewing coins and their every little detail is our main goal for today but going a little out of the way never hurt anybody, right?
So, let's say you buy a microscope that is only designed for viewing coins, and you suddenly are not that much interested in the detailing of coins anymore, and you want to observe some specimens.
Wouldn't it be better to buy one single microscope that is good in observing both coins and specimens, or would you rather spend your time and money on buying different microscopes for both of these?
Yep, that's what is thought too. So, Keep the versatility of a tool in mind so you can keep using it in the long term.
Frequently Asked Questions
What magnification do coin graders use?
Coin graders use the recommended magnification that is between 5x and 10x magnification.
How do you grade a circulated coin?
You can grade a circulated coin by the amount of wear that they have absorbed over the years.
What is the difference between proof and bullion coins?
Proof coins hold a high value as they are made by The Royal Mint and have an extra finishing with a lot of detail on it while the bullion coins are just normal standard made coins.
Should I clean old coins?
You absolutely should not clean old coins since they are more valuable; cleaning an old coin will destroy a major part of their value.
How do you tell the difference between an uncirculated coin and a circulated coin?
A coin with no sign of wear on it and has a shine to it is an uncirculated coin, while a coin with major wear and dullness from being used around every day on it is called a circulated coin.
Conclusion
Now that we have reached the end of the article, I'm sure by now you know all about the best microscope for coin viewing.
I hope you have already chosen your favorite one; if you still have any confusion about anything related to the microscopes, I suggest you read the buyer's guide and the reviews once again. Good luck!